Four new Hitachi wheel loaders focus on cab and operator comfort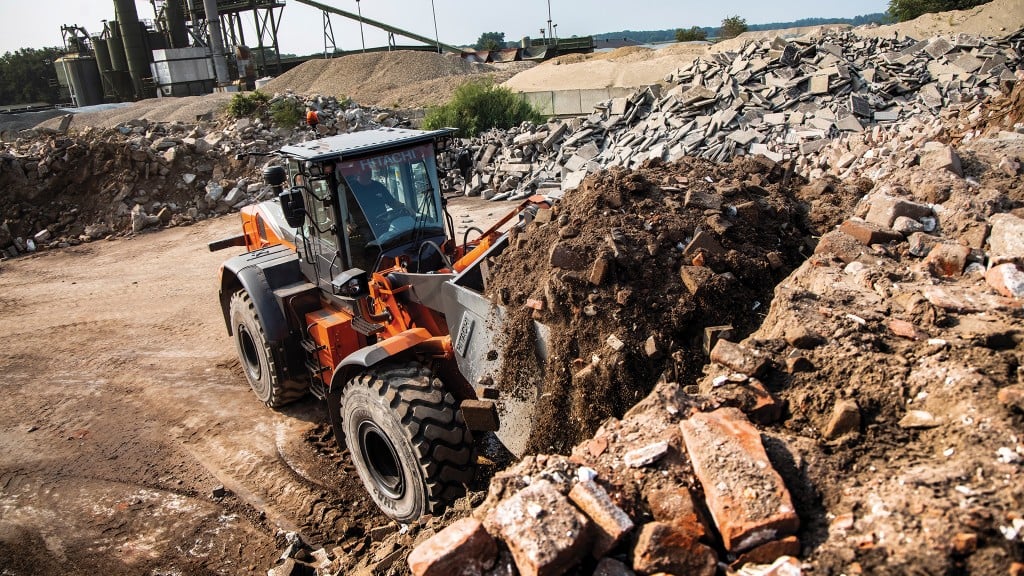 New designs based on the needs of contractors are at the heart of Hitachi's next-generation wheel loader line. Updates have been made to cab comfort, controls, productivity, and safety features in the development of the new loader lineup.
Four machines debuted at CONEXPO-CON/AGG 2023 – the ZW160-7, ZW180-7, ZW220-7, and ZW310-7. They range from 3 to 5.5 yards in bucket capacity. Matt Koester, Hitachi product manager for wheel loaders, said the new units will be available in the fourth quarter of 2023.
Easier access to cab and controls
A new cab design is central to the next-generation loaders. It features easier access and a cleaner, more efficient approach to operation.
"The cab is a totally modern design with easier ingress and egress getting in and out of the seat. A lot of controls have been moved around the machine to make for easier and more efficient use of the machine by the operator," Koester described.
More handrails have been added to improve access, and the steps are built wider, with a slope outward for easier climbing. Platforms around the machine are larger for more standing space when needed. Inside the cab, there is more room around the seat. Numerous controls are now located on the operator's armrests, which in the new loaders move with the air ride seat and stay within easy reach at all times.
Other settings have been moved onto the machine's A-pillar, which is right in front of the operator and just below a new 8-inch display. The result is that operators on the -7 series loaders can use their settings and view key information much more easily.
Operators can use the new display to access updated features that are available on the next-generation machines, including standard payload weighing.
"It's a great addition that helps the operator know exactly how much weight is in the bucket. They can track how much mass has been loaded into a truck and how many trucks have been loaded that day," Koester described. "All this information is then reported through ConSite telematics, where the operator, the owner, or the manager can pull it down and keep track of that production. That is all integrated into the display."
Safety updates focus on awareness and visibility
Panoramic sightlines from the new cab help operators keep an eye on their surroundings, but Hitachi has also focused on safety with systems that can be integrated into the new in-cab display.
The aerial angle camera system uses three cameras around the machine to give operators a bird's-eye view of the surroundings, offering what Koester described as a second line of defense to aid in safe operation. It can be combined with an optional rear object detection system that provides visual and audible alerts when obstacles are within range.
The system will also automatically decelerate the machine if the operator has not taken the correct actions to avoid the detected object.
"You can never replace the necessity of vigilance - that's always the most important thing - but adding additional tools to help operators maintain better situational awareness is a true commitment from Hitachi from a safety perspective," Koester said.
Technology reduces operator effort for certain tasks
Updated technology features on the next-generation Hitachi loaders aid the operator in certain roles. A new approach speed control system, for example, reduces the amount of pedal use needed to adjust speeds when loading.
"The operator can do some pre-selected deceleration so that when you're loading a truck . . . you don't have to hold down the brakes and accelerator while getting the load into the air as quickly as possible," he explained. "The approach speed control system allows the operator to select low, medium, or high, and when the operator downshifts and lifts or pulls back on the joystick, the machine will automatically start decelerating itself as it approaches into the truck. This reduces wear and tear on the machine, takes workload off the operator, and improves fuel efficiency quite a bit."
An auto power-up feature, improved from previous generations, builds off of earlier systems that would detect a drop in engine rpm, such as when climbing a hill, and provide more power automatically to avoid slowdowns. The new version includes slope sensors that detect a grade before rpm would typically decline, and pre-emptively add power to move the machine up hills more efficiently.
Maintenance and serviceability have also been addressed in the next-generation updates. New filter designs protect the engine from dust ingress, and an intelligent automatic reversing hydraulic fan combines with wide-fin radiators to prevent clogging.
A new addition to Hitachi's ConSite telematics system, ConSite Air, is an optional add-on that allows for remote diagnosis of issues as well as remote software updates. A standby team of experts is able to review issues that arise and resolve them rapidly.
And when the -7 wheel loaders reach market in late 2023, new machines will get to contractors quickly, Koester noted.
"We've grown very quickly, and continuing to increase our output has really brought our lead times into a much better spot," he said. "We're excited because customers have very high demand for our machines, and the ability to increase our production makes for a lot more joy in doing business with us."
Related Articles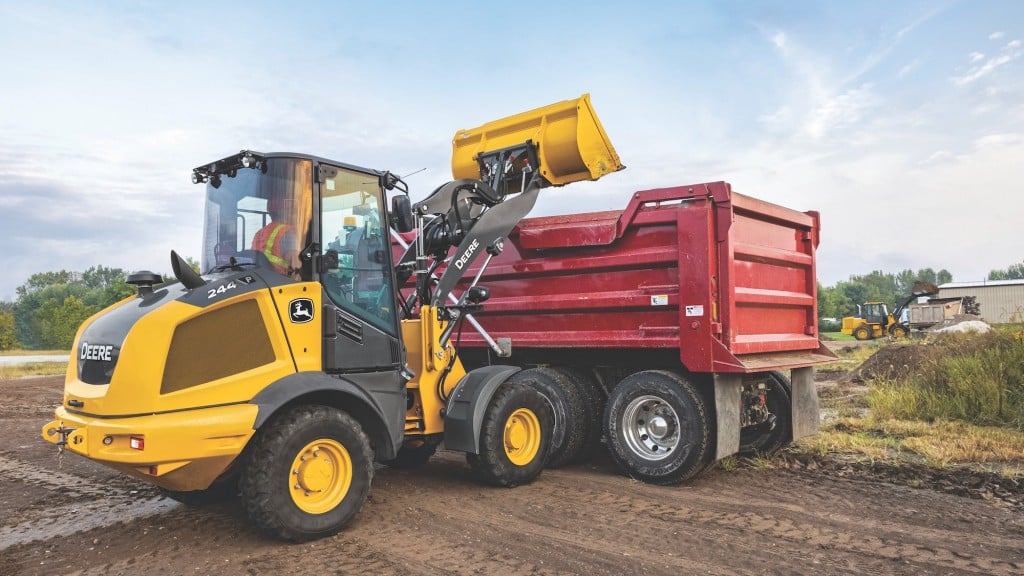 John Deere adds trio of compact wheel loaders to Performance Tiering offerings