Versatile backhoes tackle multiple roles for contractors
New CASE models include entry-level Utility Plus and side-shift options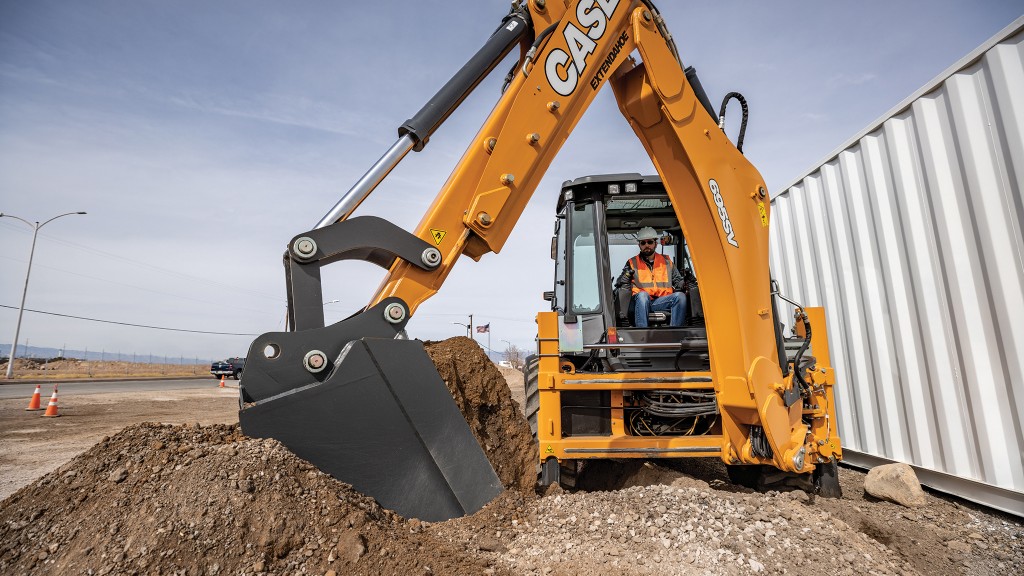 The versatile backhoe loader has been around for decades, offering contractors a machine that can dig, load, carry, trench, and handle a range of attachments to fit the job at hand. That versatility is central to why CASE Construction Equipment has expanded its backhoe range with five new models, complementing its existing N Series.
A utility-focused backhoe, and a name that calls back to popular CASE machines of the past, are included in the expansion, which also adds side-shift options that can make backhoes even more capable in tighter spaces.
CASE made two models available immediately when the line launched at CONEXPO: the Utility Plus and the 580SV Construction King centre pivot.
Three more will follow later in 2023: the 580SV Construction King side shift and two 695SV Construction King models, one each with centre pivot and side shift.
Multiple functions make backhoes attractive to contractors
"Backhoes are experiencing a renaissance with the labour challenges our industry faces today," Brad Stemper, CASE North American product management lead, said. "It makes great sense that a business would own a single asset that can perform multiple functions versus multiple machines that require individual operation."
Stemper explained that with contractors having trouble finding skilled operators it makes more sense for owners to use a machine that can complete a range of tasks on the job site, rather than a fleet of machines that may sit idle if no operators are available. The backhoe is an ideal fit for owner-operators as well as larger contractors.
"Owning and operating a single machine, versus multiple machines, helps lower the total lifetime ownership cost for a business," Stemper said.
Familiar name returns to backhoe lineup
Central to the updated backhoe line is a name from CASE's past: Construction King. CASE carried the Construction King line for years, and moving forward existing N Series backhoes will be known by that name along with the new models introduced at CONEXPO.
Of the five models introduced, four will be Construction King machines, including the 580SV centre pivot that is now available. A 580SV Construction King side shift model, along with the 695SV centre pivot and side shift versions, will be available later in 2023.
Users who tote and carry material around job sites will appreciate the 580SV's tool carrier style front end, which allows for easy loading and unloading of pallets, bundled material, and other necessary job site products. Plus, it can work with a broad range of attachments and buckets to fit the contractor's needs, especially with a hydraulic quick coupler, Stemper said.
The 695SV Construction King models are larger and more powerful, and will offer four-wheel steer and large, equally sized tires, making them good loading machines, while also offering versatility to switch out loader and backhoe attachments.
For contractors who need an entry-level machine with flexibility, CASE has also introduced the Utility Plus. The 74-hp backhoe features a large cab, excellent sightlines, a maintenance-free emissions system with no DPF or DEF, and easy controls.
"The Utility Plus delivers full-size backhoe performance in an efficient platform that's easy to own, easy to maintain, and easy on the bottom line," Stemper said.
Available with mechanical controls for more experienced operators or pilot controls for users who appreciate the ability to switch control patterns, the Utility Plus is customizable to fit the contractor's requirements. Optional features include the CASE Extendahoe and Auto-Ride Control, among others.
Side shift backhoe fits well on tight job sites
With construction frequently taking place on smaller sites in urban areas, a little more space comes in handy, which is why CASE is adding side shift to its lineup.
Designed with roadside work or tight spaces in mind, side shift models have vertical stabilizers that function within the footprint of the machine.
"These backhoes allow for trenching directly up against structures and buildings. Think about working alongside a roadway and not having stabilizers that fold down outside the footprint of the machine. This helps conserve space in the area the machine is working in," Stemper described. "It also gives operators a better view into the trench while they dig, and still allows them to throw spoils to either side of the machine."
The rear stick positions closer to the machine during travel as well, providing a smoother ride and higher speeds when moving between job sites.