Lion Electric unveils 315 horsepower all-electric Class 5 truck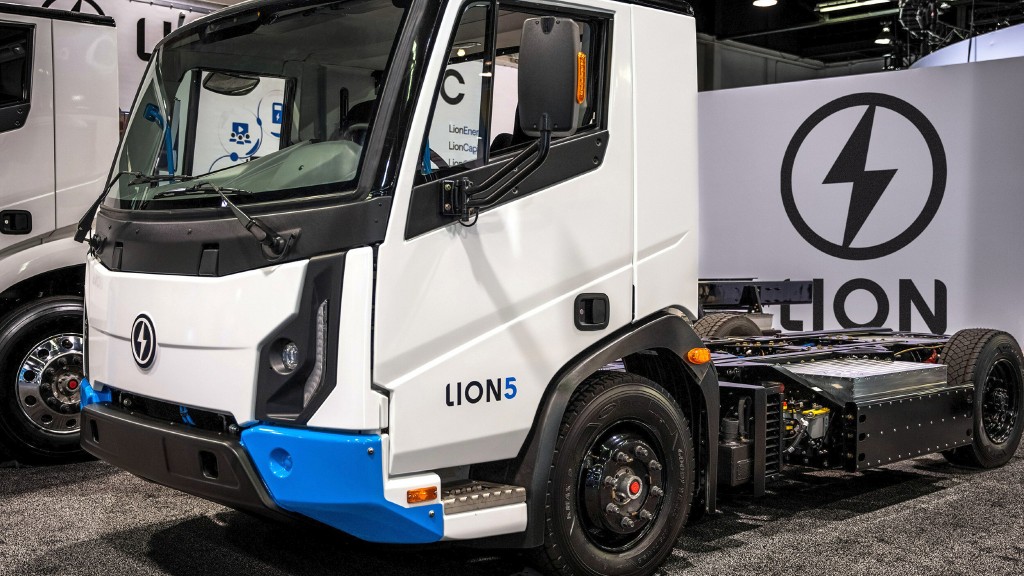 The Lion Electric Company has unveiled the Lion5, an all-electric Class 5 truck that is powered by Lion's LionBattery 800V battery packs.
The unveiling happened at the Advanced Clean Transportation ("ACT") Expo where it premiered on the show floor. It has a maximum payload of up to 12,500 pounds and is slated for production before year-end.
"At Lion, we've always believed in finding a better way to serve fleets and benefit the environment and the Lion5 is our most recent example of this yet. The design and performance of this innovative all-electric truck is sure to redefine how our customers answer their commercial fleet needs," states Brian Piern, Lion Electric's chief commercial officer.
The all-electric Lion5
The all-electric Lion has a commercial truck cab chassis with Class 5 trucking features while offering configurations of 19,500 pounds up to 26,000 pounds (Class 6) GVWR (gross vehicle weight rating). The Lion5 has 315 horsepower, 2,360 pound-foot of torque, and can be equipped with a GCWR (gross combined weight rating) of up to 30,000 pounds.
Drivers and passengers will appreciate the ride and handling performance derived from the Lion5's low centre of gravity, well-balanced weight distribution front-to-back with the low cab forward ("LCF") design, and the LionBattery packs placement. The Lion 5 also has an adaptive auto-levelling four-wheel independent suspension system on select models. For added safety and traction management, the Lion5 has electronic stability control ("ESC"), traction control, hill start assist, and a limited slip differential.
The Lion5's cab is 96 inches wide and has been designed to be stationary with a cutaway configuration option enabling a passthrough between the cab and any suitable body upfit. Adaptive independent suspension variants have a programmable feature that lowers the vehicle 3 inches when opening the door. Steps to exit are formed into the cab so that they are visible when the door is open.
The Lion5 has been engineered to be upfitted with any suitable body application. truck body builders have access to 4kW of low voltage and up to 32kW of high voltage when equipped with the optional provisioned ePTO (electric power take-off) interface. Upfitters can choose from multiple LionBattery pack placement configurations depending on build specification selections.
Lion Electric's LionBattery lithium-ion battery system
The LionBattery is an 800V battery system comprised of a battery management system (BMS), a battery thermal management system (BTMS), and battery modules and packs. The LionBattery has been specifically designed to optimize performance, integration, and packaging throughout Lion's commercial trucks and buses. In the Lion5, it will deliver a range of up to 200 miles while having the capability to be charged to 80 percent in 1.5 hours.
Related Articles
Scania and Northvolt develop long-lifetime lithium-ion battery for heavy electric trucks