New telehandlers, compact loaders, and electric offerings shared by Manitou at CONEXPO
The Manitou Group, which in 2022 expanded its production facilities in the United States, used CONEXPO-CON/AGG 2023 as a launching point for new machines in multiple ranges. Telehandlers, compact machines, and the new electric range were all part of the company's presentations at the show.
Telehandlers built in North America
A new line of telehandlers built at Manitou's Yankton, South Dakota, facility include seven models under the Manitou and Gehl brands.
These telehandlers offer a lifting height of between 43 and 56 feet, along with lifting capacities of 6,000 to 12,000 pounds. They feature improved visibility, enhanced comfort and performance, and are designed for a lower total cost of ownership.
A new cab design is more comfortable for the operator, and cuts noise significantly within the closed cab. An intuitive dashboard provides operating and maintenance alerts. Joystick switch and move (JSM) control allows fingertip operation of every function.
More robust components have been used to reduce TCO, and to provide better residual value. In addition, design updates reduce preventive maintenance costs and have made it easier to access the engine.
Compact loader line expands
Three Gehl V-Series compact skid steer loaders and three Manitou VT-Series compact track loaders make up a renewed range of small loaders. All six new machines feature vertical lift and a new lift arm design, along with redesigns to features throughout.
Breakout force on the new machines is 12 percent higher on average, compared to the previous range, and tank capacity is increased by 14 percent for better productivity. Keyless start has been incorporated, requiring only code activation. The driver's station has been redesigned with a new version of Manitou's patented folding door, and with greater visibility.
The Manitou branded CTLs come with the IdealTrax system, which ensures automatic track tensioning to help extend track life. Options such as high flow hydraulics, rear camera, and other features are available to meet the needs of each user.
New heavy-duty telehandlers
The MHT range of telescopic handlers is designed for safe handling of heavy and bulky loads on all types of terrain. These machines can handle capacities from 20,000 to 73,000 pounds up to a working height of 39 feet.
Updates to these machines include the new MHT 11250, which has a lifting height of 36 feet and maximum load of up to 55,000 pounds. Fitted with a 60 gallon/minute hydraulic flow rate and load detection pump, the machine is highly productive, and it features the ability to adapt engine speeds to the needs of the telehandler at any given time thanks to its Eco-Mode system.
Electric telehandlers and platforms enter North America
Manitou's Oxygen range of low emission machines rolled out in Europe last year, and made a splash in North America at CONEXPO with telehandlers of various sizes as well as platforms.
An all-terrain aerial platform, the ATJ 60e, is now available in a four-wheel-steer version and with a basket that can now accept 550 pounds of full load. Newly added to the line is the ATJ 46e all-terrain electric telescopic articulated platform with a working height of 52 feet and a basket full load capacity of 551 pounds. A second version added for North America has a capacity of 882 pounds. Presented at CONEXPO was the E-Xtra generator, a removable generator that can extend the machine's range.
In the telehandler range, Manitou has debuted its first 100-percent electric compact telehandler, the MT 625e, which has a capacity of 5,500 pounds and a 20-foot height. Also on display was the MRT 2660e. This rotating telehandler has a capacity of 13,000 pounds and lifting height of 85 feet, with similar performance to the internal combustion models while allowing simultaneous boom movements. It is available with two battery options as well as in a hybrid version.
Related Articles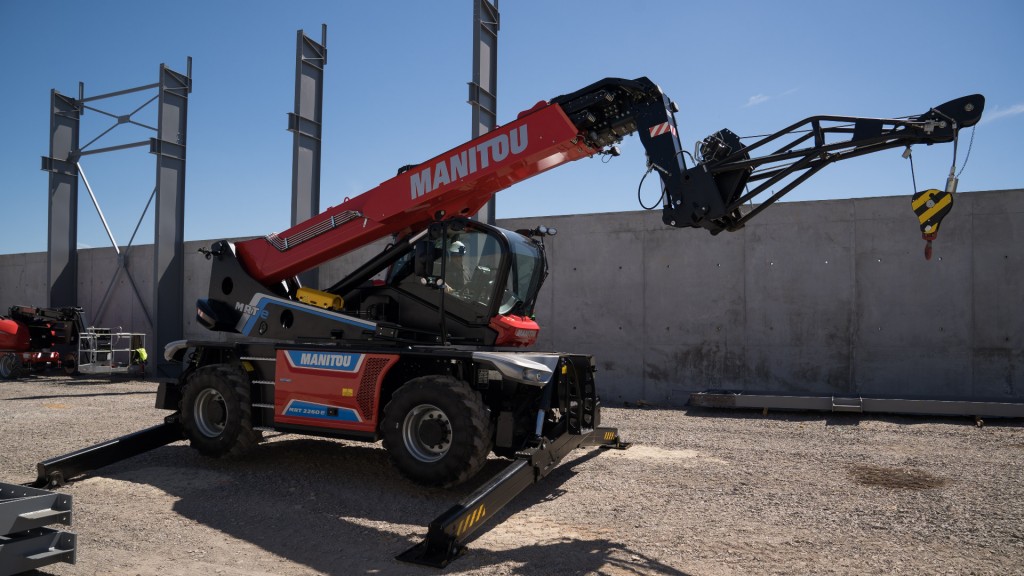 Battery electric power lifts new Manitou platforms and telehandlers launched at bauma