BOMAG's new light tandem roller provides electric, zero-emission option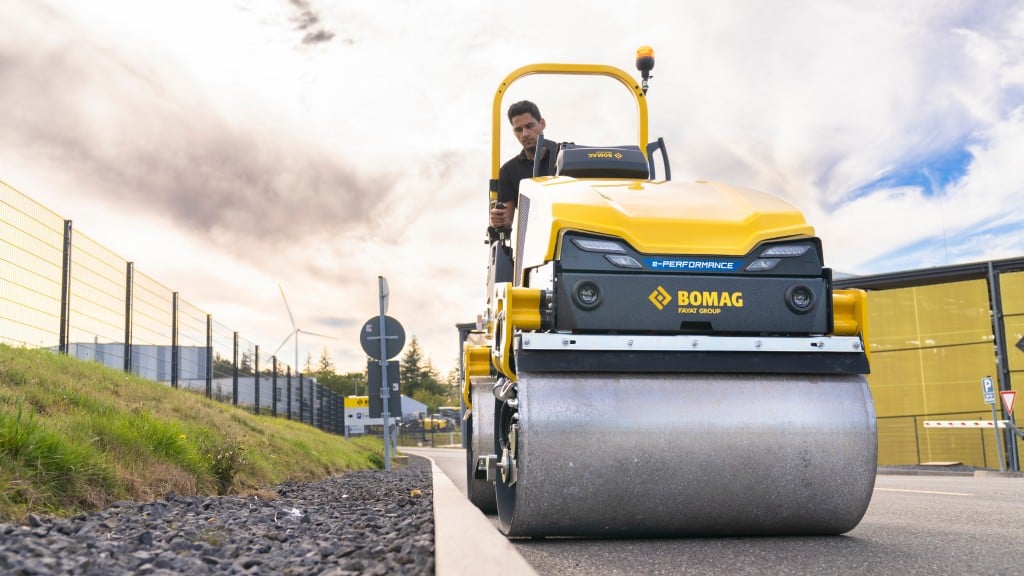 BOMAG's new BW 100 AD e-5 electric tandem roller is a low-noise and zero-emissions machine in the 2.5-ton class. The machine has a 39.4-inch (1,000-millimetre) rolling width and is ideal for parking lots, driveways, asphalt repair, and soil compaction work. The new BOMAG roller works great when compacting in noise-sensitive areas such as nighttime jobs, working on urban job sites, and compacting around hospitals.
The BW 100 AD e-5 utilizes a low-voltage, 48V system with 25-kilowatt-hour lithium-ion batteries. The system requires no special safety precautions for maintenance, and the batteries offer plenty of capacity for a typical day's work before recharging. The machine also uses a recuperative system that recovers energy during braking and converts the mechanical energy back into electrical. The roller also has flexible plug and charging options available.
The e-PERFORMANCE tandem roller system is equipped with two electric motors – one dedicated to travel and the other for steering and vibration. A 26.8-horsepower (19.7 kilowatt) electric motor propels the front and rear-driven drums at working speeds of 0 to 3.1 miles per hour and travel speeds reaching 6.2 miles per hour (10 kilometres per hour). When travelling, the roller only uses one motor to conserve energy consumption. The roller also utilizes an ECO function to further save battery power.
Operators have ideal sightlines to the drum and drum edge. The roller's isolated platform helps to reduce vibration feedback to the operator and improves comfort throughout the shift. With no warm-up necessary, the roller is ready for work at the push of the ignition button, and its design allows operators of all experience levels to quickly pick up roller control. A digital five-inch (127-millimetre) colour display gives operators a quick glance at critical operating parameters, including speed, energy output, asphalt temperature, compaction progress, operating hours, battery charging capacity, duration, and power.
Similar to the diesel-powered BW 100 AD-5, the electric BW 100 AD e-5 allows operators to individually control the vibration of both drums and vibration actuation is controlled through the soft-response travel lever. The roller offers two vibration frequencies of 3,900 and 3,360 vibrations per minute (64 to 54 Hertz) with a single amplitude of 0.20 inches (0.50 millimetres), generating 7,194 and 5,395 pounds (32 and 24 kilonewtons) of centrifugal force. The machine's intelligent vibration control (IVC) helps operators to know when compaction has been optimized to save on passes. Featuring a pressurized water spray system with a 54.2-gallon tank, the scraper bars are wind-protected to ensure uniform drum coverage in adverse weather conditions. Two scraper bars on each drum help to prevent material pick-up in both travel directions.
The new BOMAG BT 100 AD e-5 tandem roller made its North American tradeshow debut at CONEXPO-CON/AGG 2023.