Electric power leads way as tandem rollers advance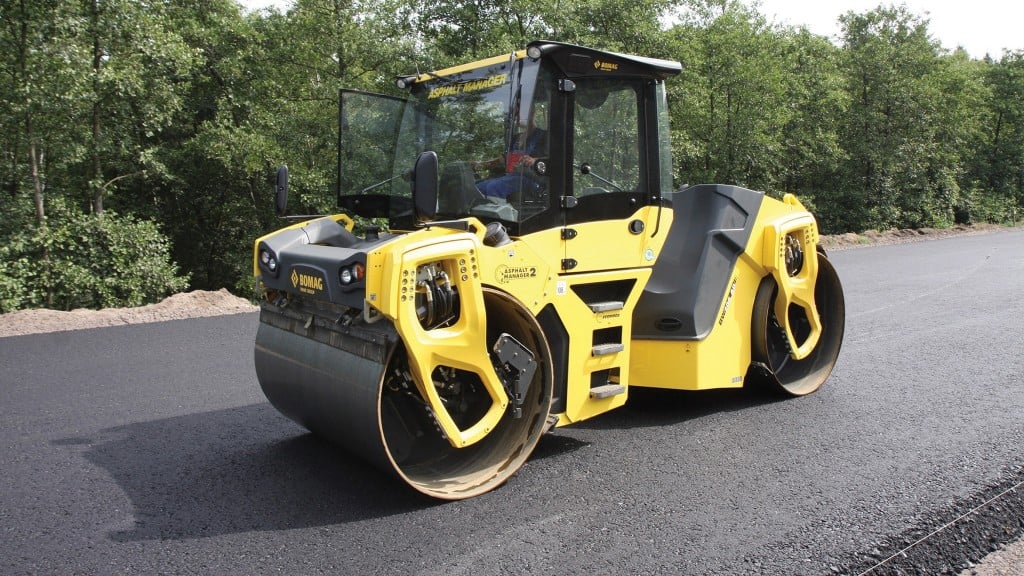 Tandem rollers are an integral part of asphalt paving – without compaction, there's no road. Found on any roadbuilding job site, these machines have one job, and with a growing focus on precision compaction technology, they are doing that job better than ever. Today's tandem rollers are also a focus for alternate drives, with a number of electric options coming on to the market.
BOMAG focuses on technology
The BW206 AD-5 AM tandem vibratory roller from BOMAG integrates the company's Asphalt Manager compaction system, which allows it to complete breakdown, intermediate, and finish rolling on high-production applications. Offering an 84.1-inch compaction width, the machine has a 55.1-inch drum diameter that BOMAG says puts more impact surface area in contact with asphalt. When using Asphalt Manager, the operator only needs to input layer thickness, and from there the system continually measures compaction progress while adjusting front drum vibration automatically between true vertical and horizontal as the mat stiffness increases.
Dynapac electric rollers
Dynapac's two Z.ERA tandem rollers, the CC900 e and CC1000 e, are battery-powered machines with the same performance as their diesel-powered counterparts. The rollers have operating weights of 3,730 and 3,910 pounds respectively, and they are both powered by 48V lithium-ion batteries, which Dynapac says are capable of a full day's operation without recharging. Multiple charging solutions, including 110/240V 1-phase options, as well as a fast charging option, will be available. The machines deliver the same static linear load, amplitude, gradeability, and travel speed as diesel rollers, but are quieter, have fewer moving parts, and have reduced maintenance needs.
Ammann electric roller
Ammann's new eARX 26-2 light tandem roller has no diesel engine or cooling system and few hydraulic components. Ammann says its 48V LiFePO4 battery pack is unique because each internal battery cell is independently protected to improve flame resistance and increase safety. The machine can operate for up to 18 hours on one charge. All of the electric drive and vibratory motors are equipped with a recuperation mechanism – when the machine stops or vibration is turned off, power is generated and sent back to the battery to increase charge.
Hamm pivot-steered line
A new generation of pivot-steered tandem rollers, the HX series, replaces Hamm's DV+ line. Nine versions are available with operating weights of 17,000 or 19,842 pounds. Various models feature two vibrating roller drums, an oscillation and a vibrating roller drum, as well as combination rollers; vibration and oscillation drums are available as split or non-split drums. Engines operate at lower rpms, which reduces fuel consumption. Smart Compact, a compaction assistant that reviews and analyzes data about asphalt condition and determines the compaction needs individually for each drum, is a world first, according to Hamm.
Caterpillar small rollers
Caterpillar's ten 2- to 5-ton rollers are ideal for low- to medium-duty applications and the rental market. All are designed with power management software as well as advanced hydraulics. Operator controls have been re-engineered to feature rocker switches and easy-to-read displays. A two-inch drum offset improves compaction efficiency, and a narrow frame design improves visibility to the job surface and drum edge. Optional Compaction Meter Value displays material stiffness to the operator and eliminates unnecessary passes.