New Performance Tiering dozers and compact machines central for John Deere at CONEXPO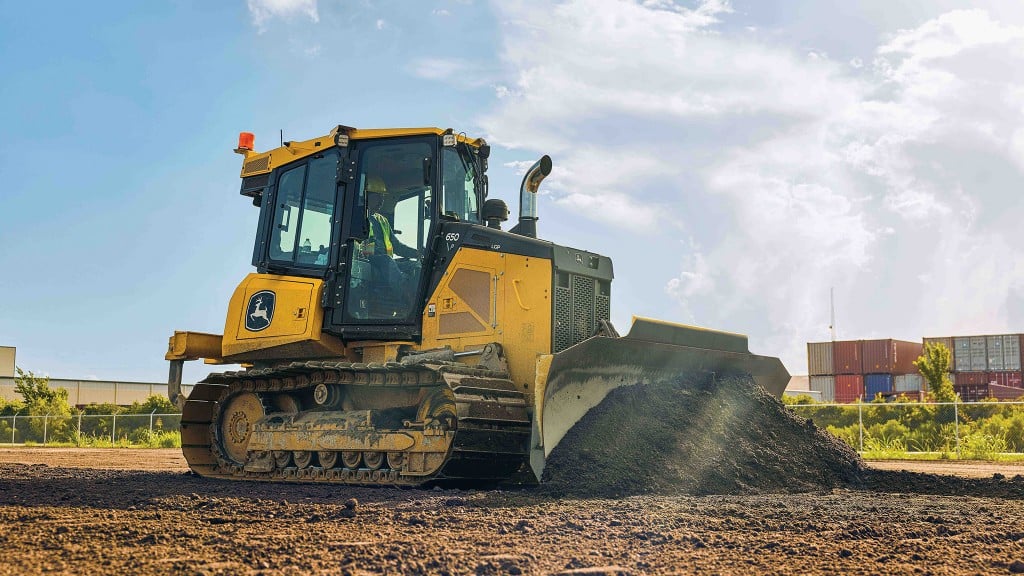 John Deere introduced new models in multiple construction and roadbuilding segments, at CONEXPO-CON/AGG 2023. Highlights included Deere's new models of small dozers, large scrapers, compact track loaders, skid steer loaders, and cold planing attachments.
Performance tiering expands to small dozers
Deere's Performance Tiering strategy has been expanded into its dozers, with the P-Tier 450, 550, and 650 dozers offering precise hydraulics and smooth, stable operation. These dozers feature the EZ Grade entry level solution in base models with EH controls, along with optional slope control and 2D laser capabilities.
All models are compatible with laser receivers, helping to control elevation and slope while utilizing a rotating laser. The P-Tier small dozers with EH controls arrive from the factory with EZ Grade features, however, the owner can upgrade to Slope Control or SmartGrade technology in the future, if desired. As an additional tech-forward feature, the new eight-inch touchscreen cab display offers intuitive navigation of slope control and machine settings on EH machines.
Enhancing operator performance and safety, the new P-Tier small dozers feature design choices to increase visibility and comfort. They have a 14 percent larger cab than previous models, with increased storage space and easier ingress/egress capabilities. In addition, operators can proportionally control the blade's angle and change travel direction through the use of the integrated FNR switch.
Impacting operator visibility, the new hood design, straightened and lowered five inches on 650 P-Tier and seven inches on the 450 and 550 P-Tier models, helps improve overall forward vision and straight sightlines to the front of the machine. Also, with the removal of the DEF system, the 450 P-Tier model offers simplified maintenance and reduced system complexity while meeting emissions regulations. An optional LED light package and rear-view camera options increase visibility.
Large scraper pairs smoothly with P-Tier ADT
The John Deere 3812 large scraper, paired with the latest 460 P-Tier articulated dump truck, offers a 38-yard capacity, and can be used in push load or top load applications. The 3812 is the first ADT-drawn scraper to enter the John Deere lineup and features scraper controls that fully integrate with the 460 P-Tier ADT to increase productivity and ease of operation.
Once the ADT is in scraper mode, the operator simply goes to work as the ADT and Scraper pan are integrated as one seamless machine. Meanwhile, the ADT automatically optimizes engine torque curves and differential locks, and selects a maximum cut gear to maintain momentum and boost productivity. Further integration includes scraper brakes, Deere encoded cylinders and a scraper pro package that enables push-button sequencing, additional cameras, scraper position, and productivity feedback to the operator all through the new high-resolution display.
Tiering moves into compact machine design
A new generation of large frame compact track loaders and skid steer loaders were also on the stand at CONEXPO. Three of five machines in the new generation were on display, including the 333 P-Tier, along with the 334 P-Tier skid steer loader and 335 P-tier compact track loader. Redesigned cabs with improved operator comfort lead the way with improvements like heated/vented seats, touchscreen displays, JDLink telematics, and other features like optional surround view capabilities.
The new Deere CTL and SSL options boast 118 horsepower and pressure compensated load sensing hydraulics, making them smooth, powerful and well matched to attachments.
Cold planer attachments powered by Wirtgen
Deere also debuted a line of cold planer attachments which is compatible with the current G-series of skid steer models and available in four widths from 18 to 40 inches.
Intuitive in-cab controls include tilt float activation for seamless pass matching across rolling terrain, and visible indicators for side plate depth, tilt angle, and milling drum cut boundary. An optional water tank is mounted within the cold planer frame for easier filling, and the nozzle kit helps effectively suppress dust.
Related Articles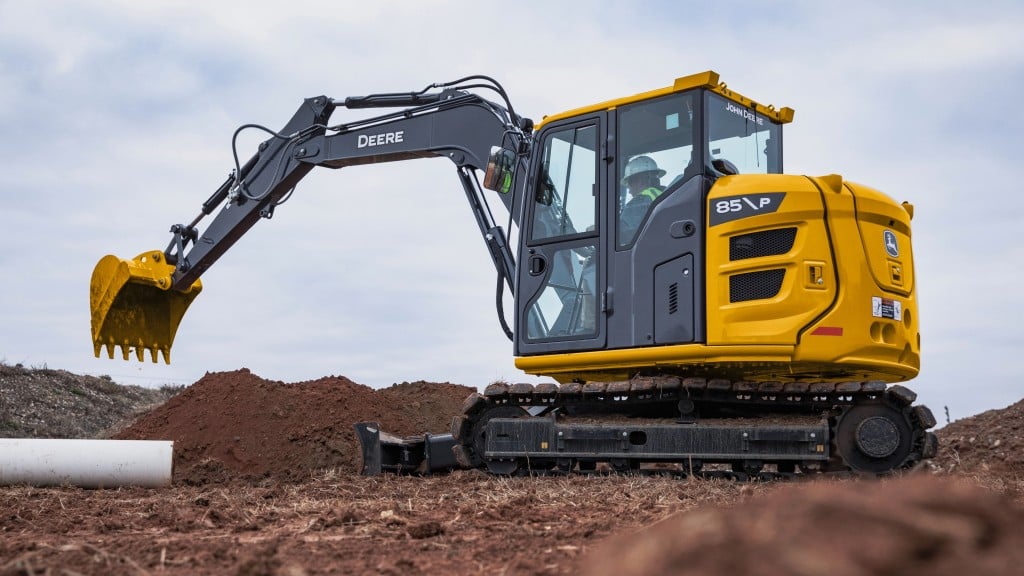 Hydraulic, engine, and undercarriage updates power up two Deere P-Tier excavators