DEVELON previews its first wheeled mini excavator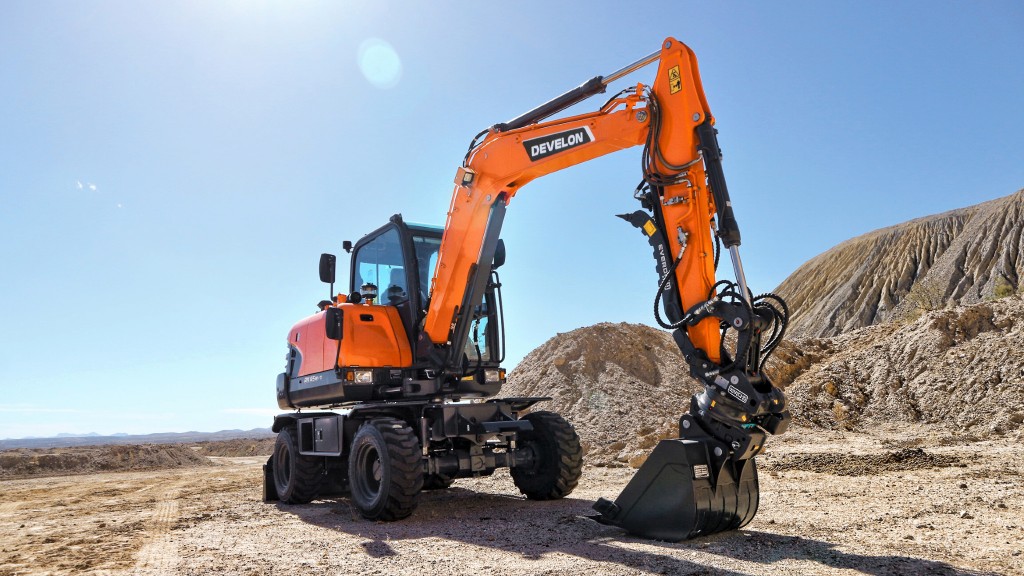 DEVELON has introduced its first wheeled mini excavator in North America. The new DX65W-7 is the company's first wheeled mini excavator for use in North America. The machine was shown at CONEXPO-CON/AGG 2023.
The DX65W-7 builds off the popularity of DEVELON's other mini excavators and larger wheeled models. The machine is ideal for excavating, grading, and backfilling tasks that require a mini excavator rather than a full-size machine. Three large wheeled excavators are currently in DEVELON's lineup for use on construction job sites.
"The new DX65W-7 compact wheel excavator fulfills a need for our customers who want a mini excavator with rubber tires," says Thomas Lee, director of product management at DEVELON. "Municipalities and customers who regularly use compact equipment on established surfaces asked us for a wheeled mini excavator. We believe the new DX65W-7 will be a good fit for their needs."
The DX65W-7 wheeled mini excavator features standard telematics, ideal digging and lifting power, attachment versatility, and operator comfort and durability features. The machine is powered by a DEVELON DM02 diesel engine.
A backfill blade comes standard on the DX65W-7 and can be used to level, backfill, grade, and push material. A blade float feature allows the excavator's backfill blade to follow the contours of the ground when grading, levelling, and backfilling.
"One of the biggest benefits of the DX65W-7 is the ability to move the machine across concrete and asphalt without disrupting the surface," says Lee. "Customers who previously operated larger tractor loader backhoes will find the smaller, more nimble DX65W-7 a valuable addition to their fleets."
DX65W-7 users can select between a single or double tire configuration. Lee says a double tire configuration can provide additional stability and lift capacity for the operator. Double tires have proven to provide fuel economy similar to single tires installed on a mini excavator.
Approved attachments for the DX65W-7 wheel mini excavator include buckets, thumbs, and a quick coupler. A tiltrotator can also be installed on the machine.
Operators have access to a full-colour, eight-inch DEVELON Smart Touch display screen inside the cab where operators can read machine data and control options. A rearview camera and all-around view monitoring (AVM) camera system are available as options for additional views of the machine's surroundings.
Specs of the DEVELON DX65W-7 excavator
DEVELON DM02 diesel engine
Horsepower: 65 hp (48.5 kW)
Operating weight: 14,109 pounds (6,400 kilograms)
Maximum digging depth: 11.4 feet (3.5 metres)
Maximum digging reach (ground): 19.3 feet (5.8 metres)
Maximum dumping height: 14.1 feet (4.3 metres)
Arm digging force: 6,173 pounds of force (27.5 kilonewtons)
Boom swing (left/right): 80/50 degrees
Related Articles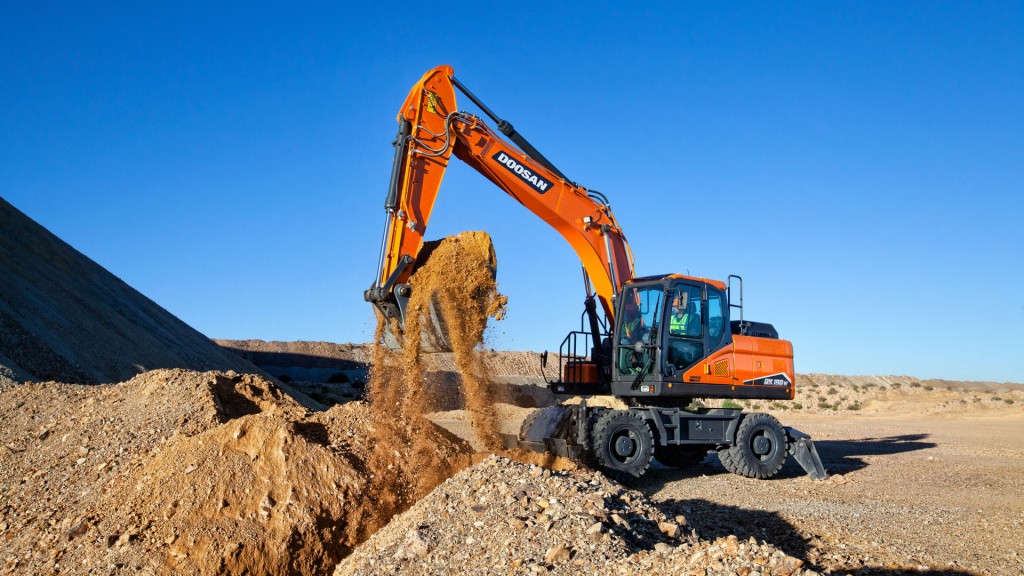 Wheeled excavators join Doosan next-generation -7 line of machines