Wheeled excavators join Doosan next-generation -7 line of machines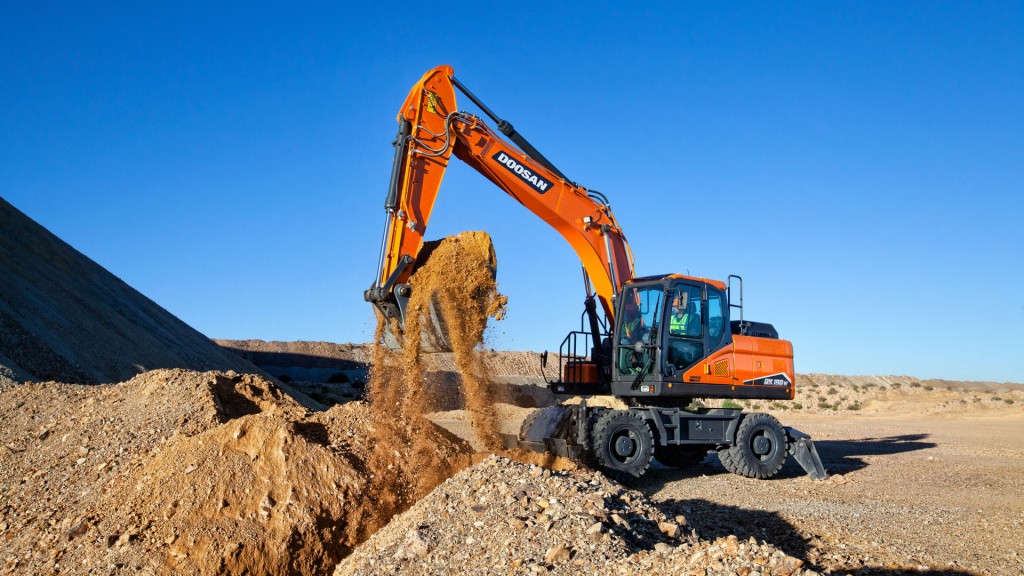 Doosan's next-generation -7 excavator line launched in mid-2022 with four crawler excavators, and is now expanding with the addition of three wheeled machines designed for demanding work and reduced fuel use, among other updates.
The DX140W-7, DX190W-7, and DX210W-7 replace -5 models in Doosan's line. They are targeted at work on bridges and roadways, or in urban areas, the company says. All have a balance of power and fuel efficiency, along with comfort features, intelligent controls, and smart machine functionality to ensure that operators can handle any task on any job site.
A modular design makes it possible for owners to configure the undercarriage based on the user's current needs, whether that be levelling ground, backfilling with the front dozer blade, or stabilizing the machine for digging. Four independent outriggers or two rear outriggers and a front dozer blade are available. These features allow wheel excavators to handle work in a variety of locations - the shoulder of a road when clearing ditches, for example, or picking up and loading materials for disposal.
Updated hydraulics and multiple power modes
Doosan has fitted these wheel excavators with hydraulic systems that are able to deliver strong digging forces, allowing them to lift more on each cycle. They are also equipped with a one-touch power boost feature that can be enabled to increase hydraulic power when digging in tough material.
Smart technologies like Doosan's Smart Power Control improve machine efficiency while maintaining productivity using variable speed control and pump torque control. Four power modes - Power+ for severe digging conditions, Power for deep trenching and truck loading, Standard for general utility work, and Economy mode for precision and maximum controllability - function with SPC engaged or disengaged. SPC is active in the digging work mode. Auto idle, auto shutoff, and machine diagnostics allow owners to manage their fuel costs more effectively.
Designed to improve visibility
The cab of the Doosan wheel excavators is designed to provide improved visibility and operator comfort. It includes more floor space, automotive-style heating and air conditioning, and options including a deluxe air-suspension seat. Joystick controls are ergonomically designed.
The 8-inch Smart Touch screen, a standard feature on -7 excavators, offers important information and settings on an easy-to-read touch screen, allowing for easier monitoring of critical machine functions and settings.
An optional all-around view monitoring system can provide a 360-degree image around the machine; operators can select one of five unique perspectives on a separate dedicated monitor.
DoosanCONNECT telematics are standard, making it easier to monitor and maintain machines.
New features include an optional load isolation system that engages at 5 km/h to reduce attachment and machine bouncing when travelling on uneven road surfaces. A standard auto hold brake system engages the digging brake automatically to improve operator comfort and productivity. A fine swing function reduces shock from excavator swing starts and stops to help with operator accuracy. An option allows wheel excavators to pull a five- to 10-ton trailer.
Related Articles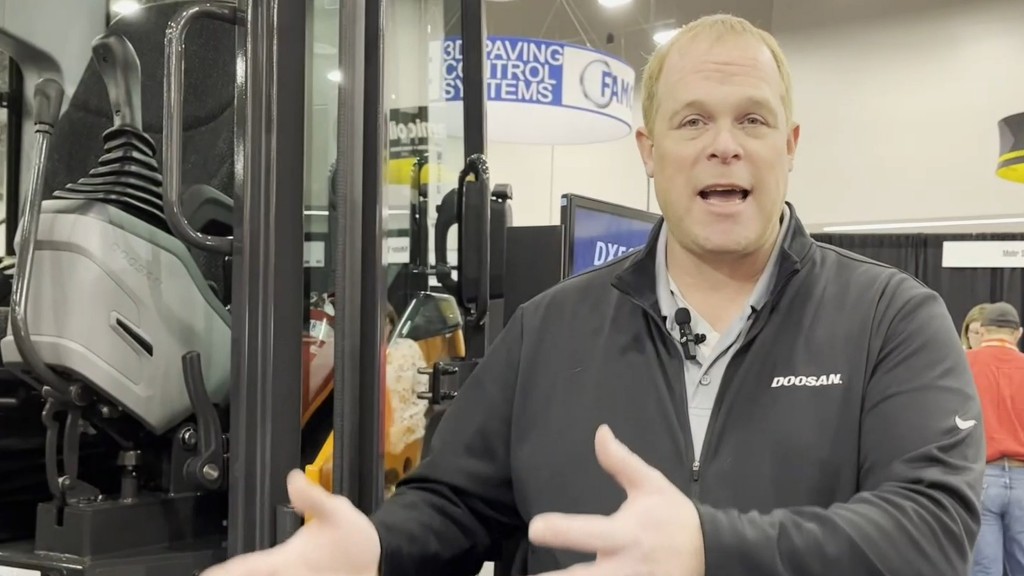 (VIDEO) Doosan introduces its new lineup of mini excavators starting with the DX50Z-7