How dozers of all sizes deliver rugged, accurate pushing power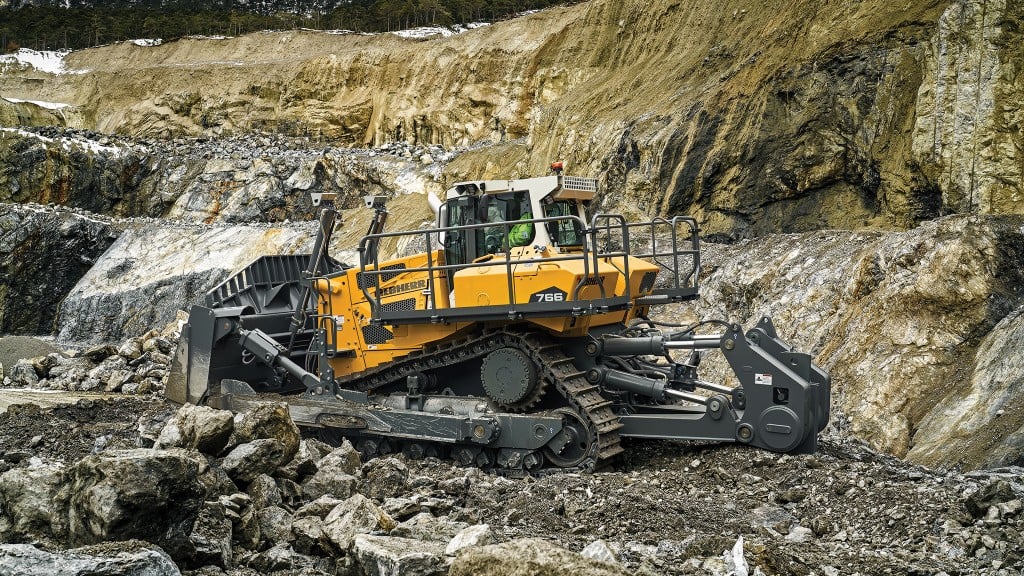 Big or small, the role of the dozer is to push hard and accurately with each pass on the job site. Manufacturers are focusing on design that gives operators expansive visibility and more control options. Here's a look at recent dozer introductions which include specialty machines, advanced control technology, and a new entrant into the market.
Liebherr expands its Generation 8 dozer family
The PR 766 G8 further expands the Liebherr fleet of Generation 8 earthmoving crawlers, with an operating weight of up to 55 tonnes. The Liebherr PR 766 G8 now has High Drive, which extends its capability into heavy-duty mining applications. The newly designed running gear maximizes performance and productivity – even on rough, stony ground over long operating periods. It features diesel-hydraulic drive and is powered by a Liebherr 8-cylinder diesel engine with a maximum output of 360 kW (490 hp). The operating weight of the hydrostatic dozer is up to 54.3 tonnes, with available blade capacities of 13.6 cubic metres (Semi-U blade) or 17 cubic metres (U-blade).
DEVELON enters the dozer market
The DEVELON DD100 weighs 10 metric tons and has a 122-hp engine. The dozer features a dual/single flange-type roller with several track guard options, electrohydraulic controls, and an 8-inch Smart Touch display in the cab. Cab safety features include minimized front pillars, maximized glass area, and a standard rear-view camera. The DD100 was designed with a narrower front engine compartment for better visibility. Two blade choices are available: 2.9 or 3.4 cubic yards.
CASE charges in with Minotaur compact dozer loader
The CASE Minotaur DL550 is a compact dozer loader that sports a chassis-integrated C-frame with a 90- or 96-inch six-way blade. The C-frame hydraulically couples to both the chassis of the machine and the attachment coupler. This allows the dozer to push from a lower angle with more stability. With its dozer-style undercarriage, the Minotaur has more than 25,000 pounds of drawbar pull. It is available with 14-inch single-grouser steel tracks, 18-inch triple-grouser steel tracks, or 17.7-inch rubber tracks.
Small Caterpillar dozers benefit from new technology
Caterpillar has added new operator assist technologies and remote-control-ready features for D1, D2, and D3 next-generation small dozers, including Stable Blade Lift and Tilt, Blade Load Monitor, Slow Slip Traction Control, and AutoCarry. The new systems are bundled with the Cat attachment ready option and Grade 3D packages. The Blade Load Monitor produces real-time feedback of current machine load, compensates for ground conditions, and monitors track slippage. The Low Slip Traction Control has normal and low slip operating modes to prevent excessive track slip. When pushing heavy loads, the AutoCarry function automatically raises and lowers the dozer blade for better pushing capability.
Dressta mid- and heavy-size dozers
The Dressta TD-15M ranges from 45,660 up to 47,780 pounds and has a turbocharged Cummins engine with up to 232 hp. A 3-speed powershift transmission and 2-speed steering drive delivers 472 kN drawbar pull. Electro-hydraulic controlled joysticks control the blade with blade speeds of slow, neutral, and fast. The larger TD-25M ranges from 90,940 to 92,410 pounds, delivers 375 hp, and 794 kN of drawbar pull. Both models have new high-visibility cabs with expansive glass surface area, a tapered engine hood, and rear-view camera.