Eagle Crusher brings two new plants to CONEXPO-CON/AGG 2023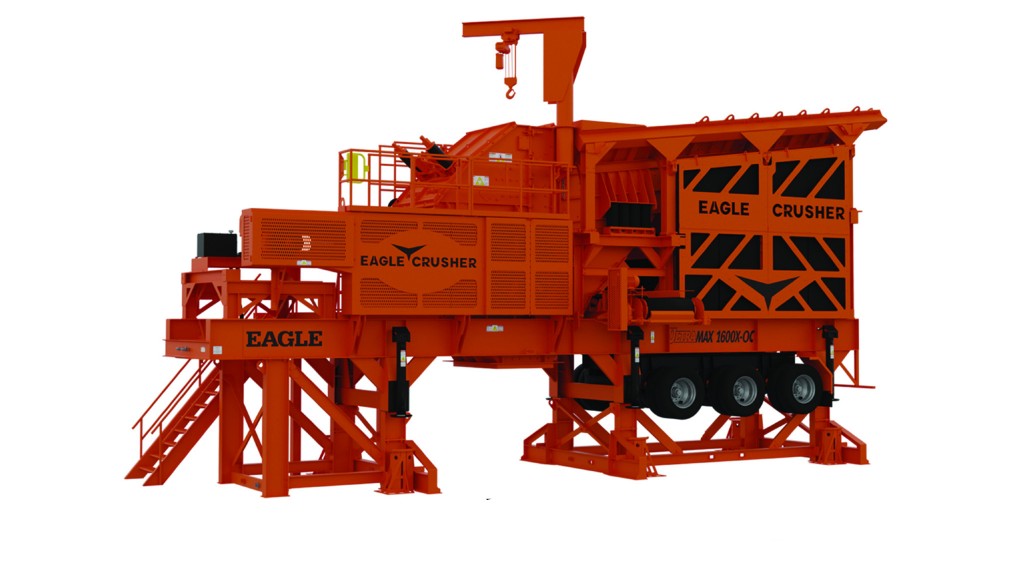 Eagle Crusher Co. will introduce two new plants on display in the Eagle Crusher booth (C30949) at CONEXPO-CON/AGG. The company will also showcase an established jaw crusher.
Eagle Crusher will display the UltraMax 1600X-OC portable impactor plant. The 1600X-OC plant is designed for larger-size aggregate operations and quarries. It features the UltraMax 69X impactor with a 69- by 51-inch feed opening to allow larger material into the impactor to increase throughput, up to 1,000 TPH. This means producers can prep less and crush more to reduce costs and increase profits. The plant's three-bar, sculptured rotor, weighs more than 13 tons and crushes large feed materials in one pass.
Eagle Crusher's new 8x20 screen plant with an integrated feed conveyor and blending gates will also be on display. This plant is for producers that need multi-product screening and can produce up to four products simultaneously, three with absolute sizing, or return the oversized product for further reduction. The integrated 60-inch feed conveyor remains on for transport and eliminates the need for a separate conveyor, while each screen deck features four blending gates to allow for a wide range of custom product mixes to meet specific product needs.
The 2036 jaw crusher will also be on the show floor. It is one of five jaw crusher models manufactured by Eagle Crusher. Like all the company's jaw crushers, the 2036 is designed to help eliminate premature failures and provide years of component life, durability, and reliability. It processes abrasive hard rock using an overhead design. All moving parts are contained within the main housing, making it ideal for portable or skid mounting.