Doosan's biggest excavator gets to work in New Brunswick quarry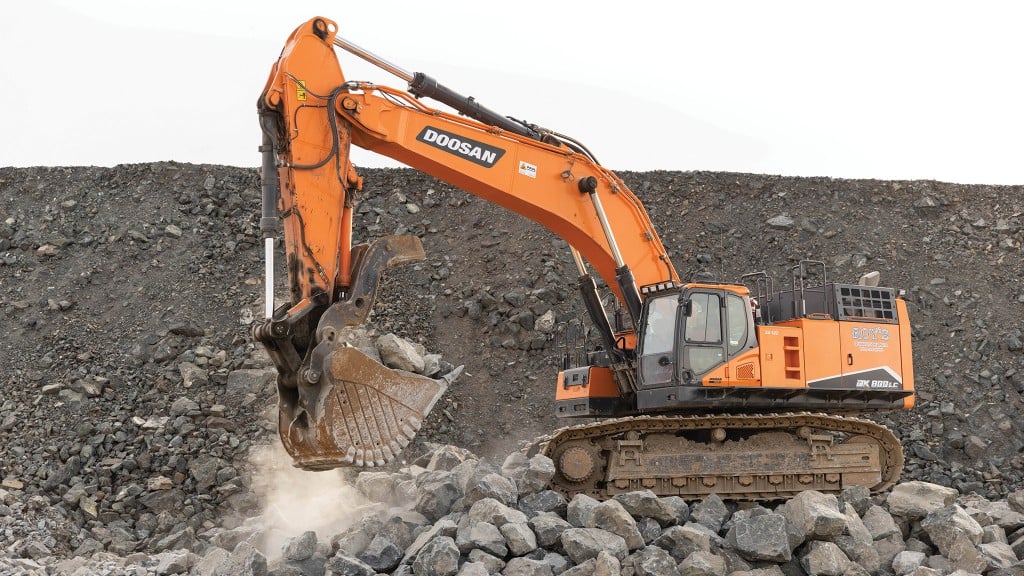 Construction is a way of life for Karine Roy. Her grandfather Armand T. Roy specialized in excavation and road construction. Her father, Daniel Roy, started a trucking company in 1979, grew the business doing general contracting jobs, and eventually pivoted to a quarry in the 1980s.
Now it's Karine's turn. She is the executive director of Roy's Trucking and Landscaping, Ltd, in Nigadoo, New Brunswick. The company operates a quarry in nearby Belledune, a small, predominantly French-speaking Canadian coastal village.
"We're focused on rock production: armourstone, filter stone, and aggregates," Karine says. "We produce the quarry materials and export them."
Like with other small businesses, employees wear many hats. Karine spends her days administrating tender submissions, estimating for selling of the rock, and managing cost of production. Meanwhile, Daniel oversees and operates heavy construction equipment in the quarry, including wheel loaders and excavators. Karine's mother, Rachel, handles the administrative side of the business, and the newest family member to join the company, Karine's husband, Mathieu Poirier, helps Daniel at the quarry and Karine in the office.
"Daniel and I sometimes have to help each other," Karine says. "He comes to the office to close big tenders, and I go on site managing jobs, and transport and operate heavy equipment."
Karine indicates there's plenty of work to keep the family members busy for a long time.
"We are halfway on the first floor of the quarry and there are two floors underneath that," she says. "Probably my children's children would still shovel rock."
Starting an armourstone trend
In the last 30-plus years, customers have turned to the Roy family business for their large rock needs. Customers buy armourstone, from 1-ton to 20-ton rocks, for their shoring projects. These include breakwaters, bank protection, and the reconstruction of wharfs and roads.
Roughly 20 years ago, the company fulfilled a customer order and sent a barge to Magdalen Island, Quebec, loaded with armourstone. That shipment started a trend that led to larger projects for other islands, such as Miquelon Island – south of Newfoundland – and St. Pierre.
"We still ship rock to Magdalen Island pretty much every year," Karine says. "We're presently in a project of shipping 150,000 tonnes this year."
The company utilizes its trucks to transport rocks to the Port of Belledune. From there, the company has shipped the quarry materials as far away as the island of Barbados in the eastern Caribbean.
"We are about five to six kilometres from the Port of Belledune," Karine says. "That's a big port that's exporting pretty much everywhere, and we get access to big ships. We do a lot of work there. We transport the rocks from our quarry to the port and load them on boats or barges. We are lucky to have that not far from our quarry."
Like at other quarries, extracting rock starts with drilling and blasting.
"We try to aim for as much armourstone as possible," Karine says. "We divide all the big rocks one by one, depending on how much the rock weighs. In the last couple of years, we've exported around 500,000 to 600,000 tons each year."
Heavy equipment operators sort the rocks into piles based on their weight, down to the smallest rock – known as filter stone. Karine says the operators separate the filter stone into sizes from 8 to 30 inches. From there it goes through a crushing, screening, and washing process.
"To produce the smallest rock, we put that rock in a crusher and then we do a 3-inch stone or a one-and-a-quarter-inch stone for asphalt projects," she says.
Demand for the stone is highest in summer and fall, and employees at the company work through winter to ensure that the product is ready come spring. Karine works on bids in late winter and early spring so the company has the correct rock sizes and weights needed for the busy season.
Working on the front row
Working on the "front row," as Karine calls it, is heavy construction equipment, including a Doosan DX800LC-7 crawler excavator – the first 80-metric-ton Doosan excavator sold in Canada. The machine is equipped with a heavy-duty bucket and a thumb for handling the rock after it's blasted or drilled.
"The DX800LC-7 likes the big rocks," Karine explains. "Sometimes I have 100-ton rocks that the excavator has to push down, and then we re-drill or re-blast. Other times the excavator moves the 20-ton rocks and divides them."
It's not uncommon for the DX800LC-7 to work as many as 10 to 12 hours a day. Once the excavator does the heavy lifting, wheel loaders equipped with scales pick up the rocks with a bucket or pallet fork. Each rock is weighed before it moves on to the next step in the process.
One reason the company selected the DX800LC-7 is the machine's boom and arm configuration.
"When you work in rock as we do, you don't want long booms or sticks because it's hard on it," she says. "We have the shortest boom that was available for the DX800LC-7."
Doosan offers the DX800LC-7 with a mass excavation arm for quarry applications like this one. A heavy-duty excavator front design offers additional reinforcement on key stress points to minimize machine downtime. It's also more fuel-efficient than previous excavators in the same size class, and with high diesel prices, every little savings helps businesses like Roy's Trucking and Landscaping.
Another significant reason for selecting the new machine was exceptional service from the local dealer: Paul Equipment & Sons. The dealer is not far from the quarry, and the parts and maintenance support provided by the dealer after the sale was vital in the decision process. Also, two previous equipment purchases from the dealer had proven to be wise decisions. A Doosan wheel loader purchased from the dealer is still in the company's fleet and contributes to the day-to-day operation. In 2022, the company upgraded its DX225LC crawler excavator to a new DX300LC-5.
Continued success
Industry knowledge and a dependable fleet of construction equipment are a good foundation for success. But that will only carry a company so far. Success also requires dedicated employees, proper equipment maintenance, following safety protocols, and providing exceptional customer service. Roy's Trucking and Landscaping checks these boxes each day.
"What sets our company apart from others is our experience and working hard for many years," Karine says. "Doing armourstone is not easy, and we've put lots of effort into understanding the process of extracting it.
"And the secret part of getting more production at fewer costs. Also, we have good employees that we can rely on. They are always there to ensure our needs are met."
Safety is another cornerstone of the company's success. Karine says each day there is a mandatory safety meeting with employees. She says they make sure everyone knows the dangers of working in the quarry. Another priority is providing the correct protective equipment and ensuring that employees are wearing it. The company's DX800LC-7 excavator is outfitted with an all-around view monitoring (AVM) camera system for enhanced safety.
"When working near a rock face, the camera system is something we really need; to have eyes everywhere," she says.
Looking ahead, Karine indicates there's plenty more drilling and blasting to come – enough for at least another three generations at Roy's Trucking and Landscaping.
Ryan Johnson is manager, strategic communications, at Two Rivers Marketing.