Straight boom excavator from Volvo CE designed for demolition
Lifting Mode for Volvo high-reach machines makes transportation easier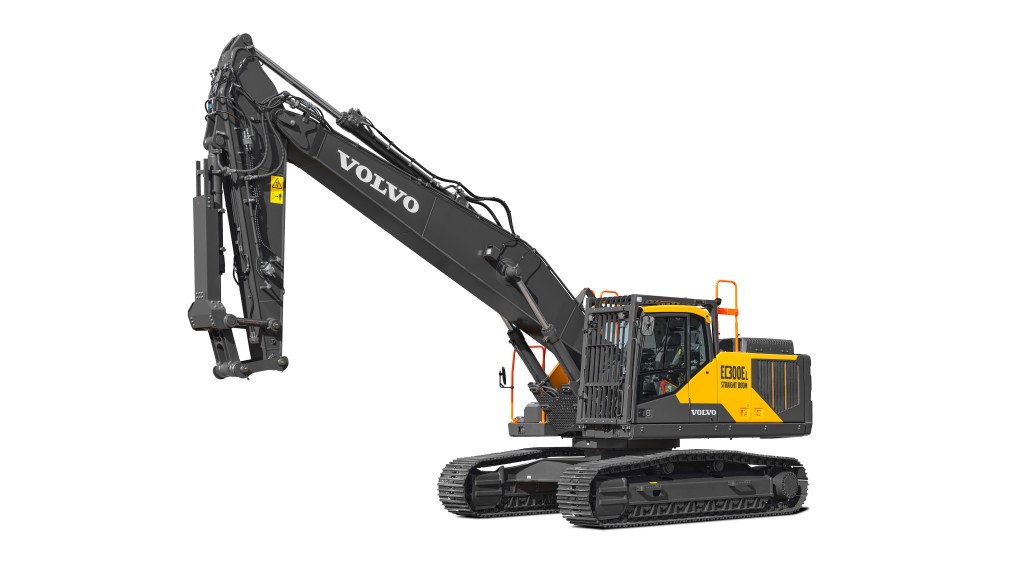 The Volvo Construction Equipment EC300E Straight Boom crawler excavator is designed for demolition, with a 23-foot-long straight boom and purpose-built arm that gives it a maximum reach of 33 feet.
The extra-long straight boom on the EC300E provides significant height and reach advantages over the standard machine it is based on. The cab is protected against falling debris with a frame mounted Falling Objects Guard while still providing clear views of the worksite. The roof window and front one-piece glass are made from P5A, which is resistant to high impact.
A reinforced frame made of heavy-duty plate steel with bolt-head protection is joined by heavy-duty undercover protection, a belly guard, and full track guard. A slew ring cover and heavy-duty side doors with screens and shutters offer added protection. Boom and bucket cylinders are also protected.
Standard features targeted for demolition applications include X1 and X3 auxiliary piping, a quick fit and oil drain line, and water lines connected to a dust suppression system that can work in either auto or manual mode. A heavy counterweight provides balance and is easily removable for transportation.
Lifting Mode adds flexibility for high-reach machines
The new Lifting Mode for Multi Demolition Boom, specifically designed for Volvo high-reach excavators, adds flexibility, reduced emissions, and lower cost of ownership to these machines. It can be factory-fitted to Volvo's three high-reach machines: the EC380E HR, the EC480E HR, and the EC750E HR, all of which are compatible with various extensions and booms for different applications.
Lifting Mode makes transportation easier because the excavator can safely lift components like cradles or high reach booms from the trailer to the ground for safe installation.
Machine software specifically designed for controlled lifting of equipment, as well as visual warnings outside the cab to alert bystanders that lifting is underway, are part of the solution. Software also controls hydraulic pressure and engine speed, ensuring optimum safety throughout.