Linden Comansa America Exhibiting at ConExpo 2014
Tower crane manufacturer to display in Gold Lot booth 2181.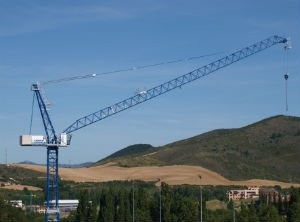 Linden Comansa America (LCA) will exhibit at ConExpo-­‐Con/Agg. The sister company of Spanish tower crane manufacturer Linden Comansa, LCA will occupy booth 2181 in the Gold Lot of the outdoor exhibition area.
LCA will utilize ConExpo to showcase the many new technological developments and crane models launched by Linden Comansa since ConExpo 2011, including: The new LCL 165 luffing jib crane, which completed the LCL Series. This crane comes in two versions, 8 and 12 tons maximum load.
-­‐ The new 21LC660 flat top tower crane, which completes the LC2100 series. Boasting Linden Comansa'a longest jib-­‐length of 84 meters, there are four versions of this crane: 18, 24, 36 and 48 tons.
-­‐ The new LC3000 series, Linden Comansa's largest cranes. Each of the two models in the series, the 30LC1100 and the 30LC1450, comes in three versions, with maximum loads of 36, 48 and 64 tons.
-­‐ The new PowerLift system, which allows an improvement of the load chart up to 10% with reduced speeds. This system comes as a standard on all of Linden Comansa's models of flat top tower cranes.
-­‐ The entire LC1100 and LC2100 Series have been recently reviewed, and now feature many new improvements.
Bill Carbeau, Linden Comansa America's Vice President-Business Development expects a very successful show: "We are seeing signs of recovery on the construction sector in the U.S. especially in the civil side," he says, "and we see rental rates and fleet utilization improving. Many projects are coming out now and our cranes are a great choice for new crane purchases. Our original flat top design now combines ease of assembly, fast smooth hoisting and other performance functions all rolled in to a reliable, well designed machine. We expect to see great interest at the show and beyond. We invite show attendees to stop by our booth and learn how our new 'Systems Approach' fully supports our customers for the bidding of a construction project through completion."
The upcoming ConExpo will be LCA's 4th consecutive participation in the exhibition. LCA was founded in 2002 to service the NAFTA countries in sales and after-­‐sales support. Located in Pineville, North Carolina (near Charlotte), LCA's facilities include a large warehouse for tower crane components, spare-­‐parts and technical training.