Crushers break through with monitoring, electric drive, and more technology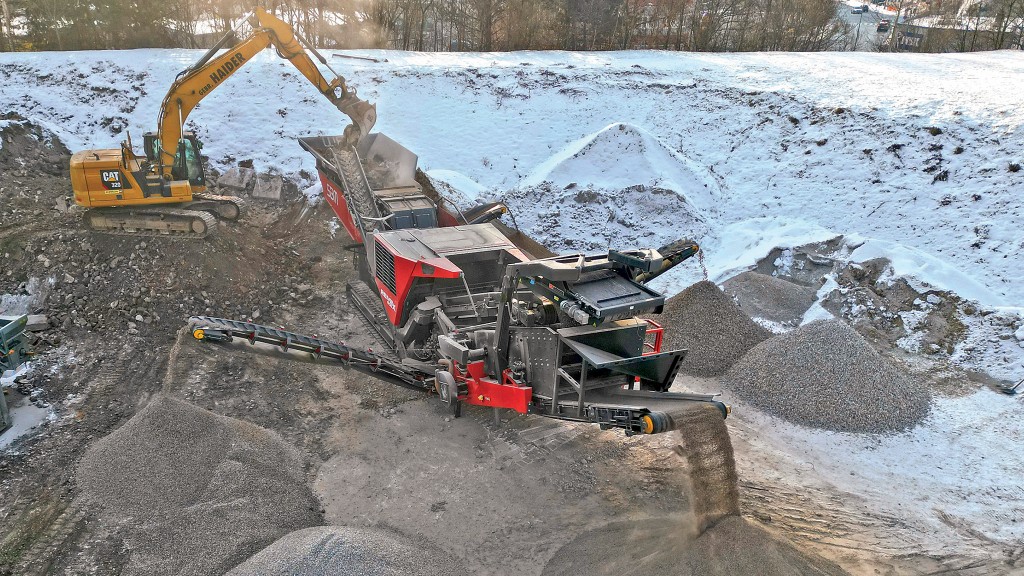 Technology is expanding in the crushing and screening sector with many manufacturers incorporating machine monitoring and electric drive into their plants – and autonomy is on its way. Here are some new and recent crusher introductions, many of which include the latest technology features.
SBM REMAX 600
The REMAX 600 for primary and secondary crushing is a 600-tph unit that features a 1,380- by 1,000-mm inlet opening. It is powered by a diesel-electric hybrid drive with optional grid operation. A 15-litre Cummins turbodiesel and 553 kVa generator run the crusher motor, conveying and screening equipment, and hydraulic units. All plant functions are available in all-electric operation. Autonomous operation, which uses sensors, cameras, and machine learning to monitor, track, and make adjustments to the crushing process, is in testing and could be commercially available for the REMAX 600 in or around 2024.
Cedarapids cone crushing plant
A new cone crusher is the heart of Cedarapids' CRC1350 portable cone crushing plant. The TC1300X cone crusher delivers 400-hp; it features high-efficiency roller bearings, and stroke in the crusher has been increased from 45 to 70 mm. It also features automated cone controls and larger closed side settings. Features of the cone crushing plant include an oversize quick-release cone feed hopper extension with an overflow chute, a 42-inch (1,070 mm) rugged straight-line product conveyor, and a metal detector for off-plant feed conveyor.
Kleemann digital tools
SPECTIVE CONNECT digital tools are now available on the MOBICAT MC 120(i) PRO mobile jaw crusher and the MOBICONE MCO 110(i) PRO cone crusher, allowing operators to review all the relevant process information and reporting on their smartphone. SPECTIVE CONNECT now includes the Smart Job Configurator; the operator enters application data into the app, which calculates the optimum machine settings automatically for transfer to the machine via the SPECTIVE touch panel. The new tool also supports selection of the best crushing tools, as well as recognition of the tools and tracking of their service life. Installed optional belt scales can now be viewed in the app.
Terex Finlay hybrid crusher
Fitted with a high-powered alternator, the J-1280 hybrid jaw crusher can power downstream screening plants or stockpile conveyors, improving overall fuel consumption and production efficiency. It can run from either the on-board genset power pack or from connection to an external power source.
The J-1280 hybrid is built around a Terex 1,200- x 829-mm (47 x 32 inch) high-performance electrically driven single-toggle jaw chamber. An integrated pan and heavy-flow VGF feeder features automatic power monitoring that helps prevent overflow and increases production.
Keestrack electric-drive crushers
Keestrack's ZERO-drive line is powered entirely by electric motors. These machines can be plugged directly into the power grid or run off a generator if necessary. The result is a significant reduction in cost and maintenance compared to standard diesel units. The new I4e, available as a ZERO-drive unit, is a tracked mobile horizontal reversible impact crusher which uses Reversible Impact Crusher technology to manage secondary and tertiary crushing of rock, oversized gravel, and recyclable material like asphalt.
McCloskey jaw crusher
The J4 jaw crusher chamber features a 1,060- x 700-mm (42 x 28 inch) jaw opening that accommodates large feed sizes and increases production speed. A 1,064- x 4,247-mm (41.9 x 167.2 inch) grizzly pan feeder under the hopper allows for better sizing of material with a variety of mesh options. A short pan feeder to suit the pre-screen or a double-deck grizzly pre-screen are both available. Customers can opt for a two-deck or one-and-a-half-deck system. The two-deck system delivers an extra product spec over the mid-size product conveyor.