Electric machines the highlight for Dynapac at its largest CONEXPO-CON/AGG yet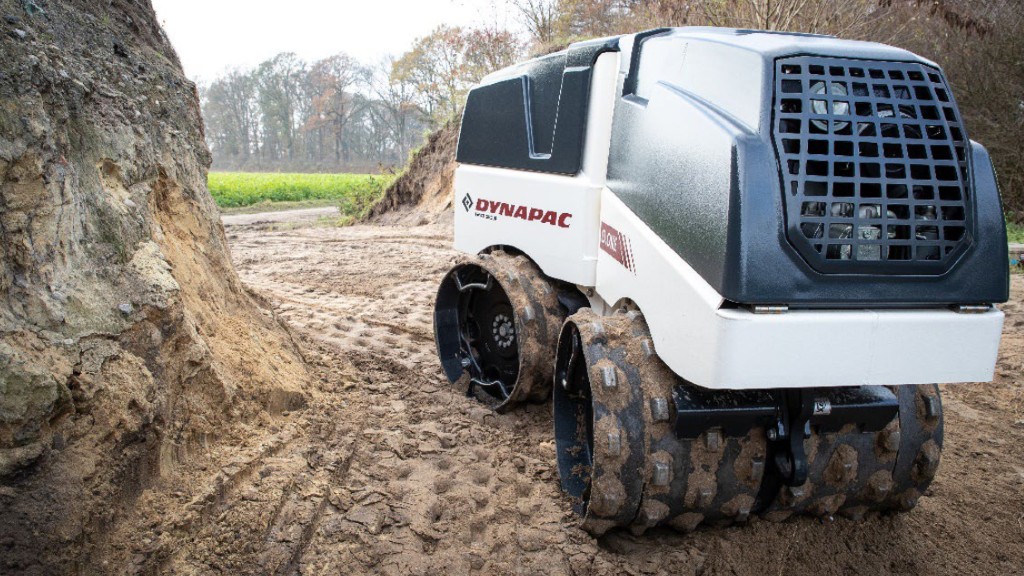 Dynapac has a large array of machines and technology for the compaction and paving industry and CONEXPO-CON/AGG attendees will be able to see these products first-hand. At the show, Dynapac will display paving, compaction, compact equipment, and technology that works with the theme of "Your partner on the road ahead."
"We are setting the stage for customers to experience Dynapac as a partner that has solutions to meet not only today's needs but also for future opportunities ahead of them," says Vijay Palanisamy, vice president of product management and marketing at Dynapac. "Being a sustainable partner is also a key focus for Dynapac and our newest Z.ERA electric range of products will be on display further showcasing our commitment for an emission free world."
Compaction machines and technology
Dynapac will showcase heavy compaction products and related technologies during CONEXPO which spreads from light tandem rollers, heavy tandem rollers, pneumatic tired rollers, soil rollers, and a tamping compactor.
The Z.ERA range of electric rollers
Dynapac will launch its Z.ERA range of electric rollers at CONEXPO-CON/AGG 2023 with the CC900 e and the CC1000 e. The 1.5 to 2.0 ton electric rollers offer the power, performance, static linear load, amplitude, gradability, and travel speed as the diesel-powered models which they are based on.
Dynapac's new range of seven to nine tonne tandem asphalt rollers
The new VI Generation seven to nine tonne (16,980 to 19,845 pounds) asphalt rollers will be at CONEXPO. The new range includes three articulated models (CC2200VI, CC3200VI, CO2200VI) and an additional two fixed frame pivot steer split drum models (CG2300VI, CG3300VI) from 59- to 66-inch drum widths.
The New VI Generation mid-range roller uses several technologies from its larger counterpart like full seat rotation, an eccentric system combined with active ECO mode to reduce fuel consumption and carbon footprint, and full backup water sprinkler systems. A newly upgraded simplified operator control panel for this series with a full-colour seven-inch touchscreen display provides more machine controls for the operator.
SEISMIC technology on asphalt compaction
Dynapac's SEISMIC technology for soil compaction now will be extended for asphalt compaction. Starting with the CC2200VI, the SEISMIC system will be introduced on the mid and large tandem asphalt roller range. SEISMIC System automatically determines the optimal compaction frequency for various types of asphalt mix design and adjusts vibration parameters. The technology reduces energy consumption and achieves ideal compaction results.
The road to autonomous compaction
During CONEXPO, Dynapac and Trimble Inc. will showcase a step toward autonomous compaction.
Job site safety technology
Dynapac will also showcase the integrated job site safety system for pedestrian detection. The 360-degree, bird's eye view uses four cameras integrated onto the machine's roof along with a 10-inch display. The pedestrian detection system will alert the roller operator visually and audibly to help reduce work-related injuries.
Dynapac's paving products and technologies at CONEXPO-CON/AGG 2023
Dynapac will showcase its full line of compact, commercial, and highway class asphalt pavers along with the IMIX feeder. For special applications such as RCC, CIR, and airport paving Dynapac will show its high-density SD2550CS paver.
A remote-controlled compact paver
Dynapac says that the F1250CS compact path paver is the world's first remote-controlled paver. The RC360 can be operated by one person from the ground. The four-foot F1250CS path paver tractor is paired with a VF240VE front extension screed paving widths from 3.9 feet to 7.3 feet with optional screed extensions available to increase the width to 10 feet. The front extension screed offers versatility in narrow confined spaces such as trenches, parking lot paving, and fill work.
Dynapac's new commercial paver
Dynapac will introduce the D17C commercial paver, successor to the FC1700C, at CONEXPO 2023. With standard paving width of eight to 15.5 feet, the D17C is ideal for medium to large parking lots and county roads. With optional bolt-on extensions, the paver can pave up to 18 feet wide. The key updates include a direct drive 16kW generator to the engine along with a fail-safe heat management system for increased efficiency and reliability. The proportional auger conveyor system increases flexibility to control the material flow to the screed.
The D17C will carry the VF0816 screed ideal paving results. The quad-auger system is another staple for Dynapac's commercial class paver because it helps eliminate the manual work needed while paving wider widths.
Dynapac's D30 and D25 North American highway pavers
Dynapac will show its recently launched North American highway paver lineup during CONEXPO. The D30 is a 10-foot paver and the D25 is an eight-foot paver.
The pavers are equipped with Dynapac Pave Manager control system with numerous operator assist functions (feed assist, clean assist, impact assist, and dive stop) for easy set up and uninterrupted paving. The Mat Master Screeds combined with newly developed heating controls provide an ideal mat quality. To maximize uptime further and to reduce the total cost of ownership, the wear parts on these pavers are designed for maximum wear life. Backed by a warranty on select wear and ground-engaging components up to 5 years/5,000 hrs, users can expect long intervals between rebuilds.
High density with the SD2550CS paver and V6000 TH E screed
As the need for specialized applications for pavers like roller compacted concrete, airport paving, and thick lift paving continue to increase, Dynapac's SD range of pavers with high compaction equipped with a V6000THE screed helps meet these demands. Dynapac will showcase the largest of its range with the SD2550CS paver equipped with a V6000 TH E high compaction screed. Paving a thickness of up to 14 inches and a width of up to 29.5 feet, the high compaction V6000 TH E screed offers value in special applications achieving the density needed.
The Mat Tracker system automatically adjusts the screed extensions providing job site safety and high-quality results for joint paving applications. The paver uses an open interface concept for adding 3rd party levelling or highly desired 3D levelling software.
Dynapac's compact equipment and technology
Dynapac will showcase its full range of compact equipment which includes rammers, plates, a walk-behind roller, and a trench roller. The CONEXPO launch will also include the newest additional Z.ERA range of electric forward plates and Rammers.
D.ONE remote-controlled trench roller
Dynapac D.ONE trench roller features radio remote control technology that allows for uninterrupted and long-range connectivity on the job site. The D.ONE delivers ideal compaction quality using directed vibration technology. An eco mode, automatic vibration control, and a maintenance-free articulated joint are some of the features that keep the operating costs to a minimum.
An optional Dynapac Compaction Indicator (DCI) is a validation tool that can show real-time compaction results. DCI operates with a sensor and series of lights providing compaction degrees to the operator so that ideal compaction can be achieved, preventing over or under compacting.
DTR75 walk behind roller
The DTR75 walk behind roller provides ideal surface coverage and gradability with the help of the Hydrostatic drum drive. A variable speed combined with twin vibration technology helps to deliver a smooth surface. The vibration module on the DTR75 series with the selection of two amplitudes along with a continuously variable speed selector ensures a smooth surface and uniform compaction with a reduced number of passes and time.
Dynapac's rammers at CONEXPO 2023
Dynapac's DR6X 130-pound and DR7X 150-pound rammers use a special engine developed for its dual stage filtration system and a steel cage for tough handling. Dynapac says that the compaction force delivered by the rammers doesn't affect operator comfort. The comfort of the operator is further increased by the dampened handles reducing hand and arm vibration significantly.
Dynapac's plates for either direction
Dynapac offers a full range of forward and reversible plates for compacting sand, rock fill, or paving stones. The X series forward plates (DFP5X and DFP9X) provide wide coverage in weight from 115 to 238 pounds as well as a working width from 12 to 20 inches. The DFP series can be equipped with low-vibration comfort handles with hand-arm vibration (HAV) values that help enable long working hours. A detachable water sprinkler system and block paving mat give the flexibility to use the equipment for different jobs with asphalt and concrete blocks in addition to soil.
The new DRQ series reversible plates weight 360 to 750 pounds. The DRQ15, DRQ25, DRQ30, and DRQ35 are designed for rock fill or soil. A Hardox base plate ensures long wear life and reduced operating costs. A Semi-open frame provides easy access for service and the ERGO handle makes it easier to run without much hand or arm vibration.
All-electric forward plates
The Z.ERA range of products extends into Dynapac's forward plate series. The DFP8X e and DFP9X e are emission-free forward plates ideal for residential areas and indoor construction. The easy start/stop function offers greater operational ease while the battery plug-in/out, combined with a quick-charging and swappable battery unit, provides more convenience. With an all-electric drive, both the DFP8X e and DFP9X e bring significantly reduced routine maintenance and service costs.