Manitou introduces new machines at ARA Show, teases CONEXPO introductions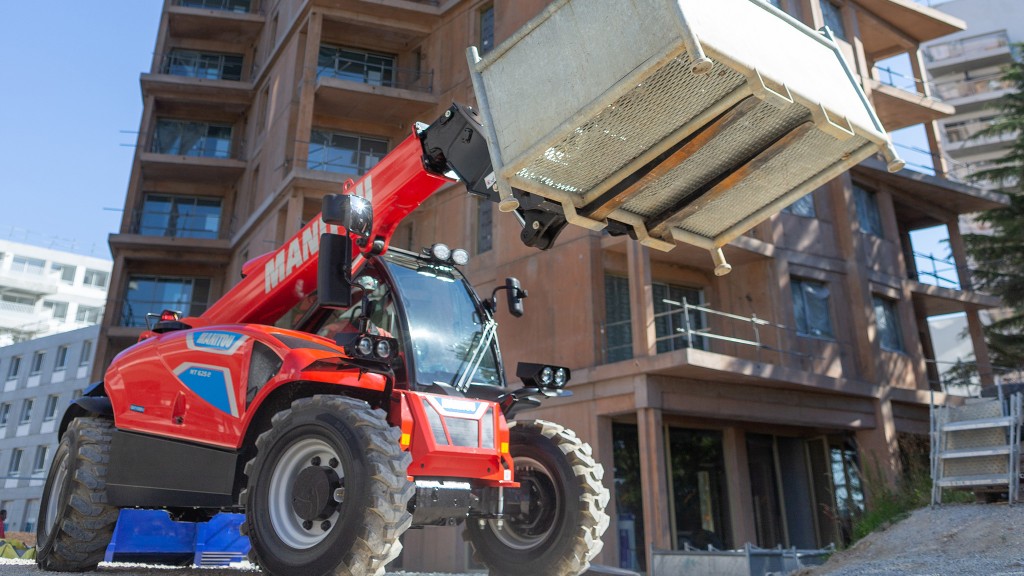 New battery-electric telehandlers and a tease of new machines to come were part of Manitou's presence at the ARA Show 2023. The company brought several new North American releases to the show, and gave an indication of what it will display at CONEXPO.
Trio of electrified telehandlers introduced
Central to Manitou's display were its new electrified telehandlers: two rotating machines and a compact telehandler from the company's "Oxygen" line of low emissions equipment.
Introduced to the North American market at ARA were the MRT 2260e and MRT 2660e VISION+ rotating telehandlers as well as the MT 625e compact electric fixed telehandler. An extension of the manufacturer's VISION+ line, the MRT 2260e and 2660e both deliver 13,200 pounds of maximum capacity, and are 100 percent electric. A 700 V/65 kWh lithium-ion battery is designed for sustained work in all environments, while an optional second battery doubles available capacity for work. An optional onboard charger can achieve charging times in less than an hour in the right conditions, while an optional E-Xtra Generator delivers a hybrid experience that can supplement the electric power. Plug-in mode allows the machine to operate while connected to the main energy supply.
The MT 625e is a 100 percent electric fixed compact telehandler with a maximum capacity of 5,500 pounds that can reach 19 feet 2 inches and reach out up to 11 feet 1 inch. It can be fitted with a 25 kWh lithium-ion battery standard or 35 kWh optional battery, and can reach full charge in just over two hours with the optional 9 kW onboard charger (a 3 kW charger is standard). Its small size works well for indoor operation and tight spaces.
Five models of telehandlers to be fully unveiled at CONEXPO
Manitou will fully unveil five new MTA series telescopic handlers designed for North American markets during CONEXPO. They start with the 74 horsepower MTA 642, with 6,000 pounds capacity lifting up to 42 feet high, and range up to the MTA 1255, at 127 horsepower, 12,000 pound capacity, and a max lift height of 55 feet.
Two new models, the MTA 842 and 1055, feature multiple options to give fleet managers flexibility that best matches their needs.
Compact handlers maneuver tight job sites
Also introduced at the ARA Show is the ULM ultra-light compact telehandler line, two machines - the ULM 412 and 415 - that are targeted at rental, construction, landscaping, and other sectors. These machines are just under 60 inches wide and 76 inches tall, and feature powerful performance in a compact footprint. Both machines have a max lift height of 14 feet 1 inch. The ULM 412 has a maximum capacity of 2,200 pounds, while the ULM 415 can handle 2,650 pounds.
Both machines are equipped with a two-speed hydrostatic transmission, and feature four-wheel drive, four-wheel steer, oscillating rear axles, high ground clearance of 11.5 inches, and an 8-foot 7-inch outside turning radius. Both are under 6,000 pounds, which makes them easy to transport by pickup and trailer.
These machines are easy to operate using the JSM (Joystick Switch and Move) control, which offers flexibility along with precise machine drive and material placement functions.
Flotation tires for MEWPs and rough terrain forklifts also launch
Also on display at the ARA Show were all-new flotation tires for the Manitou TJ series of mobile elevating work platforms, which provide greater stability and traction while operating on soft ground. These new tires will aid in reducing turf damage and handle wet surfaces easier.
The tires are rated for loads up to 14,300 pounds, making MEWPs like the TJ 65+ and TJ 85 more reliable and effective on soft ground or varied terrain.
In addition, Manitou launched a new series of rough terrain forklifts.
Related Articles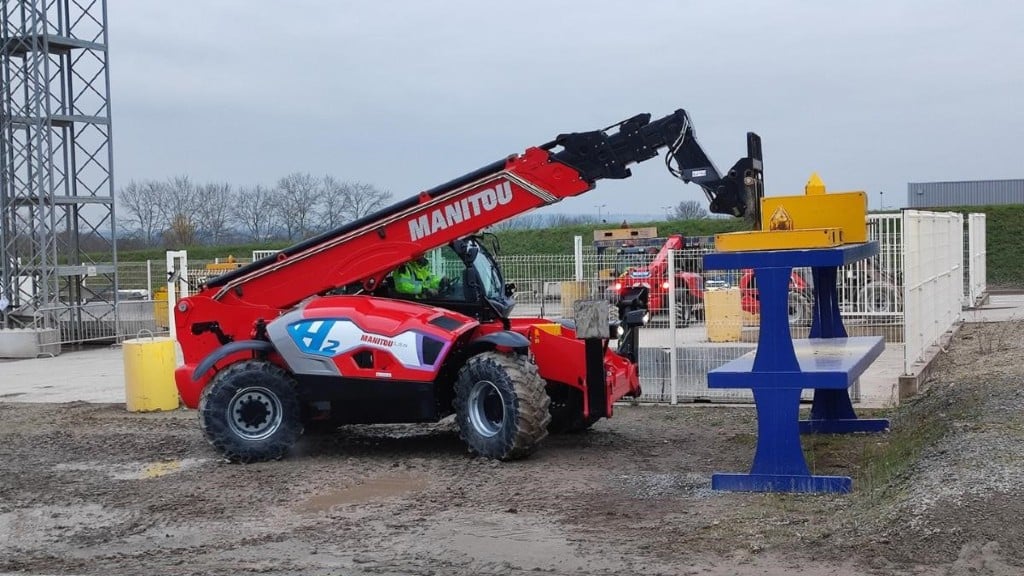 Manitou prototype telehandler the first step in hydrogen-powered research and development