More swing torque and power help Cat's updated forestry machines keep up on busy logging sites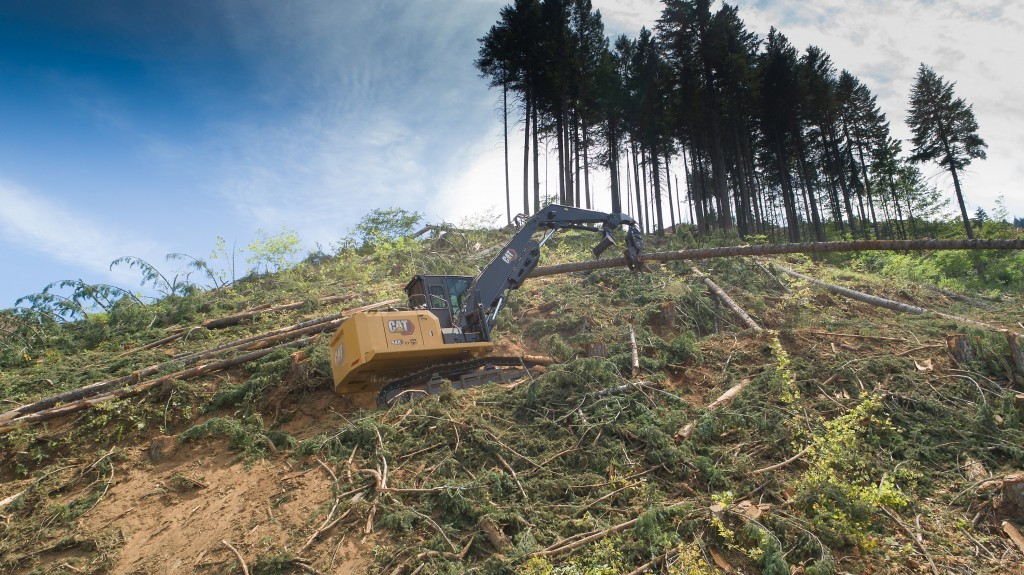 Caterpillar has updated both the Cat 548 and 558 forest machines. The updates focus on increasing operator comfort and safety while decreasing maintenance costs and increasing efficiency and productivity. New remote monitoring technology has also been added to both models.
Brent Uitermarkt, vice president for Caterpillar's forestry products, says that both the 548 and 558 are known for their reliability and that these updates will double down on the reliability the forest machines bring to a forestry job site.
Increased production of the Cat 548 and 558 forest machines
Both of the new forest machines are powered by a C7.1 engine and are available in log loader and general forest configurations. On the 548, this new engine produces 30 percent more power than the previous generation which enables the electrohydraulic control system to deliver a 30 percent increase in swing torque. The drive system updates also help the machine travel 10 percent faster than before.
The C7.1 engine on the 558 forest machine generates 25 percent more power than the previous iteration. Hilly work is also easier to complete because the electro-hydraulic control system produces 30 percent more swing torque and 15 percent more travel power.
Both machines can operate with a Smart mode that automatically matches engine and hydraulic power to the working conditions to help reach ideal fuel efficiency. Both machines can work year-round with a cold-start capability of -25 degrees Fahrenheit (-32 degrees Celsius) and in high ambient temperatures up to 126 degrees Fahrenheit (52 degrees Celsius).
Safety and comfort
The cab of both machines is a reinforced structure with a large 1.25-inch (32-mm) thick polycarbonate windshield. Available in a choice of rear or side entry, the cab's interior space is 25 percent larger, allowing most operators to stand without hitting their heads. The operator's field of view has been increased by 50 percent due to narrower cab pillars, larger panoramic windows, and a flat engine hood. A rear-view camera increases operator visibility behind the machine.
Optional safety and comfort include three cab rises that come in a 22-inch (559 mm) fixed option and two tilting options that come in 48 inches (1219 mm) and 72 inches (1829) options. An easy lock cab tilting system is also available in the log loader configuration which makes for easier transportation.
Ingress and egress on both machines are easier due to the cab's wider and taller door and tilt-up console on the operator's seat for the side-entry cab. A dual HVAC system keeps operators comfortable regardless of working in the summer heat or during subfreezing ambient winter temperatures. An insulated roof and improved window and door seals keep in-cab noise levels low.
Operators have multiple options for starting the engine on both machines, including an easy-to-reach push button, Bluetooth key fob, or unique Operator ID function; Operator ID allows each operator to quickly program and store their own machine settings and attachment function preferences. A 10-inch (254-mm) touchscreen monitor delivers intuitive navigation and includes a digital version of the operator's manual for quick reference. The available Cat PL161 attachment locator assists in finding work tools within a range of 200 ft (60 m), even if covered by overgrowth or debris.
Lower maintenance costs
Compared to the previous models, both forest machines will consume 50 fewer filters over the course of 12,000 hours, which contributes to lowering maintenance costs by up to 15 percent.
"We improved our filters and our service intervals, and we improved ground-level access to service points to make daily maintenance quick and safe," said Uitermarkt. "Our new electrohydraulic control system eliminates the need for a pilot filter and pilot oil altogether."
Fuel filters feature a synchronized 1,000-hour change interval - double the service life of the previous models. A new hydraulic oil return filter improves filtration and delivers a 3,000-hour service life, which is 50 percent longer than previous designs. The cooling fan runs only when necessary, and reversing intervals are programmable to enable the fan to keep the radiator cores clean without interrupting work.
Modern technology
Product Link technology captures critical operating data, fault codes, and machine location information to boost fleet management efficiency. When within cell coverage, the remote troubleshooting feature on both machines analyzes the data captured by Product Link and can share it with the Cat dealer to help save a service trip to the job site. Owners can also be sure the 548 and 558 are operating with the most current version of the software with standard remote flash, which updates machine software around the production schedule.
Uitermarkt says that the 548 and the 558 are great machines for moving logs more efficiently, safely, and comfortably. Plus, when a Cat dealer is involved, owners and operators get a strong support network to make sure that the machines stay operating.
Related Articles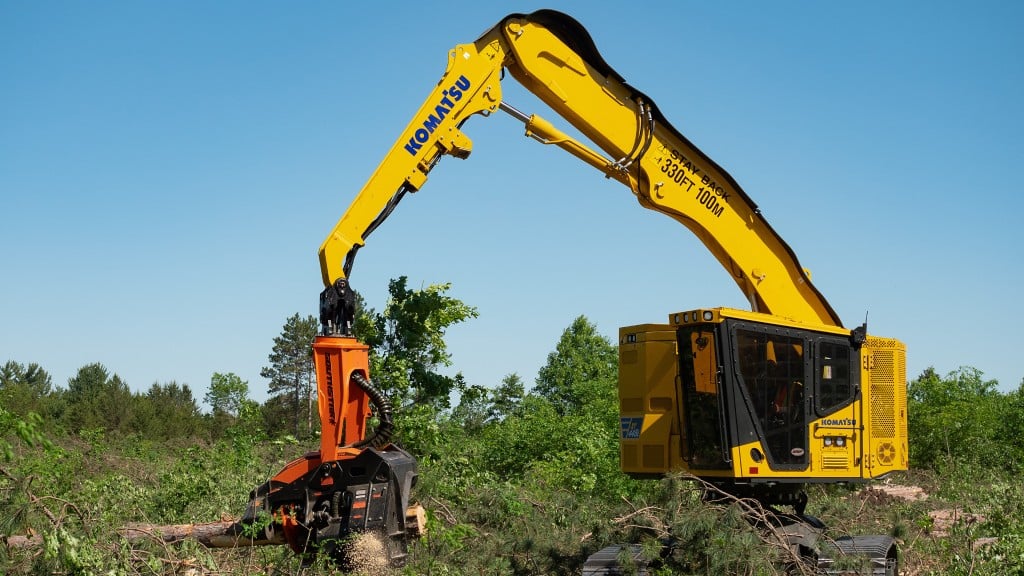 Komatsu's new tracked harvesters harvest trees closer to the machine using an offset boom