Onboard camera technology boosts operability of Ligchine's new concrete boom screed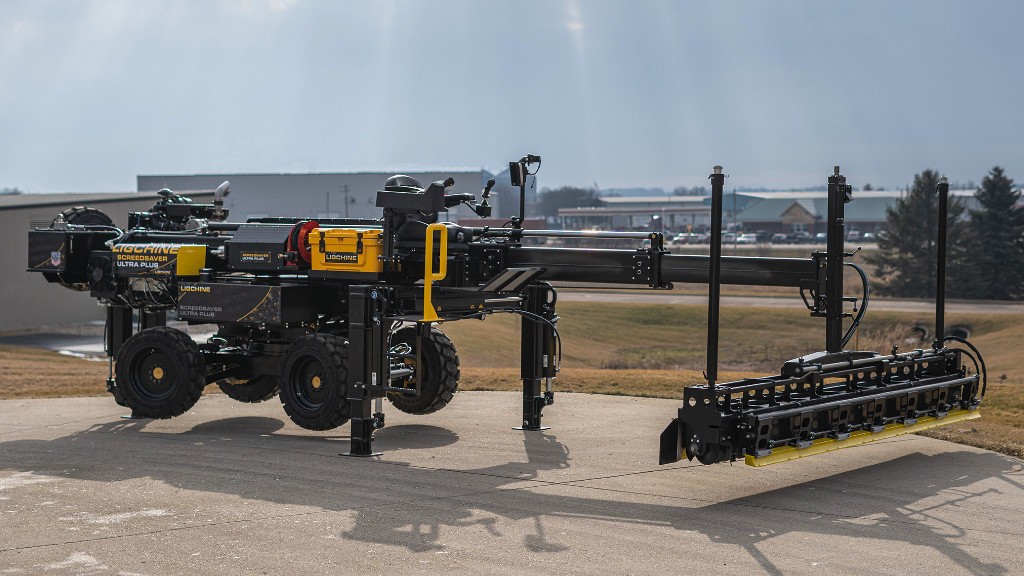 Ligchine International has released the SCREEDSAVER ULTRA PLUS concrete boom screed. The ULTRA PLUS brings the latest in Ligchine's technology and innovation.
Pete Ligman, the co-founder of Ligchine, says that the ULTRA PLUS concrete boom screed brings the company's newest technology to contractors. He says that the concrete boom screed uses the industry's first onboard camera system. The machine also uses an elevated operator's station for wireless and seated operation.
The concrete screed utilizes a heavy-duty boom reaching 20 feet with a 14-foot 6-inch screed head. A 45-horsepower Kubota turbocharged diesel engine powers the ULTRA PLUS. Four-wheel drive with a two-speed drive range, and four-wheel independent steering, increases the maneuverability and traction of the concrete screed.
The ULTRA PLUS features an elevated operator's platform, including a captain's seat, twin joystick controls, and a 7-inch touchscreen control panel – which also serves as a display for the SCREEDVIEW camera system. On board, operators will find a built-in pressure washer for clean-up, two locking toolboxes, and two high-capacity water tanks.
"The ULTRA PLUS allows Ligchine to provide a highly productive machine with all-new technology and innovation not currently available on the market," adds Ligchine CEO, David J. Ring. "Our dedication to providing solutions to meet contractor needs allows us to keep development focused on impactful innovation."