John Deere and Wirtgen's massive CONEXPO booth focuses on new machines and future technology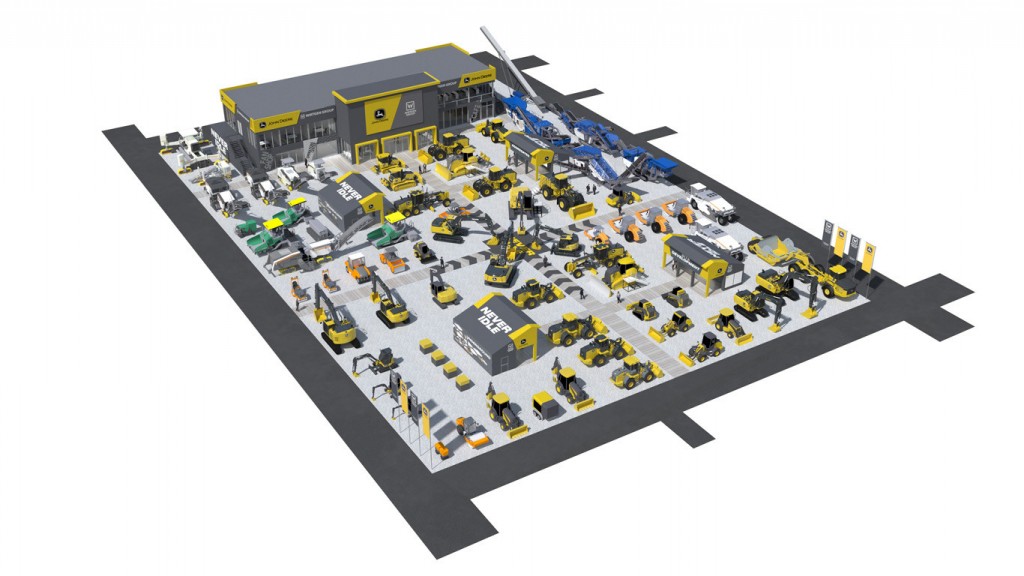 John Deere will have its largest presence ever at CONEXPO-CON/AGG 2023. Totalling 80,000 square feet of booth space, John Deere and Wirtgen are combining their exhibits, encompassing a 70,000 square-foot booth. An additional 10,000 square feet is dedicated to John Deere's future construction technology.
In addition to the booth experiences, exhibition attendees can anticipate the following from John Deere and Wirtgen:
One cohesive booth showcasing both John Deere and Wirtgen's latest machines and technologies.
70,000 square feet of outdoor space displaying John Deere and Wirtgen equipment, technology, and application experience
10,000 square feet of indoor space focusing on John Deere technology and solutions, and John Deere Power Systems.
68 machines on display between John Deere and Wirtgen.
Six machines that feature SmartGrade control functionality. Wirtgen machines equipped with the technologies: Wirtgen Performance Tracker, AutoPilot 2.0, 3D Paving, Smart Compact, Spective Connect.
Nine compact construction machines are on display such as skid steer loaders, compact track loaders, compact excavators, and compact wheel loaders.
Nine electric or hybrid electric John Deere and Wirtgen machines are on display.
36 World Premieres of brand-new equipment across the construction, roadbuilding and compact construction segments.
Four production systems, showcasing John Deere and the Wirtgen's priorities including aggregates, site development, roadbuilding, and underground.
One centre feature area for the future of John Deere excavators.
Three educational sessions featuring commentary from John Deere and Wirtgen.
Both John Deere and Wirtgen designed the booth layout with a production system strategy in mind. The four production systems–aggregates, site development, roadbuilding, and underground–were created to emphasize their core business areas. Each production system will showcase key components, equipment, and features.
John Deere will host a session that will feature Justin Steger, solutions marketing manager at John Deere Construction & Forestry, on Thursday, March 16 at 1 p.m. titled "How Grade Control Impacts Earthmoving Productivity." From the Wirtgen Group, Tom Chastain, milling product manager, will discuss "Best Practices in Milling and Profiling" on Thursday, March 16 at 9:30 a.m. And lastly, Tim Kowalski, application support manager at HAMM, will lead a discussion titled "Compaction 101: Doing the Right Things, the Right Way" on Friday, March 17 at 10:45 a.m.