Ram shows its concept battery-electric 1500 Revolution at CES 2023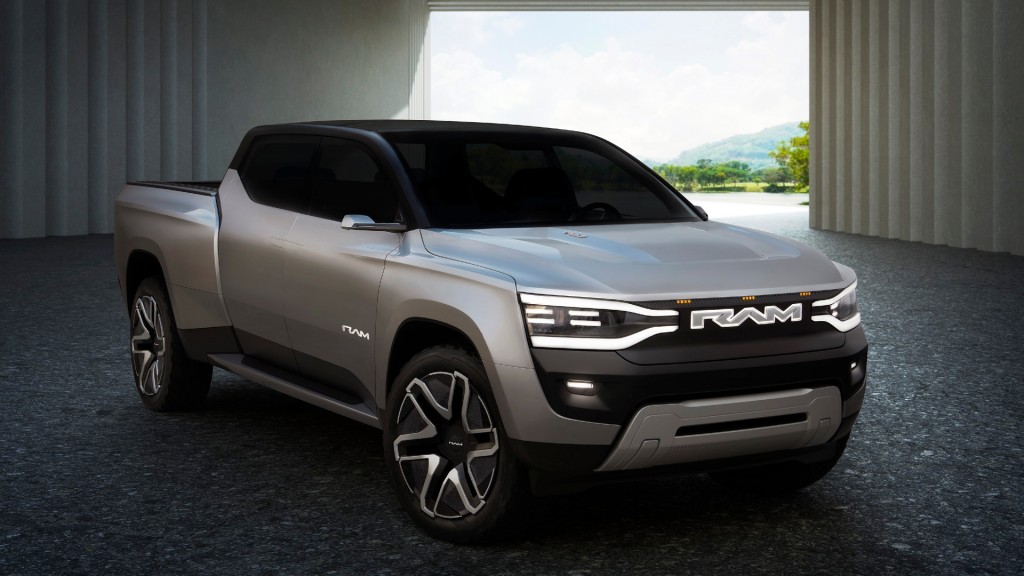 Ram is powering its way into the electric vehicle market with the debut of the 1500 Revolution, its first battery-electric concept pickup, which was introduced at CES 2023.
The concept truck is one step in Ram's efforts to offer a broad portfolio of fully electrified solutions, which will include the Ram 1500 in 2024 and a lineup of other options in the years to come. Ram says the 1500 Revolution concept is the first chapter in how it will establish that collection of electric offerings.
"The Ram 1500 Revolution BEV Concept is our clearest signal yet that we're on the precipice of something extraordinary at Ram and points directly to where we're going on our electrified journey," said Mike Koval Jr., Ram brand CEO - Stellantis.
Using the Stellantis STLA Frame platform, the Ram 1500 Revolution features a body-on-frame design that incorporates the battery pack efficiently. Two electric drive modules are positioned towards the front and rear of the vehicle to maximize interior space and allow for a large frunk. The concept is designed to accommodate larger EDMs in future for high-performance applications.
According to Ram, the concept truck can add up to 160 km of range in about 10 minutes, using an 800-volt DC fast charging system at up to 350 kW. Part of Ram's showcase at CES includes a new inductive robot charger that will detect the vehicle's presence and its charging needs, then move into position under the vehicle for easier home charging.
A striking exterior design described by Ram as "brutiful" - brutal yet beautiful - is one of many innovations on the 1500 Revolution. Fully animated LED lighting is integrated into the truck front and back, and the fascia design is integrated, with a skid plate and new pivoting tow hooks. A powered frunk is opened and closed with one touch, adding capability and storage. Other powered features include the charge-port door, the tailgates, side steps, and a rear step, along with flush-mounted door handles.
Inside the truck, touchscreens provide the centre of an advanced interior, allowing easy view of a variety of data. The rearview mirror is smaller than traditional truck mirrors, but is packed with technologies including a smart backup camera with 360-degree views, speakers, and receivers compatible with voice assistants. The mirror uses views from various cameras to provide greater clarity of surroundings for drivers.
Other technology on the concept Ram 1500 Revolution includes such things as a vehicle personal assistant to enhance interaction with users, a shadow mode that allows the vehicle to automatically follow behind a driver walking ahead of it, an intelligent storage app, autonomous capabilities, and more.