Tracked dump trucks from PowerBully haul high loads with low ground pressure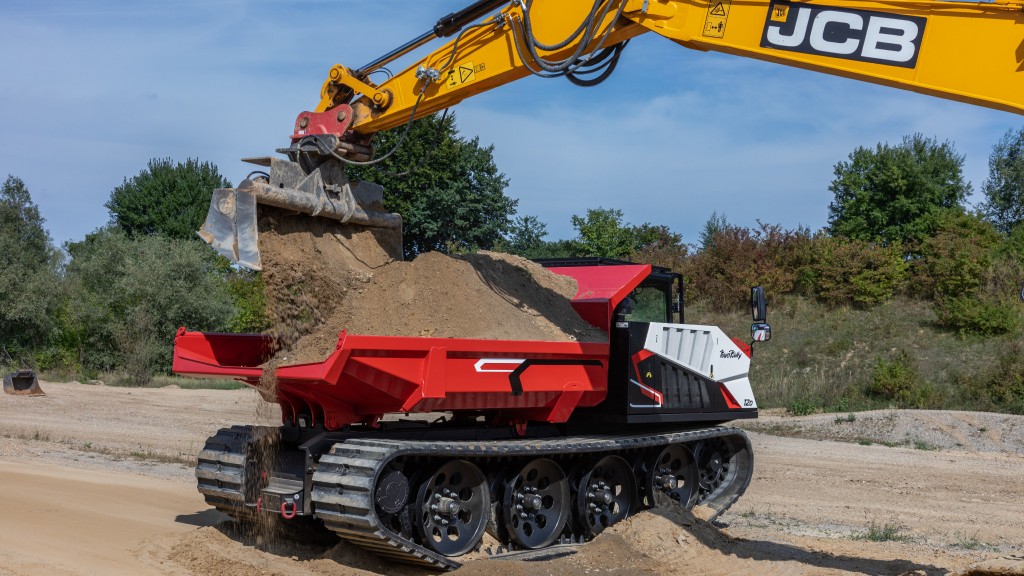 Known for its mobile all-terrain tracked vehicles, Kässbohrer used bauma 2022 to introduce a new generation of carriers for the construction industry. The PowerBully dump trucks offer a payload of more than 11.5 metric tons with ultra-low ground pressure for moving over muddy, soft and difficult ground.
PowerBully introduced two models of dump chassis at bauma, the 9D and 11D. Both machines are powered by a Cummins B6.7 six-cylinder turbo diesel engine, producing 235 or 285 horsepower respectively, and feature a hydrostatic propulsion drive. Rear wheel drive generates a high degree of traction and maximum speed of 14.5 km/h. These machines have a slope angle of 45 degrees, making it possible to drive on uneven ground and cross trenches.
When it comes to payload, the PowerBully tracked dump trucks are able to carry high capacities while maintaining their low ground pressure. The 9D can haul a payload of up to 7,500 kg (16,500 pounds) while the 12D can carry up to 11,500 kg (25,400 pounds). Carried on rubber tracks with a width of 750 mm, the PowerBully machines have very low ground pressure - much lower than wheeled vehicles. They can also wade up to 1.3 m, allowing them to handle swampy or flooded areas without difficulty.
PowerBully cabs are ROPS and FOPS certified, and have large windows that pair with a sloped engine hood and a 360-degree camera system to give operators an outstanding view around their machine. LED working lights at front and back illuminate the area around the vehicle when needed.
Smooth rides are ensured thanks to the suspended cab and operator's seat. The dump bed is controlled easily with the joystick while driving, and other vehicle functions are run through the 11-inch touch display and control buttons on the armrest.
Maintenance on the durable PowerBully carriers is easy thanks to easily accessible maintenance points and what the manufacturer says is the only telemetry system on tracked all-terrain vehicles. Remote diagnosis ensures that the vehicles can be maintained, repaired and returned to service quickly.