More power and stability help Cat's 50-tonne excavator work well with larger attachments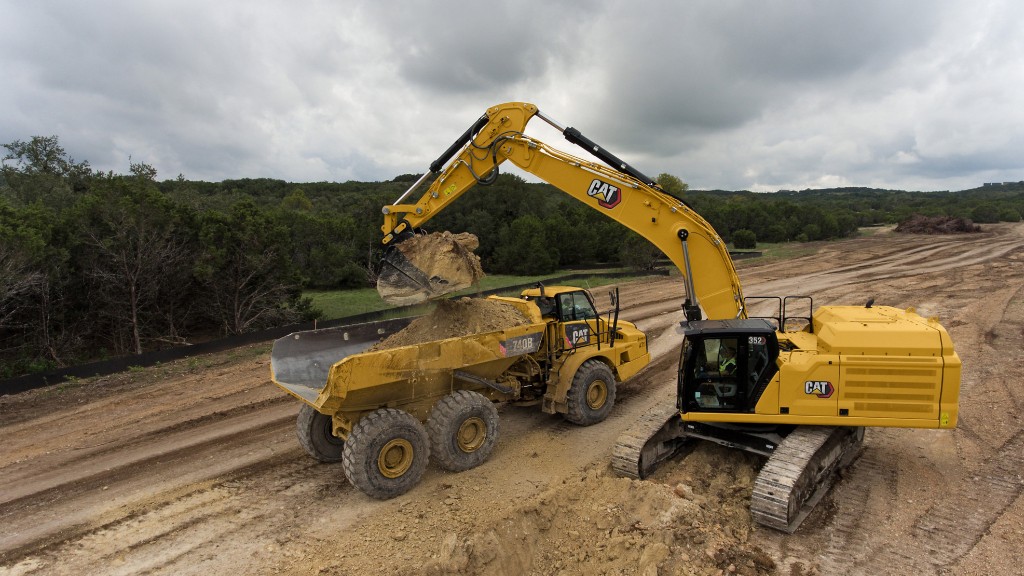 Increased power and a heavier counterweight are central features to the new Caterpillar 352 hydraulic excavator, providing the unit with the ability to work with larger tools and improve its profitability on the job site.
The 352 is a 50-tonne excavator that depending on configuration has a maximum digging depth of up to 8,210 mm (26 feet, 11 inches) and a maximum reach at ground of 12,150 mm (39 feet, 10 inches). It offers a pair of undercarriage options - fixed, or variable gauge. Variable gauge allows the undercarriage to retract to 2,390 mm (7 feet, 10 inches) for easier transportation, and when expanded offers greater stability than fixed gauge.
Power is provided by the 443-horsepower engine and an electrohydraulic system that ensure the machine works well in difficult digging conditions. It features an auto dig boost that increases the bucket penetration by up to 8 percent when resistance is encountered. Auto heavy lift adds 8 percent to lift capacity, helpful when picking up pipe and other heavy objects. Three engine modes allow operators to match power to the job at hand while maintaining efficient operations. Auxiliary hydraulic options allow a wide range of attachment use, making the 352 versatile.
Cat Grade technology is standard on the 352, and can improve productivity by up to 45 percent. 2D Grade provides depth and slope indicators on the in-cab monitor, while Cat Grade Assist makes it easier to keep the excavator on grade with single-lever digging. Owners who upgrade to Advanced 2D or 3D have the opportunity to create and edit designs, and can complete more complex grading applications.
Cat Payload onboard weighing provides real-time weight estimates without swinging the boom and makes it easier to improve operating efficiency. Combining Payload with VisionLink offers an opportunity to remotely manage production targets. Swing Assist and Auto Hammer Stop are other useful available features.
Owners can choose a variety of cab trim options, which add different seat and control offerings depending on the buyer's needs. The 352 can be fitted with the optional Cat Stick Steer, making it easier to maneuver through one-hand operation, and even offering cruise control for easier travelling.
Cat says the 352 can benefit from remote troubleshooting that lets dealers connect into the machine and diagnose fault codes or update software before sending a technician to the job site. Cat Product Link collects operating information like hours, fuel usage, idle time, maintenance alerts, and more for sharing through web and mobile applications.
From a maintenance perspective, the 352 has extended service intervals that are intended to reduce the amount of time and labour used to maintain the machine over its lifetime.
Related Articles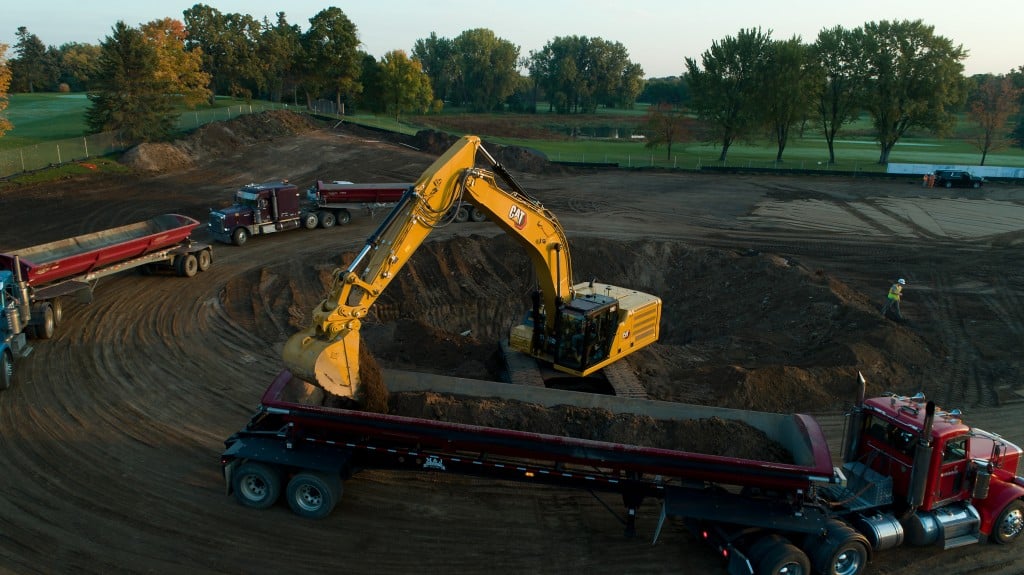 Reinforced and powered up, Caterpillar 340 excavator is strong and stable for repetitive, harsh jobs