GMC Sierra battery-electric pickup scheduled to reach Canada for 2025
First Sierra EV models to be available in 2024 for U.S. buyers, starting with Denali Edition 1 trim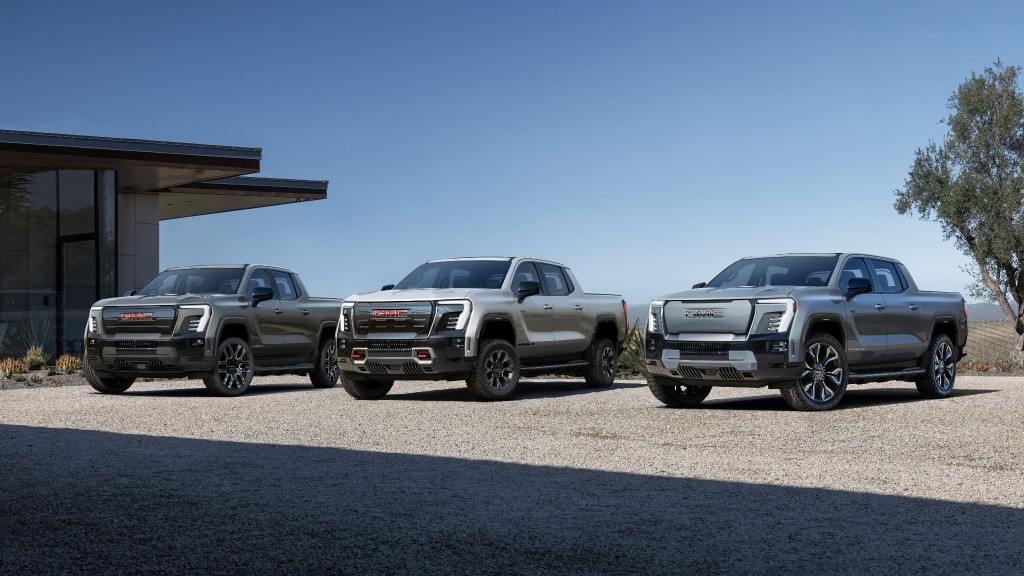 GMC Sierra fans will be excited for the news that a battery-electric version of the popular pickup has been introduced - although it will be a couple more years before it rolls onto Canadian car lots.
The Sierra EV has been announced for the 2024 model year - in the United States. Canada will not be receiving the electric version until the 2025 model year becomes available, with pricing and manufacturing dates still unclear.
Buyers elsewhere will be offered the Sierra EV Denali Edition 1, which GMC says will feature an estimated 400 miles of range on full charge and a range of unique features. Built on GM's Ultium platform, the Sierra EV will for 2025 be offered with the AT4 and Elevation trim levels as well as the Denali. GMC does note that the specs may change from the 2024 to 2025 model.
The Ultium battery pack is designed into the Sierra EV to help lower the truck's centre of gravity and enhance ride comfort, while also adding strength and durability to the pickup overall. Front and rear drive units push an estimated 754 horsepower and 785 lb.-ft. of torque to the wheels via an e4WD system in Max Power mode.
Power Station Pro on the Sierra EV Denali Edition 1 model offers a mobile power source option. The Ultium Power Bar accessory allows for 10.2 kW of offboard power to be accessed through ten outlets, providing juice for power tools and other accessories as needed. Other optional equipment will be available to allow use of the Sierra EV for powering a home when needed.
The 2024 model will be fitted with a 19.2 kW onboard AC charging module for home and public charging. It also has 800V DC public fast charging capability of up to 350 kW, which can add approximately 100 miles of range in 10 minutes.
Technology improvements in the Sierra EV include features like a hands-free start system, large high-resolution display screens including GMC's first portrait-oriented touchscreen system, up to 14 available camera views, and GM's Super Cruise to allow hands-free driver assistance on more than 400,000 miles of compatible roads.
Customizable drive modes will allow adjustments to steering, suspension and a variety of other variables as needed. Four-wheel steer allows for smaller turning circles and better maneuverability, and the GMC-exclusive CrabWalk diagonal-drive feature will be available at low speeds.
Performance-wise, GMC says the 2024 Sierra EV Denali Edition 1 will have up to 9,500 pounds of trailering capacity and up to 1,300 pounds of payload.