Chevrolet surges forward with fully electric Silverado
Battery electric pickup based on Ultium platform to reach market in 2023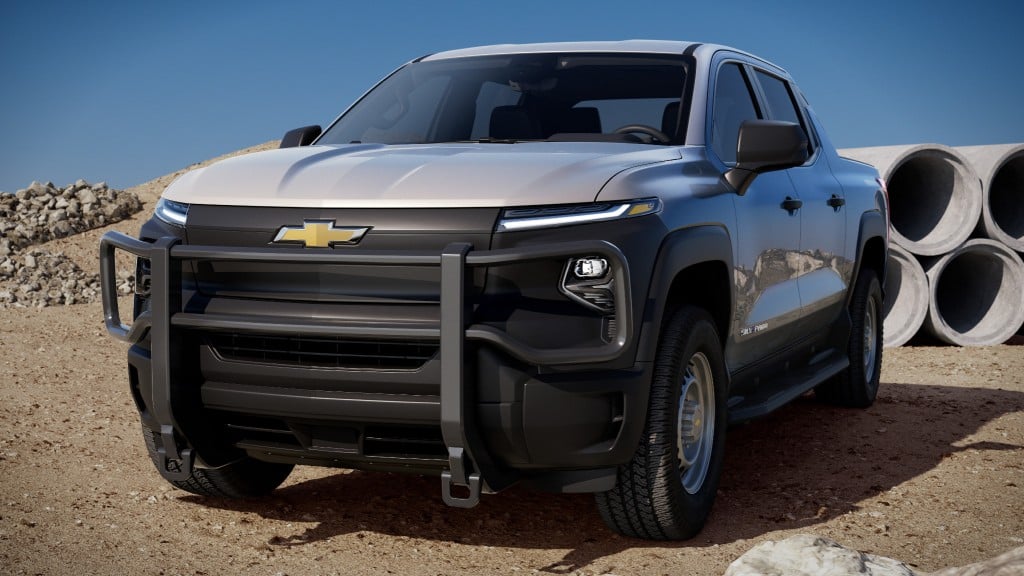 Chevrolet is positioning itself to launch a broad range of electric vehicles in coming years as part of a corporate effort to reduce its emissions footprint as a whole. That goal charged forward with the launch of the 2024 Silverado EV, the company's first full-size pickup powered by its Ultium EV platform.
The fully redesigned truck is expected to hit the market in 2023 with a work truck model targeted towards fleet buyers, followed by consumer options and sporty choices afterwards. The first vehicles to reach the market are estimated by Chevrolet to have a range of 640 kilometres (400 miles), with further battery options expected later on.
Ground-up electric redesign
Chevrolet took the opportunity of developing an electric truck to completely revamp its iconic Silverado to meet the challenge, and to ensure it paired well with the Ultium EV platform.
"The all-electric Chevrolet Silverado full-size pickup is designed from the ground up to be an EV, harnessing the Ultium platform and the Silverado's proven capability," said Michael MacPhee, brand director, Chevrolet Canada. "The Silverado EV is redefining the boundaries of the full-size pickup segment, taking what you thought was possible and completely breaking the mold."
The Ultium platform gave the truck's design team a clean slate to work from, leveraging the available 24-module Ultium battery pack as part of the fundamental structure. The body architecture allows the truck's impressive range, while maintaining the capabilities Silverado buyers have come to expect from the pickup over time.
Ultium also offers fast charging times for buyers - the standard DC fast charging capacity of up to 350 kW can add approximately 100 miles of range in ten minutes.
Other design features include independent front and rear suspension, four-wheel steer capability and automatic adaptive air suspension.
Lighting up performance numbers
As with other electric vehicles, the Silverado EV should be quick to accelerate and offer plenty of performance for work or play. GM estimates that the fully loaded RST model will offer 664 horsepower and 780 foot-pounds of torque, with a 0-60 mph elapsed time of under four seconds. That will give the RST an estimated towing capability of 10,000 pounds along with a 1,300 pound payload.
The Work Truck trim has similar capability and provide a value proposition for fleets, with a 510 horsepower rating and 615 foot-pounds of torque available at launch. Users will be able to pull 8,000 pounds with the WT package, and haul 1,200 pounds of payload.
"The Silverado EV will check all the boxes that fleet customers have been looking for in an all-electric work-capable truck," said Dave Watson, director of fleet for GM Canada. "We're excited to launch the Silverado EV to fleet customers in Canada, this truck will help them begin the transition to an all-electric fleet and assist them in achieving their own sustainability goals."
Thoughtful design inside and out
An entirely new truck offered designers a variety of new opportunities to update storage, comfort and technology on the Silverado EV. Up front, the truck's eTrunk is weatherproof and lockable, providing space for a large hard side suitcase and a range of accessory options.
Further back, the bed on the RST takes advantage of the available Multi-Flex Midgate, an opening that provides about nine feet of length between the cab and tailgate. A 60/40 split rear seat allows users to haul equipment and still accommodate a passenger, and the available Multi-Flex Tailgate gives a full ten feet of load floor length in certain configurations. Finally, an available tonneau cover can protect material in the bed in a fully lockable, weatherproof storage compartment.
Inside the cab, storage has been expanded as well; in the RST, the modular console has a capacity of just over 26 litres, offering space for a lunch cooler to easily fit inside. The RST also features a fixed-glass roof, providing more headroom and great visibility.
Technology for the future
The Silverado features a range of technology options, depending on the trim level, and includes GM's Ultifi software architecture that allows for owners to continue customizing their trucks into the future.
Ultifi11 is a Linux-based software platform designed in-house at GM to separate vehicle software from hardware, allowing for easier, faster and more frequent software updates. Drivers can adjust the capabilities of their vehicle using Ultifi updates and cloud services, providing more flexibility.
Drivers can also take advantage of the available trailering-capable Super Cruise 7, what Chevrolet calls the industry's first true hands-free driver assistance technology, which allows drivers to travel hands-free on more than 320,000 kilometres (200,000 miles) of divided and compatible highways across Canada and the U.S.
Chevrolet has opened reservations for the 2024 Silverado EV; the WT model is expected to be on the market in spring of 2023 at a price of just over $52,000 Canadian, while the fully loaded RST will arrive in fall of 2023 at an MSRP of just under $120,000 Canadian.
Company info
Customer Communication Centre #163-005
1908 Colonel Sam Drive
Oshawa, ON
CA, L1H 8P7

Website:
chevrolet.ca
Read more