How to select construction equipment for snow removal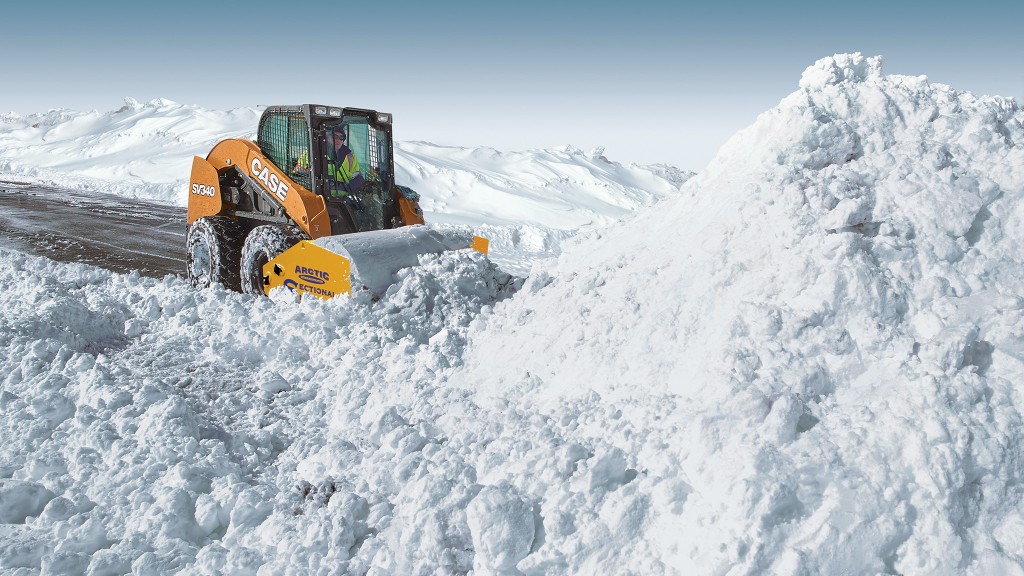 When hard winter months hit, utilizing your dirt fleet for snow removal operations can keep your assets generating income for your business. Commonality of attachments across compact wheel loaders and skid-steer loaders, as well as versatility with quick couplers and auxiliary hydraulics, make switching between sectional snow pushers, salting devices, and snow blowers easy. Agility and clear sight lines to the work tool and around the machine make construction equipment safe and efficient for snow removal. Here are nine features to look for when selecting construction equipment for snow removal operations, as recommended by CASE Construction Equipment.
Hydraulic couplers and attachments
Look for hydraulic attachment capabilities that minimize how often the operator has to get in and out of the cab to change attachments. These hydraulic couplers are available on almost every piece of equipment and compact wheel loaders are compatible with the same attachments as skid steers and CTLs. One of the things that makes construction equipment so versatile for snow removal is the ability to operate a range of attachments including plows, boxes, brooms, blowers, and salt spreaders.
Auxiliary hydraulics and electrical capabilities
You'll want to make sure that your machine is outfitted with auxiliary hydraulics and electrical capabilities. CASE recommends you get a 14 pin connection for attachments such as snow blowers and brooms that require electrical input and that you outfit your machine with high-flow hydraulics for operating snow blowers to their full capability.
Some attachments may require a secondary hydraulic circuit for performing a secondary hydraulic function such as positioning the chute of the snow blower. If you're just running boxes and snow blades, you may not need these features. Or, if you're just running a hydraulic angle blade, you may be able to use standard auxiliary hydraulics.
Creep speed
Creep speed is a particularly valuable feature if you're running snow blowers or brooms. Creep speed is available across equipment platforms and this functionality allows you to set the maximum continuous ground speed for the machine while independently controlling hydraulic power to the attachment. This allows you to operate your skid steer or compact wheel loader at a consistent 3.2 mph, for example, while delivering varying throttle to the attachment.
Tires or tracks?
Both skid-steer and compact track loaders can be effectively deployed for work in snow removal. CTLs can get the job done and there are special snow tracks that can improve performance, but in a head-to-head comparison for this application skid-steer loaders are slightly better suited for snow and ice removal. While snow and ice can provide a buffer with the ground, this application is entirely about running on improved surfaces and rubber tracks will experience greater wear and abrasion rates than rubber tires - and are more expensive to replace. The initial purchase price of a CTL is also higher and the undercarriage costs more to own and maintain over the life of the machine, so when purchasing a machine for snow removal a skid-steer loader is recommended. For skid steers, wheel loaders, and backhoes, radial tires are recommended for snow and ice removal – they provide greater traction and generally more surface contact. Another important element to consider for improved traction, besides tires, is axle configurations. When it comes to wheeled machines, all-wheel drive is recommended for providing the best traction and performance. Reduced slippage will slow tire wear replacement schedules.
Electro-hydraulic controls
Electro-hydraulic controls let you either set total machine responsiveness or to independently set different factors including drive speed. Depending on the conditions of the pavement, you can set the drive speed to smooth, moderate, or aggressive, and then adjust tilt, lift, and motor arm speed as well based on performance and the site.
Lighting
Lighting is critically important in a snow removal application – both for the machine to be seen and for the operator to see the job site. Talk to your dealer about lighting options available, as they may have specific packages ideal for snow removal. A good rule of thumb, between lights, strobes, and beacons, is to outfit your equipment with as much as you can.
Cab features
In-cab features, such as air ride seats where available, provide a smoother ride for the operator. A heated air seat will provide added comfort, and a rear-view camera in the cab is ideal for optimal visibility.
Cold weather options
Make sure to talk to your equipment dealer about available cold weather options including block heaters, air intake grid heaters, heavy-duty batteries, and the fluids you should be using in cold weather applications. These options will improve uptime. Some snow packages come with other features such as lighting, rear-view camera, and heated mirrors.
Telematics
CASE recommends using telematics on your snow fleet. While telematics provides fleet management benefits when you have numerous machines spread out and provides operational data, such as hours of use and service needs, it also provides a security advantage. Snow removal equipment is often parked in unsecured public spaces. Telematics, whether utilizing geo-fencing or simple location tracking, can help identify unauthorized use and even recover equipment after it has been stolen.