Snow removal made easy with wheel loaders
Consider working through winter by clearing snow with wheel loaders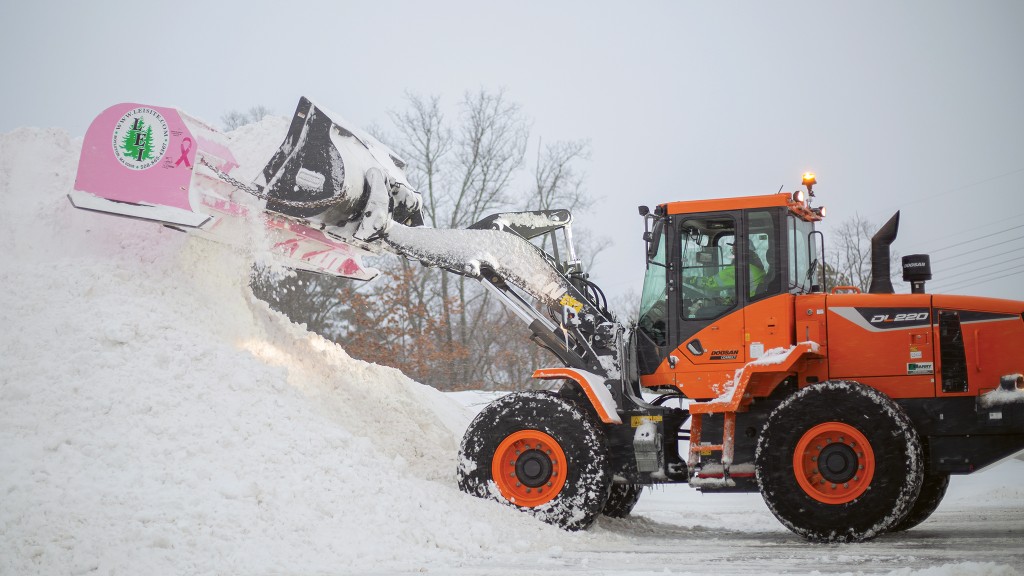 If your construction company owns a wheel loader and wants to extend its use year-round, consider clearing snow. Winter can provide an opportunity to operate your wheel loader during your off-season and generate additional revenue.
There are several factors to consider when deciding to use your wheel loader for snow removal. Keep these factors in mind as you decide whether you'll operate your wheel loader and make the most of winter.
What's your strategy?
It is smart to start with the basics when it comes to snow removal.
Do you have a construction business that can handle winter-weather work?
Will you start a dedicated snow removal division?
Will your construction season employees work during winter?
Are your employees trained to clear snow?
Is your wheel loader configured for work at night?
"Recognizing your priorities for your wheel loaders and employees will help you move forward," says Aaron Kleingartner, product and dealer marketing manager at Doosan Infracore North America. "It is wise to consider the following factors to decide what wheel loader configuration will work for your company."
Attachment options
Wheel loaders are ideally suited for snow removal. They have more than enough power to clear snow by pushing or lifting it with a bucket. Here are some attachment-related questions to consider:
Have you thought about how you will move the snow?
Will you need to load the snow into trucks for off-site removal?
Does your customer use a snow melter and is your wheel loader capable of dumping snow into it?
This is where attachments come in. There are a variety of considerations when deciding which attachments to pair with your wheel loader for snow removal.
Buckets
If you plan to use a bucket, make sure it's right-sized for snow removal. Most standard buckets that come with most wheel loaders are not designed for this type of work. They generally don't have a large enough capacity and may not be wide enough. It's best to purchase a snow removal bucket. Choose a light-material bucket that is wider than a standard bucket. This will speed up the job and improve your productivity.
Your attachment choice also depends on the environment you will be working in. Having a large, wide bucket is great for moving or loading large amounts of snow. But it can be harder to maneuver.
Snow pushers
Before the first snowfall, evaluate the area where you will be clearing and plan accordingly. If you are fortunate to have a wide-open parking lot, then a snow pusher attachment is a good choice. You can quickly push snow off parking lots at shopping malls, big box stores and grocery stores. Be aware that these businesses may require their parking lots to be cleared early and multiple times, depending on the snow event. If you have a hydraulic quick coupler on your wheel loader, a snow pusher can offer the versatility to use your machine in different steps of snow removal.
Blades
If you are working in a set development or clearing roadways, then an angle blade can be more appropriate. Your operators have more precise control where they place the snow with an angle blade. Contact your local heavy equipment dealer and inquire about what angle blades are approved for use with your wheel loaders. A V-blade can give you versatility – maneuvering it like a bucket or using it to push and move the snow.
Snowblowers
Snowblowers are another option for efficiently clearing snow with a wheel loader. It can be attached to the front of your wheel loader to throw snow off roadways and parking lots. Most snowblower attachments are powered by a separate engine. Be sure to properly store and maintain a snowblower attachment before you use it the first time for snow removal.
Maintenance tips
Winter weather can take its toll on heavy construction equipment. It is important to maintain your regular maintenance and put in some extra care during your daily machine walkarounds.

"Extreme cold can impact equipment in different ways than you're typically used to in temperate seasons," Kleingartner says. "Keep an eye on hydraulic hoses, wear points and articulation joints for any accumulated snow and ice."

Another key to keeping your machine functioning smoothly in the cold is staying on top of the fluids.

"Any time your wheel loader is idle, whether that be overnight or for a week, keep fluids topped off," Kleingartner says. "That includes diesel fuel and diesel exhaust fluid (DEF). If you encounter a longer snow event or you have to work through the night, you will be thankful for keeping those fluids top of mind."
Machine staging
You may be required to stage a wheel loader at your customer's place of business – for example, placing it at a parking lot where it's ready to go after a snow event.

"If possible, store your equipment in a location where it is protected from the winter elements," Kleingartner says. "In an ideal situation, store the wheel loader in a climate-controlled, easily accessible facility. Unfortunately, that is often not an available option. How to balance accessibility and machine protection is a decision each operator will have to make."

Unlike construction work, snow removal can be unpredictable, so easy access to your wheel loader is important. You might have to clear snow at midnight, noon or both. Storing your wheel loader near where you will be moving snow keeps operations efficient. Many facilities even keep the wheel loader stationed on-site during the snow season.

"If you store your wheel loader at a climate-controlled location where you can plug in an engine block heater, your machine will be ready to go when you are," Kleingartner says. "If you keep your wheel loader in a location where you don't have access to consistent power, consider adding a diesel-powered coolant heater. It will heat the coolant in the engine and help maintain the engine for easier starts in colder climates."
If you can't store your wheel loader inside, be extra diligent to ensure there isn't snow and ice in areas of the machine that can impact its functionality. It's an additional step in your workflow to check and remove those winter obstacles, but it will help keep your machine in working order.
Timing considerations
Consider how the timing of snow clearing will affect your work. For example, hospitals have visitors, staff and patients coming and going at all hours. Will you have to work around their vehicles? Other public places, like shopping malls and big box stores, have more defined hours. You'll likely need to be there early in the morning and have the lot cleared for business when customers arrive.

Many snow removal companies work at night to clear roads and parking lots. If you're frequently working at night, consider installing additional lighting on your wheel loader. You can purchase extra work lights to give your operators better visibility and make yourself more visible to other machines and vehicles. A rotating beacon or flasher is a wise investment to increase operator safety. Check local requirements to ensure your wheel loader is properly equipped for clearing snow.

Be sure to give your operators breaks to avoid burnout during long snow events. If they don't have an opportunity to leave the site, consider providing them with drinks and snacks to keep them hydrated and alert.

There's a lot to consider when you decide whether or not to perform snow removal. Make sure you and your operators are up to the challenge, as well as get your fleet ready for additional work when it may otherwise be stored during winter.
Can an excavator clear snow?
Believe it or not, some construction companies use crawler excavators for snow removal. In recent years, when cities are slammed with major snowstorms, it's all hands on deck, and that means excavators, too. Although maybe not the most efficient use for an excavator, they can be useful at scooping snow and placing it or loading it into a snow-melter. If you're using a crawler excavator, remember the steel tracks may damage established surfaces like concrete or asphalt parking lots during repeated use. Consider adding rubber track pads to your crawler excavator's steel tracks to help minimize ground disturbance.
Ryan Johnson is manager, strategic communications, at Two Rivers Marketing.
Related Articles
Searching for the best-performing excavator? Your search ends here. We tested the Volvo EC350E and EC380E against a leading competitor in three different tests: trenching, truck loading and lifting capacity at reach. The results show a 20% difference in cost-per-ton, a 15% difference in tons-per-hour and a 12% difference in both operating costs and lifting capacity. See the results and put an end to your search for the best excavator.