4 tips for MEWP operation in below-freezing winter temperatures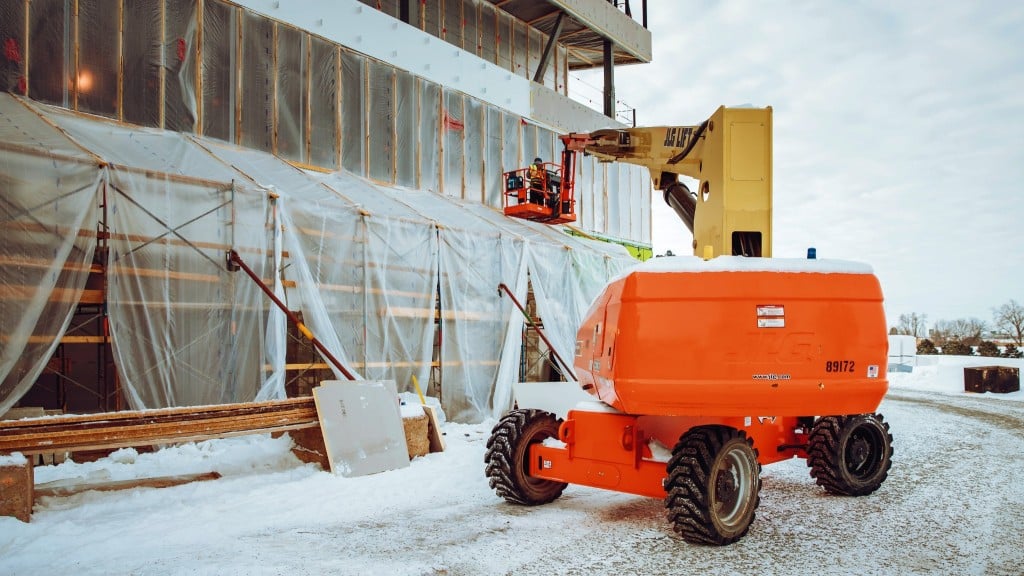 Whether working in a refrigerated food processing warehouse, a cold storage facility or outdoors in winter weather conditions, many battery-powered MEWPs (mobile elevated work platforms) are designed to work in below freezing temperatures. For example, JLG mobile elevating work platforms (MEWPs) are designed for operation in nominal ambient temperatures of 0° to 104° F (-20° to 40° C) – because the need to complete work overhead, or in the air, occurs year-round, in all temperatures and climate conditions.
Working in extreme cold
To keep MEWPs in good operating condition, as well as extend their life expectancy in extremely cold operating environments, optional cold weather packages should be utilized when working in ambient temperatures colder than 0° F (-20° C). Utilization (with or without the cold weather package) below 0° F (-20° C) should be at the discretion of the owner/operator, given the condition and capability (engine oil specifications, hydraulic fluid specifications, etc.) of the equipment.
It is important to know that under no circumstances should any MEWP be utilized in temperatures below -40° F (-40° C). However, these cold working environments can impact the performance of the battery, resulting in slower or sluggish machine functionality, and it can also reduce the battery's capacity by 50 percent, requiring more frequent charging.
To get the best performance out of your battery-powered MEWP when working in cold environments, it is important to keep the machine's batteries fully charged and warm. So before getting to work in these conditions, consider being proactive with your daily battery care and preventive maintenance routines in order to prevent downtime resulting from a dead battery in below-freezing temperatures.
Here are four tips to help you keep batteries healthy
1. Whenever possible, charge the batteries
Plugging in a battery-powered MEWP frequently (also known as opportunity charging) to charge the batteries is one of the best ways to safely and productively use these machines in cold environments.
Why? Working in extremely cold temperatures causes bigger drops of voltage in lead-acid batteries (common in many of today's battery-powered MEWPs) during operation, which results in the machine's control system thinking the batteries are nearly out of charge. When this happens, the control system, which is designed to protect the machine's vital components including the battery, will limit performance in order to preserve basic machine functionality.
Keeping the batteries as highly charged as possible will keep the batteries' voltage in an optimal operating range, resulting in the least amount of voltage drop. This will also make sure that the most charge from the batteries is available at any given time for continued machine use.
2. Plug in the batteries overnight
Plugging in a battery-powered MEWP overnight will ensure that the machine starts each work day fully and completely charged.
How? Charging the batteries overnight will warm up the batteries, making sure they are ready to work when the machine is turned on in the morning. And having the most charge available from the batteries is the best way to minimize larger voltage drops during operation (remember: this results in the machine trying to conserve its energy by reducing functionality and slowing down operation). Operating with a full charge gives operators the opportunity to complete the maximum amount of work cycles as possible with the machine throughout the work day.
Charging the batteries overnight will also prevent the batteries from becoming deeply discharged. If this happens in extremely cold temperatures, the electrolyte in the batteries can freeze, expand, crack the casing and leak. A frozen battery means the machine won't function and repairs (or replacement) are required. It is important to note: never charge a frozen battery as this could cause it to explode. To maximize uptime and minimize downtime, make sure to charge the battery for 4+ hours (8–10 hours is ideal) in between work shifts.
3. Keep the batteries warm
It is best to move the MEWP out of the cold weather before charging its batteries.
Why? Although the MEWP's batteries can accept a charge when they are cold, it will be at a lower rate. For better results, park the MEWP indoors or in warmer temperatures (at room temperature is best) when charging.
4. Perform preventive maintenance tasks
Following the manufacturer's recommended guidelines for battery maintenance, noted in each MEWP service manual, significantly contributes to getting the most life possible out of the batteries.
How? Changing the hydraulic fluid and filters as prescribed in the machine's service manual (each specific machine has one) will help to avoid potential hydraulic system damage and ensure the best performance when temperatures drop. For example, appropriate engine and hydraulic oils should be based on ambient working temperatures. For more information regarding appropriate oil selections, reference safety and maintenance manuals that come with the machine.
And, replacing aged or weakened batteries will ensure that the machine is performing at maximum strength – because as batteries age, they will not perform as well as they did when new and are more likely to have issues when working in colder temperatures.
Also, check the batteries' water levels and top off if they are low. Remember: do not use tap water to fill the batteries. It is important to keep the batteries' electrolyte levels in balance, especially in colder conditions, and to do this, distilled or deionized water is best. Keep a gallon on hand to use as needed.
David Lombardo is chief electrical engineer at JLG Industries.