How nimble, efficient site dumpers are finding space on growing number of job sites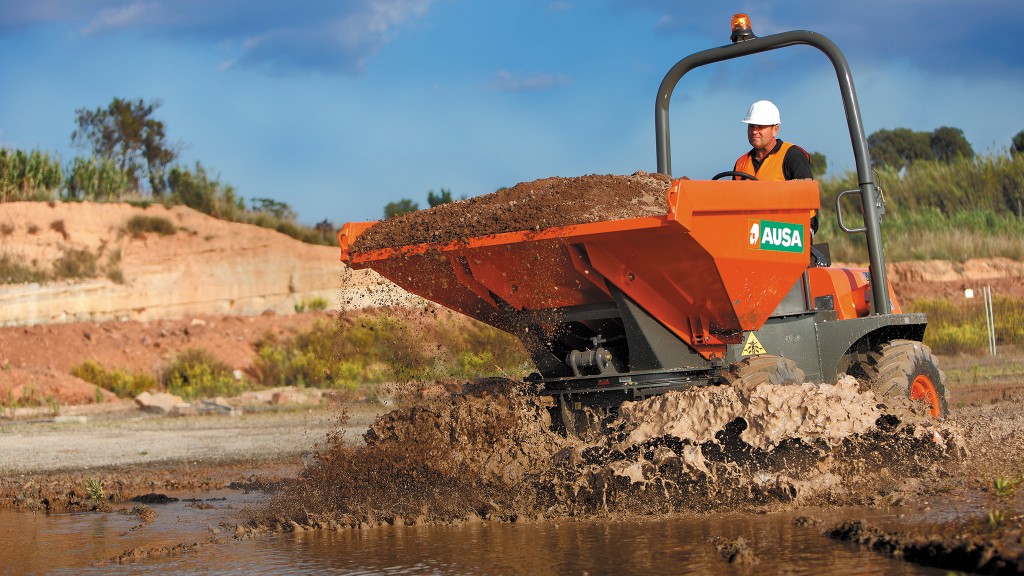 Moving lots of dirt around on a job site usually calls for the use of a truck of some kind, depending on the volume to be moved. However, for smaller jobs with lower volume, a smaller solution may be needed.
Small and nimble, site dumpers are becoming more popular for a variety of job sites, taking advantage of their ability to access smaller spaces with ease. Contractors are finding that these machines can move all kinds of material and increase their overall efficiency.
Site dumpers feature a large dump box and a control station, allowing an operator to pick up material and move it easily before dumping in the necessary location. According to Sam Shimwell, equipment rental specialist with Conquest Equipment, the flexibility of these small units makes them useful for a broad range of contractors.
"These little site dumpers' main purpose is for projects and applications where there is confined space or rough terrain . . . for transportation of material. It could be topsoil, it could be bark chips - there's a whole list of material that they can haul," Shimwell related.
Site dumpers ideal for urban job sites
A very popular piece of equipment in Europe and the United Kingdom, it's common to see several site dumpers working on most any job site, said Shimwell, and especially in urban spaces where it might be difficult to place a larger machine for moving material. Conquest Equipment, which offers AUSA site dumpers through its western Canada locations, has seen interest in the region growing as people become more aware of the benefits that site dumpers provide.
"We have a location in Abbotsford, B.C., and they are very popular out there just due to confined space on job sites," Shimwell noted. "A lot of cities in western Canada have received government grants for building paths and cycle pathways, and most of these projects are in steep terrain or hard-to-get-to locations. You can't just back a tandem dump truck or a full-sized loader in there."
Larger units are capable of working on more rugged jobs, such as pipeline work and in the oil fields, as well, thanks to their ability to manage challenging terrain.
Trinda Jocelyn, Conquest Equipment's marketing coordinator, said that it's often a case of having contractors see the machines at work to give them a better idea of how they can be used to improve efficiency.
"We have a lot of conversations with people who are out and about, asking what they are and what they're for, and they always say 'oh, that's really cool.' Then they start thinking about how they could be using that on their job site as well," Jocelyn said. "The market is definitely there, we just have to get it out there and let people know what they are, how they're used and how they can be useful for them."
Four dumper size options deliver range of carrying capacity
In the case of AUSA dumpers, four different models are available, at 1.5, 3.5, 6, and 11 tons, giving owners a significant carrying capacity for their job site. All of the machines are four-wheel-drive and articulated and, according to Shimwell, offer a popular feature: a swiveling dump box.
All the units can swivel the box 90 degrees to the left and right of centre, and once swiveled can move forward while dumping, allowing them to spread material easily while reducing the need to move around and adjusting the backfilling where needed. The two largest units are built with enclosed cabs, which feature a rotating operator station - the chair, levers, gearshift, and all other necessary controls are able to swing around as needed.
Cabs are designed with a workstation that rotates 180 degrees, allowing the dumper to drive forward, drop material, then swivel fully around to avoid the need for backing up with the operator looking over their shoulder, Shimwell noted. "That's a huge safety feature, but also provides more ease of operation for the driver as well.
Powered by Kubota and Deutz engines, the AUSA dumpers feature hydrostatic transmissions that are robust and responsive; some are available with a Hill Holder system for added protection on slopes. Jocelyn noted that the machines are designed with hoses and cables protected to reduce potential downtime on the job site. Maintenance operations are designed for ease of access.
Other available features, depending on model, include Smart Stop, which shuts down the engine when not in use, and the Full Visibility System, which combines cameras and proximity sensors to give drivers a greater view of the surrounding area for increased safety.
While Conquest is based in Estevan, Saskatchewan, it is capable of providing service for AUSA dumpers across western Canada, Shimwell said.
"We have a fleet of our own equipment as well, so we have a full shop with service bays and a full crew of certified mechanics. Plus, we stock all the parts - filters, tires, backup alarms, seat belts, anything that could possibly go wrong," he noted.
For buyers in B.C. and Alberta, there are service locations available as well, and if those aren't feasible, Conquest has third-party mechanic partners to assist.
With interest in site dumpers growing, AUSA machines have been picking up new fans across the region. B.C. contractors have shown quite a lot of interest, and that is spreading across the Prairies, Shimwell said. "As a new product to Canada, It's the education part that we're working on - telling people how they work and where."
Related Articles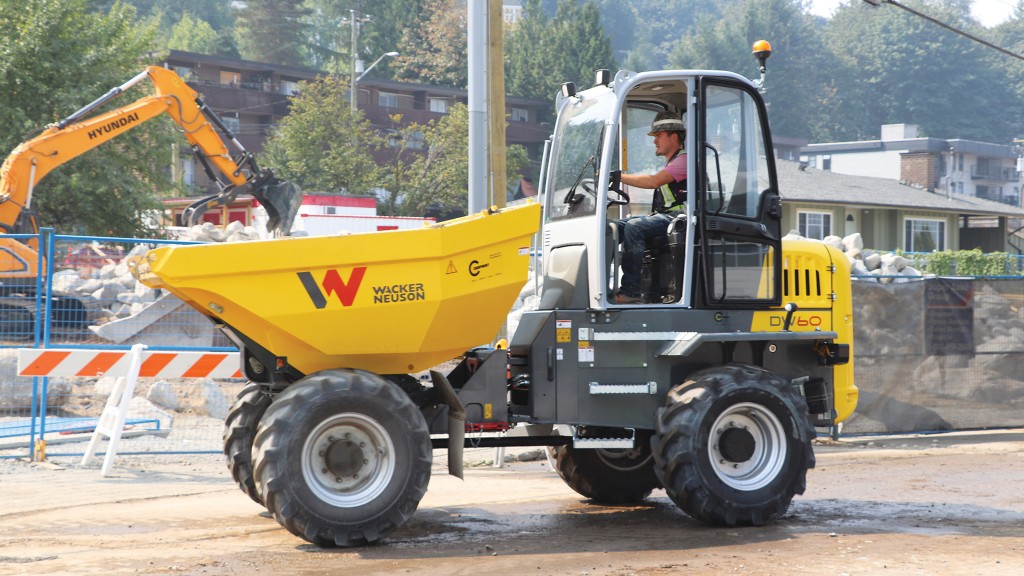 Site dumpers deliver versatile dirt management performance for Conwest Contracting