Site dumpers deliver versatile dirt management performance for Conwest Contracting
Vancouver civil construction company has used Wacker Neuson site dumpers for a decade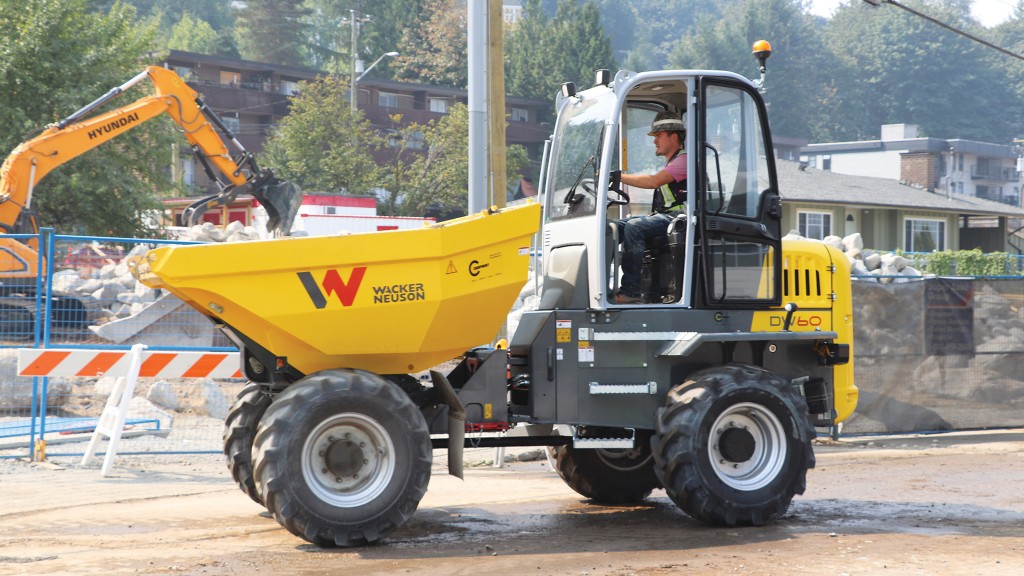 Wacker Neuson's site dumpers are Conwest Contracting's machine of choice for dirt management in roadbuilding applications.
Conwest is a mid- to large-sized civil construction company that has been in business for 35 years. Based out of Vancouver, B.C., the company specializes in site prep, underground utilities and bulk excavation.
"We have been using Wacker Neuson site dumpers for a decade," says Steve Claydon, Field Operations/ Equipment Manager, Conwest Contracting. "They are great machines that increase productivity, cut costs and provide a convenient operating experience."

The company owns seven Wacker Neuson dumpers and uses them on a variety of projects, such as roadwork, civil work, and even bulk institutional excavation. The company purchases all of their Wacker Neuson machines from CC Equipment based in Surrey, B.C.

"When we get to the bottom of an excavation . . . the excavation becomes too detailed for mechanical excavation with a large excavator, so a crew shovels the bottom of the hole from one side to the other and that material is carried out of the hole using a Wacker Neuson dump buggy," says Claydon.
Better than a truck
Wacker Neuson dumpers have several benefits over trucks, such as decreased size, decreased cost and easy operation.
"It's like a dump truck on site, and then, when the machines are not in use - say there is a few-hour gap where it is not needed - the operator can serve a double function and fill some other role on the jobsite," says Claydon. "Then, when needed, the operator can jump back into the buggy to move material. If I use a dump truck, I sometimes pay the operator to just sit in his cab and not work most of the day."

Unlike a dump truck, the skip - which holds the material - can be used in different configurations. Standard configurations for Wacker Neuson dumpers include a front tip skip, a high tip skip and a swivel skip.

The front tip skip is an economic solution that is ideal for transporting a lot of material a short distance; its low centre of gravity allows for larger material volumes (up to 4.75 cubic metres). The high tip skip has a dump height of more than 1.8 metres and is ideal for container loading. Equipped with infinitely variable 180-degree tipping, the swivel tip skip allows for exact material placement, so it is ideal for limited spaces, side filling and levelling when transporting liquids on gradients.

"We frequently use the buggies - especially the nine-ton machine - as on-site trucks to remove excess material from the road to a stockpile location to be trucked out a later time. Or we use them to transport diggings to the road and dump it directly into the trench," says Claydon. "Any time we can separate the material, we truck out the bad stuff and buggy the good stuff to a compound and then we bring it back for road fill. Not having to import material saves us money."

For traversing construction sites, Wacker Neuson dumpers come equipped with hydrostatic four-wheel drive. This feature offers a better driving experience, decreases the amount of gear changes, changes gently between forward and reverse operation and accelerates variably without loss of tractive effort. Plus, the machine comes equipped with a hydrostatic brake, which means the machine starts braking and turns on the brake lights as soon as the operator removes his or her foot from the gas pedal.

"The Wacker Neuson buggies, especially the 5001 and 6001, have a tremendous ability to drive on rough terrain. We use them to build our own roads," says Claydon. The operator dumps material in front of the machine, crew spread it with hand tools, the operator drives forward and the process repeats. "It is a really easy and affordable way of getting material in and out of less-than-perfect conditions," says Claydon. "And, it is a lot easier to get the Wacker Neuson buggies into these areas than a truck."

The 5001 and 6001 are discontinued model numbers; they have been succeeded by the DW50 and the DW60.
Conwest takes delivery of Dual View dumpers
Earlier this year, Conwest Contracting purchased two of Wacker Neuson's dual-view dumpers.
Introduced in late 2019, Dual View Dumpers (the DV60, DV90 and DV100) have the unique advantage of 180-degree cab rotation. The operator can quickly rotate the entire operator control panel and seat console. Full cab rotation offers unrestricted view to the travel and work areas - another advantage over trucks.

When in working mode, the skip is in front of the operator for optimal viewing of the working area. When in travel mode, the skip is behind the operator for optimal viewing of the travel area. This also removes strain on the operator; since there is no need for reverse operation, the operator doesn't need to turn their body and neck right around. Being able to work and travel with greater confidence and precision can greatly enhance productivity and safety on construction sites.

Plus, the machines are durable. "When it comes to longevity and decreased maintenance, we appreciate Wacker Neuson machines," says Claydon. "We have a 6001 from 2012 and we are doing our first major repair on it; we get six to eight years out of our Wacker Neuson products before major repair work is needed, so they stand up to the abuse."