High reach or high capacity? How to know what telehandler you need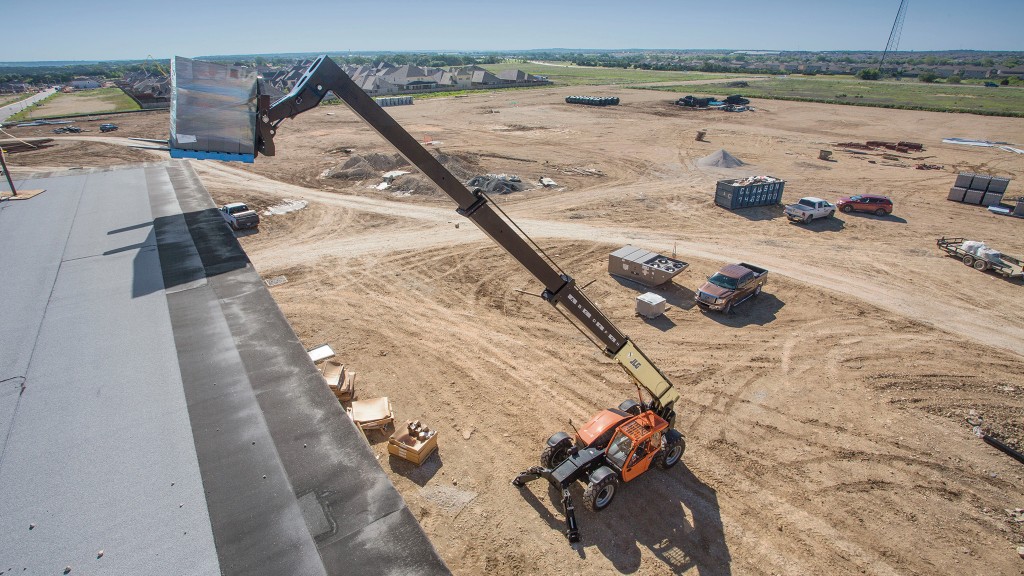 Because different job sites require different machine capabilities, telescopic handlers - or telehandlers as these machines are commonly known – come in a wide range of sizes and lifting capacities, including high-reach and high-capacity models. With so many options to choose from, how do you know which telehandler is right for your next project?
The answer depends on the work you need it to accomplish. Because today's telehandlers can reach out and over obstacles in order to deliver materials effectively, when assessing whether you need a high-reach or a high-capacity model, start by answering these basic questions:
How heavy is the load?
What height do I need to reach?
What is the forward reach that is needed?
Next, compare your answers to telehandler load charts to determine which machine meets your job site's specific requirements. The load chart will tell you what the particular machine can lift and where it can lift it.
Finally, know the type of work you'll be doing with it: pick-and-place or pick-and-carry applications.
Pick-and-place
Pick-and-place applications require a telehandler to lift up the load (i.e. "pick") and set it in another location (i.e. "place"). Commonly designed with longer booms (3 to 5 sections) and equipped with outriggers or stabilizers, pick-and-place telehandlers excel at placing materials precisely at greater lift heights and offer more forward reach, two criteria that categorize them as high-reach models.
The ability to place loads with height and outreach give high-reach telehandlers some advantages over more traditional pick-and-place machines, such as cranes and straight-mast forklifts. For example, only cranes used to be able to lift material up 4–5 stories into buildings or multi-family residential buildings – but today that kind of lifting can be managed with telehandlers.
For instance, the JLG 1075 high-reach telehandler was developed for this specific purpose. It can reach up to eight stories (more than 60 feet / 18.28 m) and extend further into a building (more than 30 feet / 9.14 m) than existing models to place materials where they are needed – rather than placing them and then reloading them for movement to the work area.
Examples of pick-and-place (high reach) applications include:
Bridge and road work
Construction (general, commercial, industrial, and residential)
Demolition and renovation
Entertainment
Facility maintenance
Framing
Steel erection
Pick-and-carry
Pick-and-carry applications require a telehandler to lift the load (i.e. "pick") and move it to another destination (i.e. "carry"), sometimes over fairly long distances. Because these telehandlers excel at hauling heavier, bulkier materials from point A to point B, pick-and-carry models are often bigger machines that are not equipped with outriggers or stabilizers and are generally designed to handle full-capacity loads on the tires. These types of telehandlers are categorized as high-capacity models.
For example, with a 26,600-pound maximum capacity the JLG 2733 high-capacity telehandler is purpose-built to handle and haul heavy, bulky materials; load and unload trucks and trailers; and help maintenance and repair personnel work on larger fleet equipment.
Examples of pick-and-carry (high capacity) applications include:
Energy exploration
Equipment maintenance
Industrial and large-scale commercial construction
Heavy highway projects
Large-scale infrastructure work
Mining and quarries
Oil and gas refineries
Pipeline construction
Stockpile management
Wind and solar power
Telehandlers versus other lift equipment
Traditionally, cranes or straight-mast forklifts have been used in these types of applications. Because telehandlers now offer a third equipment option to choose from, it's important to understand the advantages that high-reach and high-capacity models offer.
Telehandlers have a telescoping boom which gives these machines the ability to extend up and out, offering operators greater forward load placement. Telehandlers are highly mobile and maneuverable, thanks to their four-wheel-drive capabilities and all-terrain travel, enabling them to work in mud and on rough, undeveloped terrain, as well as multiple steering capabilities. These features enable these machines to quickly access any part of a job site that they can drive to and get to work immediately. And as mentioned above, some models of telehandlers are equipped with axle stabilizers and outriggers to stay level when lifting, even when operating on uneven surfaces.
Also, these machines' ability to use a variety of different attachments means that telehandler operators can complete more tasks with one machine, increasing job site efficiency.
John Boehme is the senior product manager for the telehandlers at JLG.