New compaction innovations focus on efficiency and operator ease of use for Bomag at bauma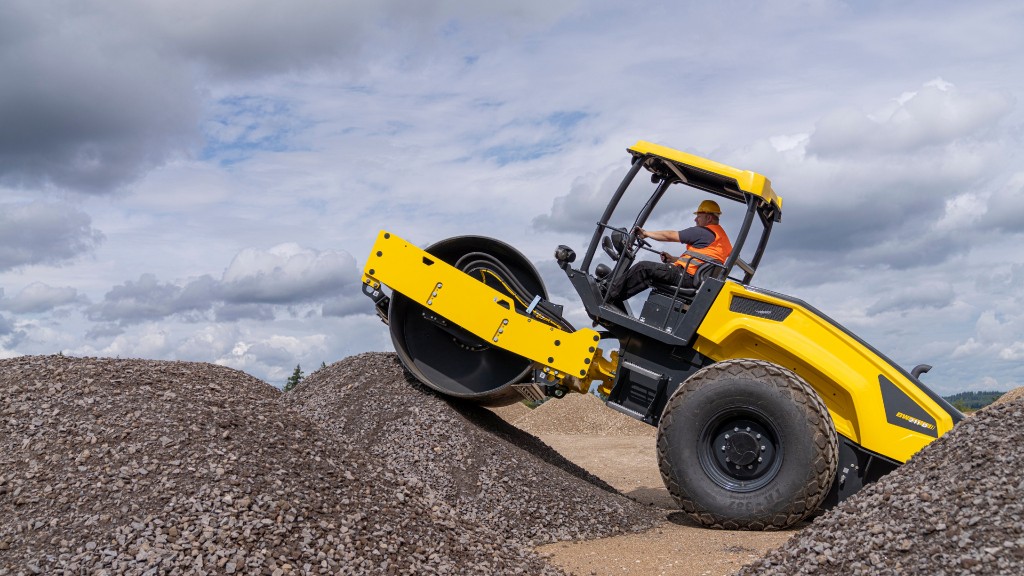 New machines in a range of compaction categories will be on display at bauma from Bomag, which has a focus on operator comfort and ease of use thanks to a variety of digital and sustainable innovations throughout.
New on display at bauma will be Smart Line single drum rollers which support Bomag smart compaction, pivot-steered tandem rollers that work with Asphalt Manager 2 and feature new cockpit concepts, along with a series of new light equipment, among other features.
New generation of Smart Line single drum rollers
Bauma will mark the first showcase of Bomag's Smart Line (SL) single drum rollers, which will be on display with both smooth (D) or padfoot (PD) drums. Characterized by large amplitudes, optimum weight distribution and high linear load, the Smart Line rollers provide ideal depth effect and high surface coverage when compacting sand, gravel, crushed rock and poorly cohesive soils.
High-torque drives and outstanding gradeability make it possible for operators to maneuver these rollers confidently in road and embankment construction, earthworks or in landfill operations, even in difficult terrain.
PD models with padfoot drums are useful in strongly cohesive soils with high silt or clay content. Athe padfoot, with optimized shaping, penetrates particularly deep into the soil. Smooth drum models are all-around performers in earthworks, and can be fitted with a three-part segmented casing to convert to padfoot roller operation as well.
A powerful drive and special frame design give the Smart Line machines greater gradeability, with the ability to work on ramps and embankments of up to 45 degrees, Bomag says. Other design features include a drum frame that helps prevent soil from clumping between the frame and drum, a steel scraper to keep a clean roller drum, and more.
Spacious and comfortable operator stations provide clear view both front and rear. Operation is easy, and all functions are labeled with intuitive symbols for ease of understanding. A five-inch colour display hosts the central information system, which can be extended with the Terrameter or Economizer as assistance systems for compaction control, allowing the driver to monitor the degree and progress of compaction.
Values measured by the Terrameter can be evaluated and visualized with the Bomap app, which requires the addition of the Joblink wireless interface, available as an option. Bomap records the exact compaction progress in real time for the entire construction site.
Tandem rollers combine function and digital access
The new BW 154 and BW 174 pivot-steered tandem rollers are built around Bomag's new myCockpit concept, offering a trio of intuitive operating options – touch, innovative rotary pushbutton switch, or classic joystick. Roller operators can decide how much digital comfort they want on the job, the company states.
A 10-inch high-resolution touchscreen with intuitive menu navigation and clear visualization gives drivers full control over functions. Operators can configure default settings and control all functions through the touchscreen; they can also create individual profiles and switch to their preferred defaults at any time. Self-explanatory visualizations and simple menus make it easy for drivers to understand operational details quickly and safely, allowing them to focus on the job at hand. At the same time, conventional control via switches in the armrest is still possible so those employees familiar with this system don't need to retrain. A rotary pushbutton on the control lever allows for safe navigation and selection of functions on the display.
Overall the cab has been designed for flexible seating comfort and excellent visibility, ensuring greater safety on the job site. Larger windows give the ability to see the edge of the drum from a sideways sitting position. Drivers can take advantage of ergonomic sitting positions for comfort and ease of operation.
The BW 154 and BW 174 tandem rollers are available in several variants, with working widths of 1,500 or 1,680 mm and operating weights of 7.1 to 9.8 tonnes. They are available with three technologies: Asphalt Manager 2, Vibration or TanGO4 (split drum oscillation). Asphalt Manager operation has been simplified - it automatically regulates amplitude or its effective direction depending on the selected asphalt layer, achieving optimum compaction quality with minimum passes. A new update adds intuitive setting options that optimize Asphalt Manager and allows the operator to focus directly on the rolling pattern and other machines.
Large compactor for soil or landfill work
The 37.3-ton BC 773 EB-5 soil compactor is built for ease of operation while retaining plenty of power. Joystick controls on the left and right sides allow operators to drive the machine with minimal effort - they can rest their arms on the adjustable armrests and wrap their hands around the ergonomically shaped multifunctional control levers, eliminating the need for a steering wheel in the comfortable operator cabin.
The BC 773 EB-5 features an array of automation tools that make for easier compaction work, no matter the job site. Blade positions, for example, can be programmed with a chain of commands that almost run themselves as the operator moves through specific tasks, adding efficiency and improving compaction quality. Access to the information system is easy - there's a large, glare-free colour display positioned in the centre of the operator's field of vision, and information is just a click away via the joystick. Menus are designed intuitively, and messages are clear and concise for speed of response.
Light equipment line expands
Bauma also provides Bomag with an opportunity to demonstrate state-of-the-art light compaction machines for a range of job site uses.
The BT 60 e is a battery-electric, emission-free tamper designed to be powerful and robust for trench and pipeline work, landscaping, compaction on backfills and foundations, as well as patching. Bomag's first battery-powered tamper, the unit is available with batteries of 1,000 or 1,400 Wh.
A single direction vibratory plate, the BR 95 is a good combination of efficiency and maneuverability. It is light and agile, and works well in small spaces on earthworks job sites. A square base plate with 450 mm working width has rounded corners; combined with a slim machine design, the unit is good for pipe or cable trenches, as well as close to walls or posts.
The BPR 45/45 is a reversible vibratory plate that meets high compaction and surface coverage requirements. It has an all-round protection hood to withstand high stresses, and thanks to a special comfort control lever, it is easy to control and maneuver even on uneven surfaces.
Finally, Bomag's BW 65 (gasoline) and BW 65 D (diesel) walk-behind rollers are fitted standard with electric starters, and thanks to close drum spacing are easy to use and maneuverable. A switchable vibration system can be flexibly adapted to subgrades, base layers and thin asphalt layers with two amplitudes.