Fly across off-road trails with Ford's new 700-horsepower F-150 pickup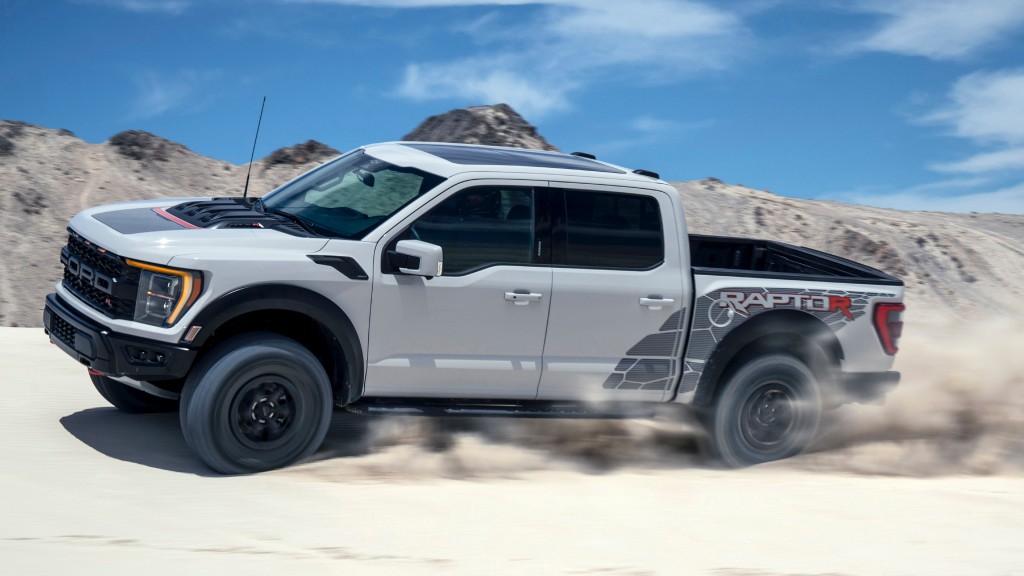 Ford has launched the new F-150 Raptor R, which Ford says is the fastest and most powerful off-road desert Raptor yet.
The F-150 Raptor R's engine
The F-150 Raptor R uses a 5.2-litre supercharged V8 engine that delivers 700 horsepower and 640 lb.-ft. of torque to give it ideal desert-running power. Ford Performance used Ford's most powerful engine currently available - previously seen in the Mustang Shelby GT500 - and optimized it for off-road performance.
Ford Performance recalibrated this V8 engine's supercharger and installed a new pulley to optimize its power for off-road use, increasing torque delivery at the low-end and mid-range. These changes help the Raptor R offer more performance at the speeds where drivers spend most of their time driving.
To maintain off-road durability, Ford Performance upgraded the original engine's exhaust manifolds to a cast stainless steel design, including a unique oil cooler and filter plus a deeper oil pan enabling it to tackle aggressive grades while keeping the engine oil cooler. To help the engine breathe better, air intake volume is increased 66 percent via a wider air intake inlet and a higher-flow conical air filter.
The capability and durability of the F-150 Raptor comes from engineering and testing high-performance trucks. Ford Performance upgraded the base truck's transmission and driveline.
The Raptor R delivers a 10-speed SelectShift transmission with improved calibration. The truck features a new front axle with a higher-strength carrier casting and an aluminum-ribbed structural cover to manage the powertrain's added torque, as well as a larger-diameter aluminum driveshaft. A tuned torque converter with a turbine damper and four-pinion rear output assembly makes the truck better equipped to transfer torque and provide a smoother powertrain feel when driving both on- and off-road.
Drivers get more control over how their Raptor R uses its power due to a dual exhaust system with a pass-through muffler and an active valve system with modes for normal, aport, quiet, and Baja driving. These can be adjusted in the MyMode feature, allowing drivers to customize multiple settings – including drive, steering, suspension modes, and others – and save one as a single mode easily accessed with a steering wheel button.
The Raptor R uses a five-link rear suspension that features trailing arms to better maintain axle position on rough terrain, a Panhard rod, and 24-inch coil springs. Advanced FOX Live Valve shocks are tuned to balance ride quality and roll control on- and off-road. These electronically controlled dampers use suspension height sensors and other sensors to monitor terrain conditions independently while adjusting suspension tuning accordingly. Wheel travel of 13 inches in front and 14.1 inches in the back helps the Raptor R's ability to traverse sand and rocks.
Each drive mode is tuned to account for the added power of the supercharged V8 engine, including an optimized Baja mode for high-speed off-roading. A five percent increase in the front spring rate helps maintain comfortable ride quality, while the Raptor R has a 13.1-inch ground clearance and standard 37-inch tires.
Technology present in the Raptor R
The Raptor R comes \with a suite of smart technology to make off-roading easier. Trail Turn Assist allows drivers to shrink their turning radius on tight turns and go even further off-road. Ford Trail Control lets drivers select a set speed and steer through challenging conditions while the truck handles throttle and braking. Trail 1-Pedal Drive allows drivers to control throttle and braking with just one pedal to make off-roading like rock crawling easier.
Drivers can use a 12-inch touch screen with SYNC 4 technology, Apple CarPlay, and Android Auto compatibility. Raptor R also benefits from Ford Power-Up over-the-air software update capability. These wireless updates can offer improvements throughout the vehicle – from the SYNC system to quality, capability, and convenience upgrades that improve the ownership experience.
Ordering for F-150 Raptor R has opened and production will start in late 2022.