A brief overview of Doosan's mini excavator line: models, features, and options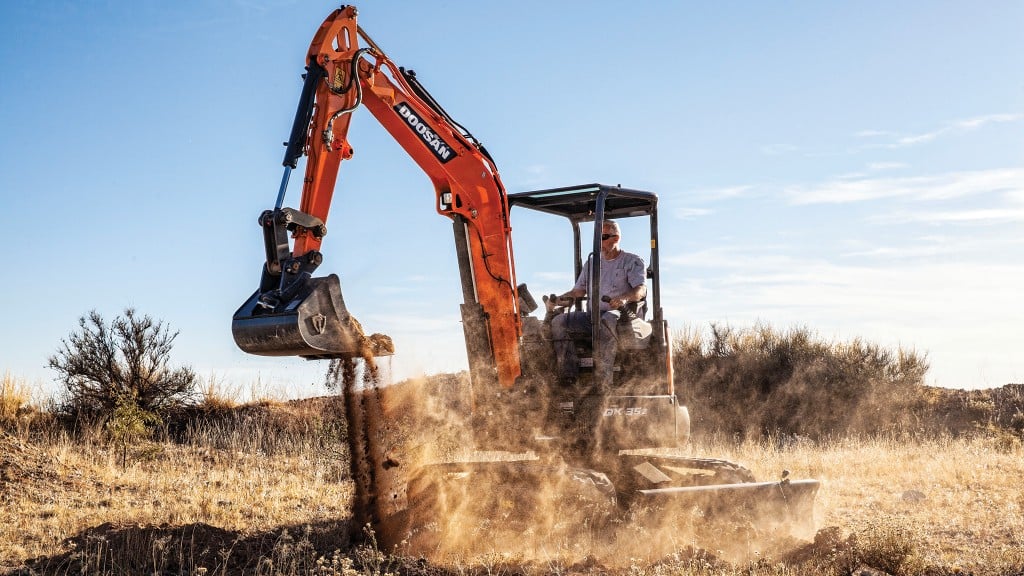 In 2022, Doosan Infracore North America is relaunching its entire mini excavator line with eight all-new -7 Series models ranging from 2.7 to 9 tonnes, including reduced and zero-tail-swing models. All eight models will be available by the end of the year. Features across the line include a fully enclosed cab as standard, standard auxiliary hydraulics, two arm configuration options to choose from for some models, and an updated operator experience and aesthetic design that provides a consistency with the rest of Doosan's lineup of large earthmoving equipment.
Design lines and the way the counterweight is incorporated into each machine will feel familiar, says Steve Americano, mini excavator product specialist, with Doosan Infracore North America. The machines in the new lineup look like little brothers to the big machines now.
Doosan mini excavators feature standard enclosed cab
The standard fully enclosed cab has been designed to optimize operator comfort with standard heat and air conditioning – even on the smallest 2.7-tonne model. Americano says that Doosan's approach is to offer the cab as standard because that's what their customers are looking for. This is particularly relevant for owner/operator businesses – they will appreciate that machines with a cab are easier to maintain and keep clean. However, customers can opt out and order a model with a canopy, which Americano expects to be more popular with the rental industry.
Doosan mini excavators feature controls common with larger machines
Common interface controls will be available from the 2.7-tonne model all the way up to the biggest Doosan excavators. Similar joysticks, cabin style, switch interface on the consoles, and similar software on the in-cab monitor, will all be familiar for operators who move between machines. The in-cab monitor enables operators to tailor attachment performance to their preference depending on conditions and materials.
Options for configuring a new Doosan mini excavator
Most models of the new lineup are available with two different arm configurations. Americano says that the standard arm is ideal for traditional, everyday work. The long arm option is ideal for job sites where it is more difficult to reposition the machine, as it provides additional dig depth and reach.
Another option that purchasers can select is a rear-view camera, which Americano particularly recommends for customers who work in congested areas.
Doosan is offering auxiliary hydraulics as standard on these machines, as well as hydraulic quick coupler piping, enabling use of a hydraulic quick coupler attachment. A second set of auxiliary hydraulics is available for customers who will outfit their machines with multifunction attachments, such as a tiltrotator.
While steel tracks are not commonly found on mini excavators, these new Doosan machines are also designed to accommodate steel tracks all the way down to the 2.7-tonne model.
Telematics are standard on new Doosan mini excavators
As for technology, DoosanCONNECT telematics is now standard on the new -7 mini excavators. DoosanCONNECT provides operators and fleet managers with the ability to review maintenance history and codes on the machines. They can also now receive alerts, just like with Doosan's larger equipment.
New Doosan mini excavator models
Models that will be available by the end of 2022 include: 6,168-pound DX27Z-7, 8,807 pound DX35Z-7, 10,114-pound DX42-5K, 12,121-pound DX50Z-7, 12,644-pound DX55R-7, 13,779-pound DX62R-3, 13,779-pound DX63-3, and the 18,960-pound DX85R-3.