Balfour Beatty VINCI trials Bauer all-electric drilling rig at rail line project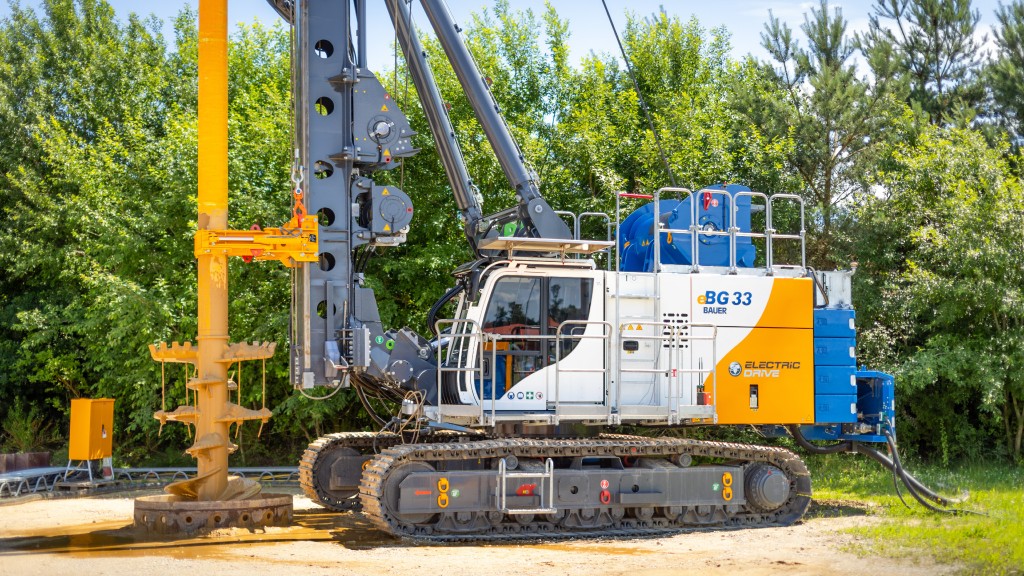 HS2 is Britain's new high speed rail line being built from London to the north-west, with HS2 trains linking Scotland and Manchester, Birmingham and London. HS2 is one of the largest infrastructure projects in Europe and it is being built to protect the countryside, protect local communities, and cut carbon.
HS2 Ltd's construction partner, Balfour Beatty VINCI joint venture (BBV) is currently trialling one of the world's first all-electric, high-capacity Bauer drilling rigs on a construction site in Warwickshire, as the joint venture steps up its plans to meet HS2's ambition for diesel-free construction sites.
First results of the trialling show that the 100 t Bauer eBG 33 drilling rig creates an overall reduction of 1,292 kg CO2 per day compared to a traditionally powered rig. At the same time, it reduces noise by up to 50 percent. In terms of performance, the rig is able to carry out exactly the same tasks as traditional machines.
This new machine is being used by BBV's deep foundations contractor SB3, a joint venture between Bachy Soletanche and Balfour Beatty Ground Engineering, and works alongside a diesel-powered rig to construct large diameter piles, with the aim of demonstrating that heavy, electric powered construction equipment can perform as traditional machines.
"It is great to be working with HS2, BBV and SB3, as the first U.K. specialist contractor to demonstrate the capabilities of the product," says Tim Laemmle from Bauer Maschinen GmbH, the rig's developer and manufacturer. "We're fully committed to bringing emission-free equipment to the deep foundation sector. There is a strong desire to promote our new electrified equipment as a genuine, reliable alternative to fossil fuel-driven machinery."
The drill rig's operator mentioned that there is hardly any noise to be heard in the cabin and the eBG can be operated just like a traditional machine. The cable is not noticeable and the guide arm just follows the machine.
The Bauer eBG 33 replaces the diesel engine drive with an electric drive. The environmental benefits include reduced exhaust and noise emissions; energy efficiency due to a three-phase asynchronous motor; and flexibility through an integrated frequency converter. Bauer is also trialling different e-connection types and a concept for set-up operation via an autonomous secondary drive which is independent of the power supply.