Electric drilling rig from Bauer features quiet operation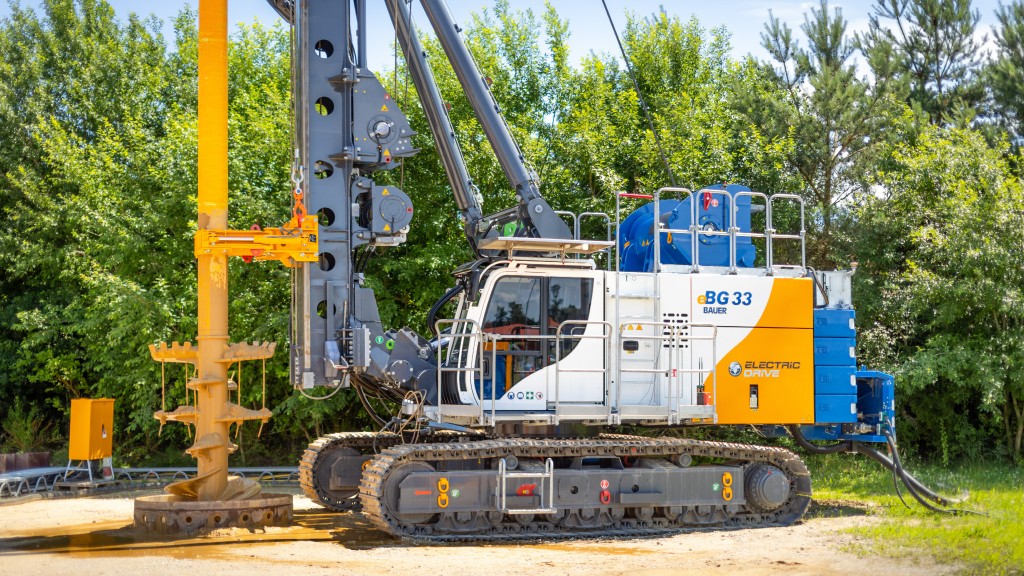 The eBG is the first electric drilling rig produced by Bauer. Introduced at the company's in-house exhibition, the unit runs on electrical power instead of diesel; it is very quiet during operation, making it a good choice for urban drilling.
Bauer has previously electrified equipment in specific cases, such as for underwater drilling, or in the case of deep drilling technology with an electrically driven Top Drive. Bauer presented a MC 96 duty-cycle crane with an electric motor during bauma 2019.
The new eBG 33 is a mid-range machine with drive power of more than 400 kW, in the same scale as the BG 28 to BG 36 drills and a range of 280 to 390 kNm of torque. It can cover a range of applications on site, Bauer states; apart from classical Kelly drilling, the eBG 33 can be used for high-performance methods such as soil mixing techniques like cutter soil mixing or double-head system drilling. A Bauer trench cutter can also be attached.
In developing the new rig, Bauer analyzed that the average diesel consumption is significantly higher for the BG 28 and larger machines compared to smaller equipment types, because these drills are used for high-performance work roughly one-third of the time, along with frequent Kelly drilling. This range of drill operation can show significant reductions in operating costs when long-term operation is considered, Bauer suggests.
The eBG 33 uses a direct power supply solution, as currently available battery systems are not able to provide effective capacity for this size class. Because of the prep work required to ensure power is available, the eBG is recommended for long-term projects to best take advantage of reduced operating costs.
On the outside, the eBG looks the same as other Bauer units, aside from the colour; inside, though, it is significantly changed. An electric engine has replaced the diesel engine and power distribution is placed where the fuel tank would be. A transformer provides various voltages for electric control components. The engine requires 690 V, while 400 V are required for air conditioning and heating. In addition, a 230 V socket offers the option of plugging in additional attachment parts on site.
For the operator, no controls have changed, and the unit offers Bauer's Energy Efficient Power (EEP) system, which is available to improve operating efficiency throughout the unit's use.