Headwater Equipment's full range of equipment and service offerings deliver new brands to Western Canada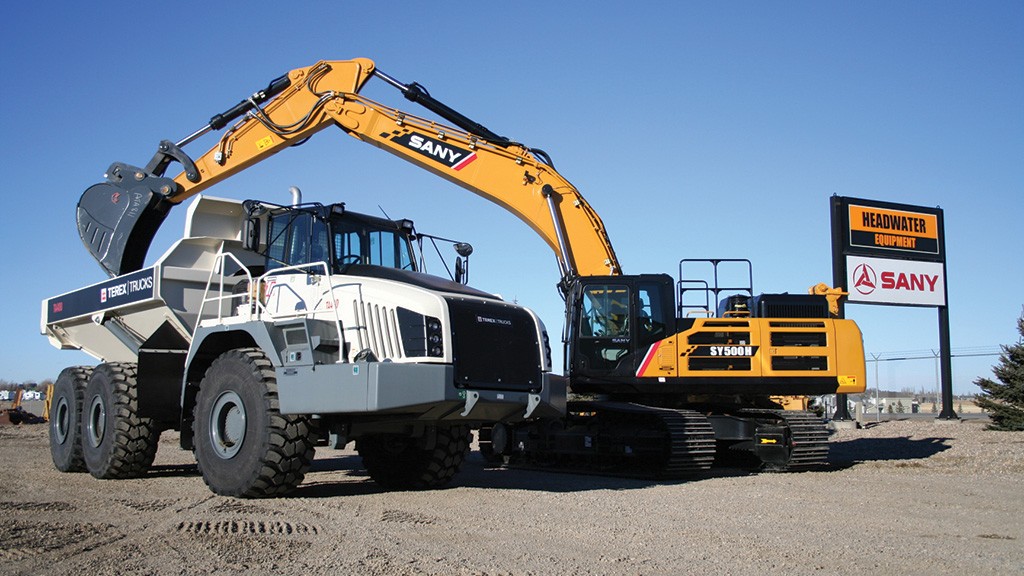 The part of Canada that stretches from eastern British Columbia to western Saskatchewan can certainly be described as diverse when it comes to industry. From the coal mines of the Kootenays to Alberta's oil patch and Saskatchewan's agricultural heartland, there are plenty of different sectors at work.
That kind of area can be a challenge for any equipment dealer to manage and support, but that's just what Headwater Equipment does. With five locations across the three provinces, the family-run business has evolved from a used equipment operation into a broad-based sales and service business that handles the needs of each industry efficiently.
In the process, it is helping spread the word about some brands that might not be household names in Canada, but which are proving to be popular with customers in the Headwater region.
Used equipment sales start the business
Founder Mike Stringer got his start as a heavy-duty mechanic and ran his own construction company focused on roadbuilding and oilfield work for years before starting Headwater in 1997 from a single location in Coalhurst, Alberta, outside Lethbridge. His son Matt started with the company a year later, and recalls that the focus for years was on sales of used equipment.
"My dad's background was as a heavy equipment technician and mechanic, and he had always flipped machines in his construction days . . . we started the equipment sales and started selling used construction equipment. We had a pretty big shop and a few mechanics from the construction days, so we were going to auction sales and contractors, buying used equipment, fixing it up, and reselling it," described Matt Stringer, today the general manager at Headwater Equipment. "We wanted to be a reseller of good used equipment, so we focused on repairing, servicing and painting everything we sold."
That could sometimes be a challenge - sometimes even the best service work might not quite pan out when it comes to older equipment, Stringer said. The company developed a reputation for quick response if machines it sold had problems.
Service was a theme that ran through the business during those years, Stringer pointed out, as Headwater started to provide service contracts with various operations in the region. With coal mining giant Teck on board as well as other large clients, the Headwater service team was travelling to Sparwood, B.C., northern Saskatchewan and Manitoba, and elsewhere handling field service work.
New markets spark added locations
That sparked the start of steady growth for the company as it moved into new markets closer to its large customers, Stringer said.
"Sparwood was the first branch we opened after Coalhurst, and that was borne out of how much work we were doing for the coal mines in the Sparwood valley – we needed a place to park service trucks and work on a lot of small items that needed to be repaired off the mine sites," he related.
From there, as it transitioned into new equipment sales, Headwater Equipment grew northward, aiming for the big equipment market in northern Alberta with a location in Edmonton.
"Contractors Edmonton north, when you tell them you're from Lethbridge, you're too far south - they can't get a crack at a lot of those deals. So, once we were up in Edmonton, it opened a large part of the north of the province for our service trucks," Stringer said. "And, on the sales side, now we have the machines parked right there for people to see. A busy contractor doesn't want to drive from Edmonton down to south of Calgary to look at a piece of machinery."
Headwater's Calgary location provides the same kind of convenience to contractors in that market, with machines on display and several field mechanics covering the area. The most recent addition is a location in Saskatoon, Saskatchewan, which was added in late 2021.
"We're looking to expand our Saskatoon operations this year; we're renting space now, and we're going to get a proper building and shop going this year, hopefully, and all of our Saskatchewan activities will be based out of there," Stringer said.
Sany starts new equipment sales drive
As Headwater Equipment grew, it also began to move away from the used equipment model into new sales. It found an eager partner in that development with Sany, one of the more recent equipment brands to enter Canada. Headwater became one of Sany's early dealer partners when they came on board in 2015.
The company was on the lookout for something new as other used equipment sources, both in-person and online, began to expand, Stringer said.
"We came across Sany at CONEXPO one year, started a conversation with them, and then did some digging in on the machinery, how it was built, the warranty, and so forth," he said.
At the time, there were a couple of other Canadian companies selling Sany equipment, but it was still relatively unknown. That led to a learning curve, both for Headwater and its customers. Stringer said the dealership sent some of its skilled mechanics into the field with Sany machines to gather feedback from clients, and in the process identified things that could be improved for better customer support. Those details were sent back to Sany, which took them into consideration as new machines were built.
"Sometimes it's simple things, like the seat on some models needing to be upgraded to be a little bigger because body sizes are a little bigger than Chinese body sizes. Or something silly like, the wheel loader at first didn't have a cup holder in it," Stringer said. "There have been a lot of small changes, and some mechanical changes we've suggested as well. Sany's been really good to work with on taking customer feedback to make the product better for the North American market."
It takes time to establish new brands in the construction industry, and it was no different for Sany; Headwater's team spent quite a lot of time educating its customers. They placed machines with clients through rentals, offered deals, and started getting buy-in locally, Stringer said, which has led to positive results.
"Once you get a couple of the locals to buy in, other people see it and say 'oh, it's good enough for them, it should be good enough for us,'" he said. "Last year was the first year where we really saw that build with guys coming back for more. We have one guy now with five or six Sany machines."
That development has also benefitted from recent supply chain issues as well as overall cost benefit compared to other products. Headwater had the foresight to stock up on Sany machines, and with that inventory available, combined with a growing awareness of the brand in the region, 2021 turned into the busiest year yet.
"We have that critical mass of customers and machines in the field where we can show people that we have machines out there with 7,000 hours on them and they're not giving us any problems," he said. "We've proved that they are a quality machine, and people are buying into that."
Rokbak ADTs and attachments round out offerings
Along with Sany, Headwater Equipment also represents Rokbak – formerly Terex Trucks – and its line of articulated dump trucks. That built out of the Sany arrangement as well as the needs of the region, Stringer suggested.
"Sany doesn't have a rock truck . . . looking at the brands that might be available, Terex was one that didn't have any representation in Alberta," he said. "We had a good machine in the Sany 500 that can load rock trucks, so we thought this would be a good match to have a more complete lineup of equipment to offer."
The ADT market is unique in that it is often a rental demand more than sales, so there is some work to do entering that market, Stringer said. Since the acquisition of Terex Trucks by Volvo and the rebrand to Rokbak, the machines have been drawing interest from rental fleets and other buyers as their quality and productivity become more established.
Beyond the heavy construction equipment, Headwater Equipment also provides attachments of all kinds, with brands including Indeco, HW Attachments, and HLA Attachments available.
Service at the forefront
With its history of field service, it's no surprise that Headwater Equipment continues to focus on that aspect of the business today. Stringer said construction customers need to know their machines will be available all the time, and Headwater shapes its service offering to ensure that happens.
"The big thing is hiring good technicians. We've got a training program here for apprentices. Our industry has got a severe shortage of good heavy-duty mechanics these days," Stringer noted. "We run a fleet of Kenworth and Freightliner service trucks - that's the backbone of our service fleet, big service trucks and quality guys. Plus, being a smaller operation, we have a lot of people come and say we still have a kind of family feel to it. We try to make sure all our mechanics know that you're not a number, you're a valued employee, because without good mechanics, nothing works."
Extending the lifespan of equipment is also key, and the Coalhurst shop handles frame-up rebuilds on a variety of machines, Stringer said, which is another way in which Headwater draws good team members who get the opportunity to work on machines of all brands and ages. "A diverse mix of work for the guys makes retention a little easier for us," he added.
The rebuild business has been growing, especially in the past year, with pricing going up and lead times for new machines growing, Stringer said.
"We're seeing a lot more rebuilds coming our way, just with the way the market is. And, rebuilds have their own challenges right now; engine components are harder to get," he noted.
Growth to continue moving forward
With the growing interest in Sany equipment, Headwater Equipment is poised to continue its steady expansion into new markets throughout its coverage areas, Stringer said. Hopes are to place a location in the Grande Prairie area, as well as establishing the Saskatchewan presence, along with more development of Sany in the market.
"We're looking to take the Sany brand to be one of the top five construction brands here . . . we have the telehandler that came out last year, and the motor grader as well, so they're reaching a fairly complete product offering in North America. That's our big growth plan - pushing the Sany equipment out there, and breaking into more of the municipalities here in Alberta," he said. "We also want to continue growing our service side, because the service and the new equipment really go hand in hand. We're trying to make sure we draw new customers and keep them happy with prompt service and uptime on their machines."