Two things to consider when selecting a stand-on loader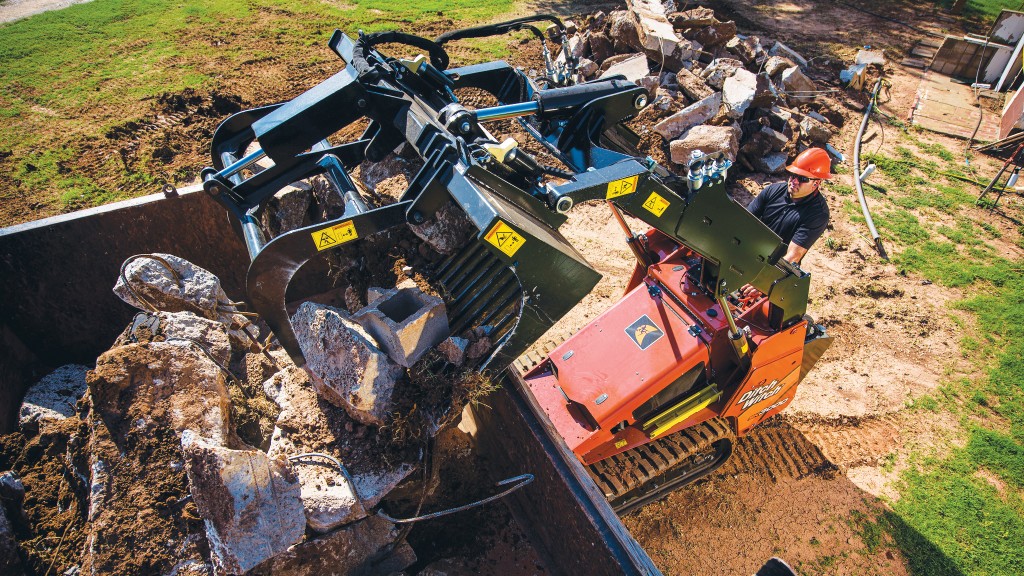 Whether you're a hardscape construction professional or a green industry pro, efficiency is a top priority on today's job sites – especially as contractors grapple with finding ways to stay productive amid the workforce shortage. And at a time when demand for work is continuing to increase, staying efficient with smaller crews means relying on your equipment to help you do more with less. One machine that is alleviating some of the pressure is the stand-on skid steer.
While stand-on skid-steers have been used primarily as loaders in the past, they are becoming more popular for a wider variety of job site tasks. Their power, 360-degree visibility, hop-on and hop-off convenience, and multiple attachment options give contractors the workhorse they need to meet deadlines, improve productivity and boost the bottom line.
So, what size stand-on skid steer do you need? It depends on the project and job site conditions and attachment needs. Here are two things to consider when selecting a stand-on loader.
The job and job site
When choosing a new piece of equipment, you're most likely looking for a machine that can help increase your ROI. And that means having the correct equipment for the application and job site. The first thing you should consider when purchasing a stand-on loader is what kind of projects you'll be using the machine for and if there are any typical job site constraints. For example, a landscaping crew might be working in space-restricted areas like residential backyards and need to consider machine size above other characteristics. In this case, a smaller machine or mini stand-on loader will likely be the most efficient to help them maneuver through fences or around sheds, gardens, and other structures.
In contrast, a hardscape crew might consider a machine's power to be more important. A full-size stand-on loader offers maximum power and lifting capacity to help contractors move heavy material on and off the job site more effectively. And when there is less manpower on the job, powerful equipment becomes even more important. Additionally, because large stand-on loaders have the power to carry heavier loads, crews need fewer machines on the job site, enabling them to make fewer trips with each machine, streamlining efficiencies.
Attachments
The second thing to consider when choosing a stand-on loader is how you can turn it into a one-machine solution by simply switching out attachments. The bucket attachment is arguably one of the most popular attachments for stand-on loaders. It helps operators lift large piles of material or debris that need to be relocated or discarded. There are a variety of bucket types to choose from, depending on the application, including the grapple bucket and 4-in-1 bucket. Grapple buckets come with hydraulic clamps to hold unstable material, making them ideal for transporting larger pieces of debris such as tree branches, stumps, boulders, and bricks.
For example, if you needed to move a heavy tree branch across a job site, a grapple attachment equipped on a large stand-on loader will allow you to move the branch in one trip. Without a grapple bucket and a large loader, you would need to take time to cut the branch up into smaller pieces to be carried by hand or fit into a smaller bucket.
Additionally, the 4-in-1 bucket attachment takes versatility to the next level. For example, if you are working on a smaller job site and need to tackle a variety of tasks, a 4-in-1 bucket attachment outfitted on a mini stand-on loader can help you effortlessly switch from project to project. From handling bulky material and soil removal to levelling jobs, you can stay versatile and efficient helping boost productivity.
As a best practice, you should have three industry-specific attachments for your stand-on loader, in addition to the common attachments. For example, contractors focused on underground roadwork should consider investing in microtrenching attachments, coring attachments, and vacuum-lifting attachments, in addition to buckets, grapples and forks. This attachment variety will allow them to bid on a range of jobs in their industry, and it will keep them versatile and agile on the job site.
A Recipe for success
As today's job sites become more complex – and staying efficient with smaller crews becomes more pertinent – having the right equipment can make or break a contractor's productivity. While both the mini and full-size stand-on loader have their place on the job site, it is important to know when to deploy each one and outfit it with the correct attachments. Plus, as contractors lean on their machines for a little extra boost, finding the correct stand-on loader solution will ensure their crew's success.
Brant Kukuk is a compact equipment product manager at Ditch Witch.