Tigercat launches company's first swing yarder for cable logging operations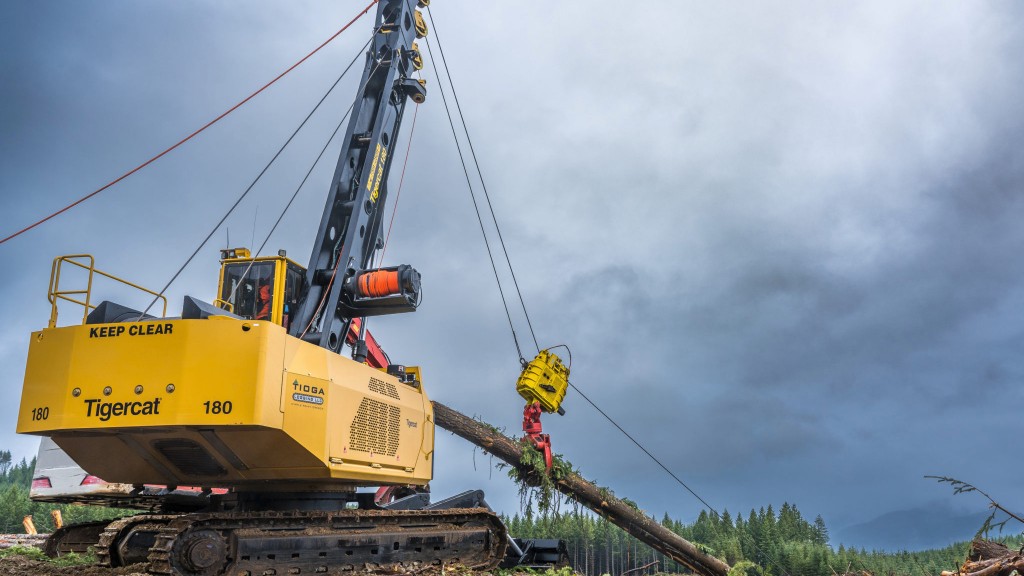 The new Tigercat 180 swing yarder combines the stability of conventional yarders with the mobility and simpler controls of excavator-based yarders. The result is a yarding machine capable of operating in rough logging applications. The 305 kW (409 hp) carrier was designed with a component layout, hydraulic system, drivetrain, and boom system optimized for yarding. The result is high line pull, excellent stability, and efficient operation.
The 180 can achieve high line pull without the use of guylines in most operating conditions. The undercarriage has a reinforced pedestal and car body with an extended blade for added stability. The blade mounts are tied directly into the car body for added strength. The machine can be quickly moved to the next set-up by lifting the blade. In operating situations where additional stability is required, such as with extremely long yarding distances or low deflection conditions, a simple static guyline can be quickly set up. The machine still retains the ability to swing with this guyline attached.
The winches are driven with dedicated closed-loop hydraulic circuits for smooth operations and variable speed control. The closed-loop circuits provide energy when lowering the load for ideal efficiency. Intuitive joystick controls, along with other programmable features, reduce operator training time and increase production.