Hyundai to show latest excavators and wheel loaders at National Heavy Equipment Show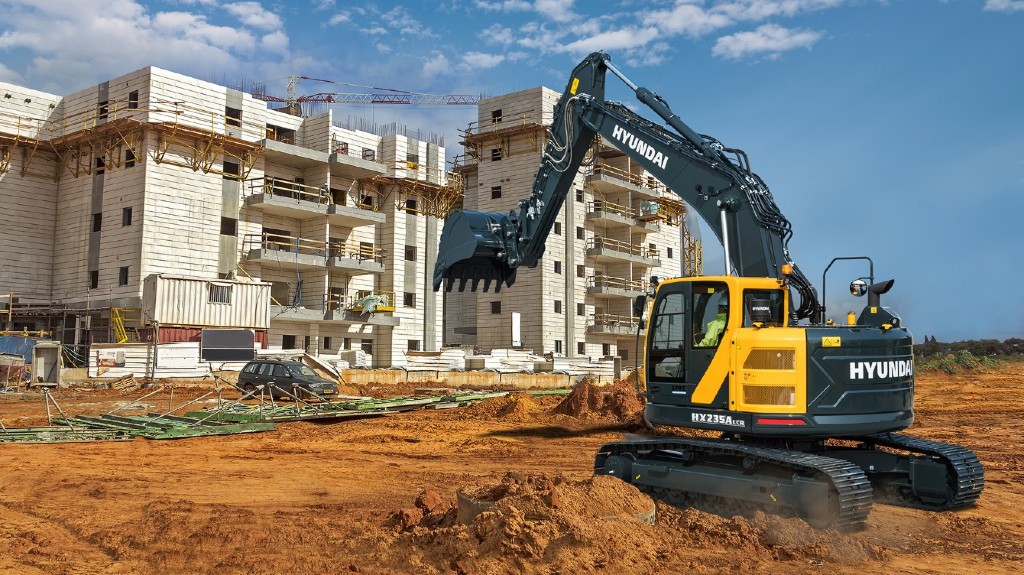 Hyundai Construction Equipment Americas will display four of its newest A-Series machines at the National Heavy Equipment Show.
The company's exhibit includes A-Series excavators and wheel loaders, ideal for road building, construction, snow removal, aggregates, and infrastructure applications.
New features of Hyundai's displayed excavators
A new lifting mode enhances Hyundai's A-Series excavators for applications requiring digging and moving heavy loads. EPFC (electronic positive flow control) improves fine control and reduces fuel consumption. The new upper frame design increases lifting capacity.
A 22-metric ton excavator, the Hyundai HX235ALCR offers a compact swing radius for space-restricted job sites, municipal, and all-around excavating applications. A Cummins B6.7 Stage 5/Tier 4 Final engine provides fuel-efficient power for the HX235ALCR.
The unit on display at the show will be equipped with Hyundai's new MG/MC (machine guidance/machine control) feature. The MG function displays the position of the bucket edge, while MC assists the operator by automatically adjusting the bucket height and rotation during grading, and also includes auto-stop to protect the cab.
The Hyundai HX480AL excavator provides ideal performance in the 40 to 50 metric ton class. Its new options include four-way proportional piping and a removable counterweight for easy transport. Key features include a fuel-efficient Cummins X12 engine without EGR, and higher undercarriage ground clearance.
Features of Hyundai's displayed wheel loaders
Hyundai's A-Series wheel loaders feature Cummins Performance Series engines with 10 percent more power and 20 percent more torque than previous comparable models. Hyundai features include an accurate onboard weighing system, a bucket design for better load retention, and free five-year use of Hyundai's Hi-Mate cellular-based remote management system.
The standard advanced loading frame – the Parallel Z-Bar – provides parallel lift and improved tilt-back forces for a variety of applications, such as agriculture, recycling, waste handling, forestry, and industrial use.
The Hyundai HL980A wheel loader, with a 262-kW (351 hp) engine and 5.6-m3 (7.3-yd3) payload, provides agile heavy-duty performance for high-volume applications, such as aggregates, quarrying, mining, and demolition.
Designed for heavy-duty use in rough conditions, the HL980A provides high durability, performance and reliability. Other enhancements include high-grade hoses and heavy-duty axles.
The Hyundai HL955A wheel loader, with a 147-kW (197-hp) engine, helps to minimize emissions.
With a bucket capacity of 2.8 m3 (3.7 yd3), the HL955A wheel loader provides the size, power, and performance required for a wide variety of applications, including roadbuilding, mulch yards, snow removal, forestry, dairy farming, construction, and utilities. The machine easily accommodates attachments, including forks, brooms, and specialty buckets to get the job done, often in confined spaces. A mid-sized machine the HL955A wheel loader is easy to transport, usually without the need for a special permit.