Technology driving developments in roadbuilding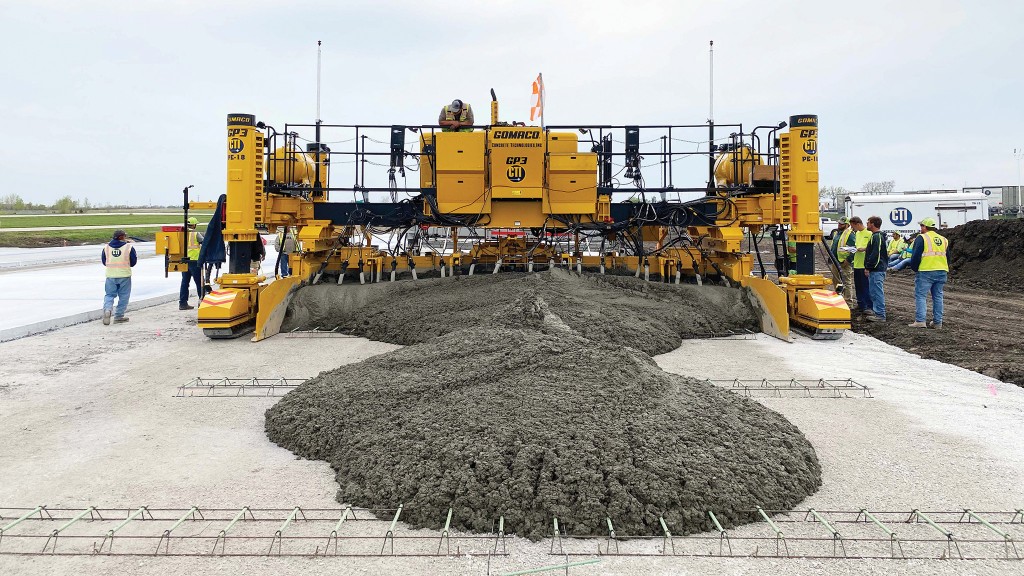 Road construction projects are an area where contractors need precision at all times, from managing mixtures to proper sloping for drainage. It's no surprise that technology for management of road construction equipment is focusing on improved precision and efficiency as a key point moving forward.
From new automatic controls to smaller and easier equipment, there have been a range of developments on this front in recent months. Here's a summary of how the roadbuilding sector is moving forward.
Control systems improve compaction and curb work
Trimble has made asphalt paving a focus over the past couple of years, introducing new precision tools to make contractors more efficient. In 2021, it introduced the Trimble Roadworks platform for asphalt pavers, adding automatic 3D screed control in an Android-based application that is easy to use and improves paver efficiency. To start 2022, Trimble has expanded Roadworks into another important part of the paving process: compaction.

Operators can use Trimble Roadworks Paving Control Platform for Asphalt Compactors to accurately control the compaction process while cutting down on passes and avoiding overcompaction. The results are improved speed, accuracy, and ease of getting the job done.

"This release is particularly important because every day we're seeing more DOTs and private owners build technology requirements into their RFPs. We're expecting there to be an influx of projects over the coming months and years as the result of increased infrastructure funding," said Kevin Garcia, general manager, Trimble Civil Specialty Solutions. "The Trimble Roadworks platform is specifically designed to be easy to learn and use. Variable pricing helps make this platform even more accessible and levels the playing field for contractors of all types and sizes."

The Roadworks system runs similarly between machine types, making it easier for operators to work with and understand. It is flexible, and supports a range of needs and specifications for various job sites. It also provides asphalt temperature mapping, allowing operators to use colour-coded data to ensure they are compacting at the correct temperature, reducing material waste and rework.

Trimble has made Roadworks available at various price levels and functionalities, depending on the needs of the contractor.

Curb and gutter work is becoming more precise as well, with Power Curbers adding telematics to its machines during World of Concrete 2022. ConnectSmart telematics offers fleet management tools that Power Curbers says brings more visibility to slipforming contractors.

Companies can monitor Power Curbers and Power Pavers on a dashboard that can be accessed through a web browser or mobile app. Fleet managers can monitor the live location of machinery, and can geofence machines within job sites, storage yards, or service areas to ensure equipment is not moving unexpectedly. Current status is always visible, giving contractors indications of whether the machines are running, parked, or in transit.

In addition, ConnectSmart displays and tracks when vibrators are on or off in real time. That is critical for slipformers as it allows them to analyze when their unit is idling versus pouring. Managing idle time is essential for maximizing fleet efficiency and sustainability through reduced fuel consumption and lowered emissions.

Telematics also aid in managing maintenance, with remote monitoring of hours allowing service interval planning and live engine outputs visible through the dashboard, with fault codes available to aid in troubleshooting and repair.
Slipform machine advancements
Telematics aren't the only advancements being made on slipform pavers for the concrete sector. A pair of recent releases have added a variety of new features for pavers of projects large and small.
Wirtgen recently introduced its SP 102i inset slipform paver, which the company says is specifically designed for North American construction needs and has the capability to pave from 16 to 40 feet in width.
The secret of the SP 102i is its modular design. Wirtgen says the paver can be quickly and easily adapted to meet project requirements, adding or removing required modules as needed. The design allows all components, including the spreader plow and super smoother, to remain mounted on the machine for transport, reducing set-up time.

A power management system aids in improving engine efficiency; ECO mode automatically adjusts the speed of the 310-hp high-performance Tier 4 Final diesel engine based on the horsepower required, which reduces fuel consumption. Wirtgen technology also plays into the paving process itself; an oscillating super smoother adds high surface quality on up to 18-inch-thick concrete layers. Crown profiles can have a cross slope of up to 3 percent, Wirtgen notes. Two side dowel bar inserters available as an option place anchors into fresh concrete so that adjacent lanes don't drift apart. The unit also features hydraulic vibrators to evenly compact concrete, and options are available to add more vibrators as needed.

Continuing the theme of added technology, Wirtgen has fitted the SP 102i with a field-proven 3D interface that can combine with a 3D system and total stations from various suppliers to improve precision and cut costs. The company's FleetView also offers remote support for machine fleet managers.
GOMACO has also advanced the technology on its new GP3 slipform paver, which was introduced at World of Concrete. A slipforming paver that can work up to 30 feet wide, the unit is available in either two- or four-track design.
New intelligent valves are key to the new machine, and are also being added to other GOMACO equipment. Self-programming valves work with the paver's G+ control system to react and automatically adjust to the dynamics of the machine. Valves react to the machine set-up and adjust accordingly, while the operator can make fine-tuned sensitivity adjustments from any display at any time. The G+ software recognizes change requests and makes adjustments to correct elevation, steering, pivot, travel control, and more.
The G+ system also incorporates new vibrator monitoring, allowing the operator to see performance on the touchscreen display and make adjustments electronically as needed. Navigator display software collects all of the paver accessories under G+ together on an optional touchscreen, which is fully Wi-Fi capable and provides wireless control from multiple display screens on the paver. Ground personnel can use a wireless extension to make fine adjustments as needed.

GOMACO has improved machine-to-machine communications, making it possible for machines to connect in a paving train and improve results. As an example, a placer/spreader in front of a GP3 paver that is placing concrete too low for the paver to operate correctly can be adjusted through the Navigator and G+ controls. These technologies are being added to many of GOMACO's pavers as well as curb and gutter machines.
Smaller and more maneuverable pavers
Caterpillar has recognized the need for pavers that can manage challenging job sites in urban areas with its new compact line of machines available in multiple sizes with both track and wheel versions, along with a pair of new screeds. Small footprints make these ideal for working in tight quarters, a position many contractors have found themselves in more and more as urban areas build up.

The 13- to 15-ton pavers have a length of less than 18 feet 6 inches, and are 8 feet 6 inches in width, making them easy to transport, while a front-loading angle of 17 degrees, with high bumper clearance, makes loading easier.

Cat's Mobil-trac undercarriage is available on the AP455 and AP555 pavers. A four-bogie design with self-tensioning accumulators and centre guide blocks aids in reducing slippage and wear, while oscillating bogie wheels offer smoother transitions when exiting the cut over transverse joints in mill and fill use. Alternately, the AP400 and AP500 use wheel undercarriages, with a choice between sand-rib and radial drive tire options. The AP400 has the option of front-wheel assist, and the AP500 a front-wheel assist or all-wheel drive option for increased performance in soft base materials or when pushing heavy loads.

An eco-mode feature combines with automatic speed control to cut fuel consumption, allowing the engine to operate at a lower rpm while delivering the needed power for required performance.

The new pavers use a low truck entry and smaller, 14-inch diameter augers to ensure efficient movement of material through the auger chamber at narrow and wide paving widths. Personnel can move easily from machine to machine thanks to simplified menu structures and similar functions across the product line.

Using the SE47 V screed, contractors can pave a standard range of 8 to 15 feet 6 inches, with a max width of 20 feet; the SE47 FM screed has the same standard range, with max width of 20 feet 6 inches. Depths of up to 10 inches support aggregate paving applications. The SE47 V has extenders behind the main screed to enable natural material flow to the end gates for smooth, stable performance. On the SE47 FM extenders are in front of the main screed, offering a smaller footprint.