Caterpillar debuts range of new earthmoving equipment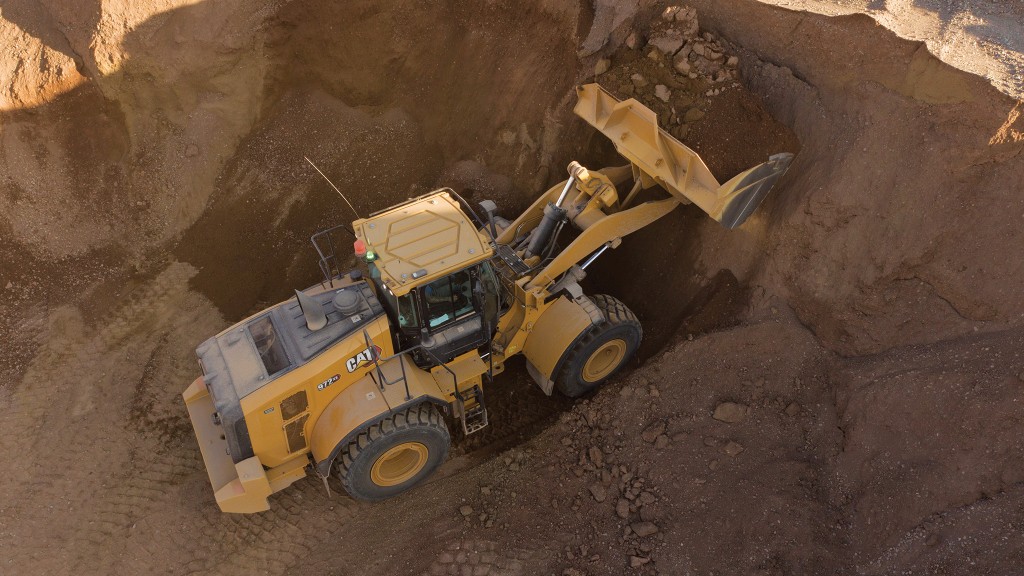 To wrap up 2021, Caterpillar introduced several new products and technologies including the 120 GC Motor Grader, the 651 Wheel Tractor-Scraper, the 900-series Medium Wheel Loaders, and the D4 Dozer. The company is focused on upgrades in machine efficiency, maintenance, and operator comfort, as well as the latest technologies.
966, 966 XE, 972, 972 XE Wheel Loaders
These next-generation wheel loaders bring a host of standard technologies to the 7- to 9-tonne (8- to 10-ton) wheel loader line to boost operator efficiency. The 966 and 972 models deliver consistently high bucket fill factors to increase productivity by up to 10 percent. Their design extends fluid and filter change intervals to lower maintenance costs by up to 20 percent compared to the previous models.

The Caterpillar designed and manufactured continuous variable transmission (CVT) of the 966 XE and 972 XE loaders to improve fuel efficiencies up to 35 percent.

All four models in the updated loader series feature standard Cat Payload with Assist for accurate weighing of bucket payloads, so operators can load to target the first time, every time. Real-time data is fed to the operator display and allows manual tip-off function to improve final bucket adjustments and truckload accuracy.

The new Cat Autodig with Auto Set Tires delivers high bucket fill factors for the wheel loaders. It fully automates bucket loading to improve fill factors and decrease loading time. Working in conjunction with Autodig, Auto Set Tires promotes proper loading techniques to reduce tire slip and wear.

The system integration of the CVT powertrain, engine, hydraulic and cooling systems as part of the 966 XE and 972 XE results in increased performance and fuel efficiency. Without the torque converter of mechanical drive systems, these loaders independently control engine rpm and machine speed to provide efficient digging, fine control, and operation. The CVT design brings smooth, fast accelerations and high speeds on grade. Machine maneuvering on grade is enhanced through speed-hold and anti-rollback features.

These models have maintenance intervals extended to 1,000 hours and 500-hour service intervals have been eliminated. An integrated optional Autolube reduces daily maintenance and increases component service life, and easy access to hydraulic and electric service centres makes servicing the loaders fast and easy. Combined, these design updates reduce maintenance costs up to 20 percent for the Cat 966 and 972 models and up to 25 percent for 966 XE and 972 XE loaders.

The new loaders feature Caterpillar's next generation of ride control that works as a shock absorber to improve ride quality over rough terrain. The cab includes sound suppression, seals, and viscous mounts to decrease noise levels. And a wide door that unlocks remotely from the ground, plus inclined steps, together improve cab ingress/egress.

The cab windshield extends from floor-to-ceiling to improve forward visibility, while a standard rear-vision camera and large mirrors with integrated spot mirrors give all-around visibility. Cat Detect radar, which alerts operators to hazards, and a multi-view (360-degree) vision system are options that provide an extra level of monitoring.

Available in capacities ranging from 2.8 to 14.0 cubic metres (3.75 to 18.25 cubic yards) for the new 966 and 972 loader series, Cat Performance Series buckets balance shape against the machine's linkage for higher fill factors and better material retention than other designs with the same rated capacity. Fusion Quick Coupler buckets permit rapid work tool changes without leaving the cab.
D4 Dozer
The latest D4 weighs in at 29,259 pounds (13,272 kg), with a net power of 130 hp (97 kW). The D4 LGP (low ground pressure) has an operating weight of 30,882 pounds (14,008 kg).

Its lower sloping hood line provides up to 30 percent better visibility to the area in front of the blade. The new sightlines mean the visual distance between the blade and the material pile is shortened by about 40 percent, so less time is spent backing up to get a full view of the material. In the cab, operators will find a more comfortable seat with improved suspension and multiple adjustments for personalized comfort. An easy-to-use 10-inch (254-mm) touchscreen main display puts machine settings and features in easy view. A standard high-definition rear-view camera shows prominently in the main display.

The D4 includes several standard technology features aimed at helping operators work more efficiently, regardless of experience level. The cab also offers optimal interior mounting locations that make it simple to install the grade control system of choice. Other tech includes Slope Indicate, Stable Blade, and Traction Control. An optional technology package includes the standard technology features, plus Cat Grade with Slope Assist and the Factory Attachment Ready Option (ARO), which provides the hardware for mounting any brand of grade control system.

Factory integrated Cat Grade with 3D can be added. The system uses a GPS signal to automatically adjust blade movements - both lift and tilt - as the operator follows the design plan. Antennas and receivers are housed in a low-profile roof-mounted spoiler. An intuitive 10-inch (254-mm) Grade operator interface works like a smartphone. The Android OS platform allows the installation of custom apps for more versatility. AutoCarry is also packaged with Grade with 3D, automating blade lift to help get more consistent blade loads with each pass and reduce track slip.

Longer service intervals contribute to up to 7 percent lower maintenance costs. Engine oil/engine oil filter service interval has been extended to 1,000 hours. Service intervals have also been extended on the air cleaner and Diesel Exhaust Fluid (DEF) pump filter.

The D4 is available in Standard or Low Ground Pressure (LGP) configurations. A Variable Pitch Angle Tilt (VPAT) blade is standard, with an option for a foldable VPAT blade to reduce transport width.
120 GC Motor Grader
The new 120 GC Motor Grader has reduced fuel consumption, lower maintenance costs, and easy-to-operate controls. Its powershift transmission and balanced machine design ensure appropriate drawbar power to the ground with the fuel-efficient Cat C4.4 engine. Adapting engine power and torque to application demands, the 120 GC has an electronic throttle control to improve grading productivity. The matched engine power ranges for the standard rear-wheel drive and optional all-wheel drive, standard Eco mode operation increases fuel economy up to five percent. It has a hydraulic cooling fan, with an optional reversing fan for high debris applications, that only runs when necessary to further reduce fuel consumption.

The steering wheel and lever layout are consistent with the 140 and 160K models and the hydraulic system provides precise and predictable control for a consistent grade. Its transmission with torque converter eliminates the need for an inching pedal, so only the throttle and brake pedals are needed.

There are a number of options available to meet the specific needs of an operator. An optional Digital Blade Slope Meter shows the operator the grade without relying on manual grade checkers. All-wheel drive (that comes with increased engine power) is available for increased traction and improves performance on slopes and with poor underfoot conditions. There is a cab choice of standard or low-profile to reduce overall transport height to 3.12 m (10.25 feet). The cab offers an option between mechanical or air suspension seats, while the control console and the steering wheel can be adjusted to the operator's preference. Pressurized to prevent debris entry, the cab's optional HVAC system circulates fresh air to keep the windows from fogging.
651 Wheel Tractor-Scraper
Caterpillar has relaunched the 651 wheel tractor-scraper (WTS) with improvements to the powertrain, controls, hydraulics, and structure, designed to deliver higher levels of productivity. Offering 33.6 m3 (44 yd3) heaped capacity and 46.4 tonnes (52 tons) rated load, the new WTS shares the same bowl design and many components as the 657, allowing companies with mixed fleets to stock fewer repair parts.

The scraper's new Advanced Productivity Electronic Control System (APECS) fully integrates the transmission and engine drivetrain for smooth and responsive shifts, allowing the 651 to move more material faster. An electronic clutch pressure control has advanced shift control logic for smoother speed and directional shifts, while part-throttle shifting controls transmission shifts for smoother shifting between gears.
Its single-engine design with the Cat C18 engine powers the tractor with 469 kW (629 hp) and meets EU Stage V/U.S. EPA Tier 4 Final emission standards. The 8-speed transmission can reach a top speed of 56.1 km/h (34.8 mph).
The 651 improves operator comfort by using the same, larger cab as the 657. The heating ventilation and air conditioning (HVAC) system has been relocated to below the cab and the steering column and pedal have been repositioned helping to improve visibility. The new comfort seat rotates up to 30 degrees to the right for loading and offers an additional 51 mm (2 inches) of fore/aft movement to reduce operating fatigue.

To improve visibility and safety, there are three camera locations for the optional Work Area Vision System (WAVS). It shows the right side and rear of the machine on a 178-mm (7-inch) in-cab colour display.

The scraper's new ground speed control allows the operator to set the desired top speed, and the machine will find the gear that works best for the engine and transmission to lower engine load factor and fuel burn. When operating on a decline, the 651 detects a machine overspeed situation and automatically engages the compression brakes with no operator input.
Related Articles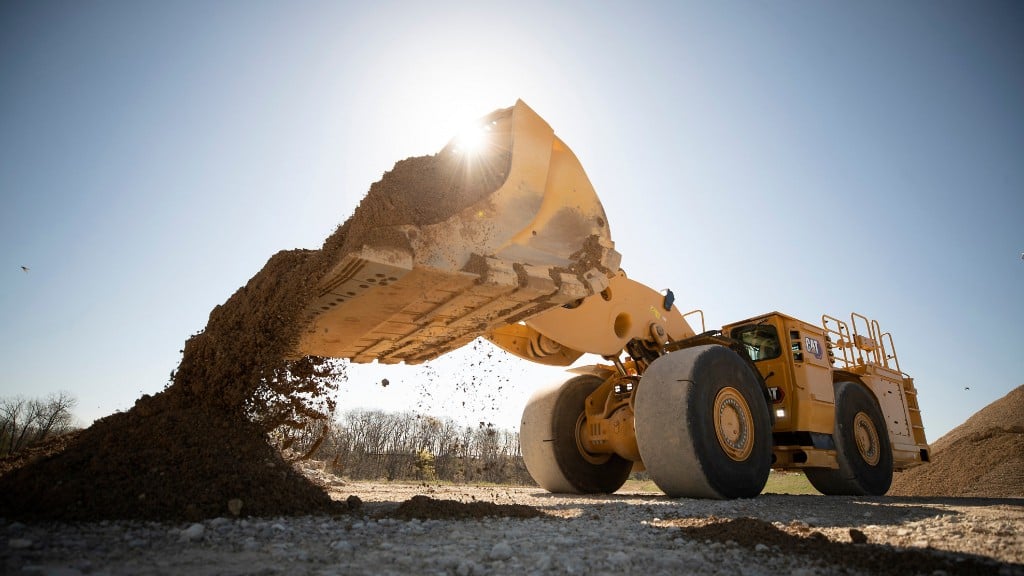 Caterpillar's new battery-powered mining loader fully charges in less than 20 minutes