Caterpillar's new battery-powered mining loader fully charges in less than 20 minutes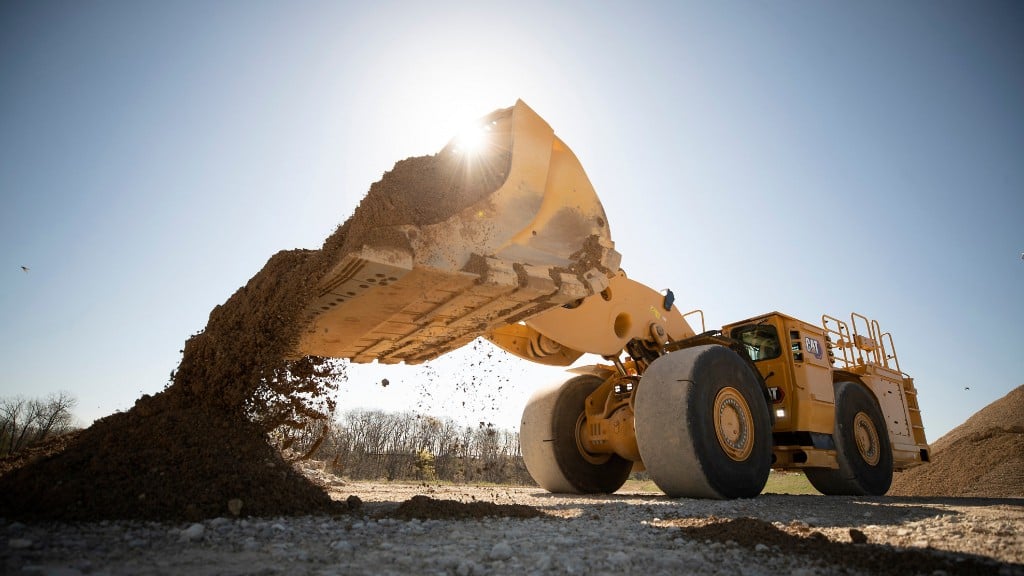 Caterpillar's new electric Cat R1700 XE LHD offers 100 battery-electric propulsion, producing zero exhaust emissions. Additionally, the portable Cat MEC500 Mobile Equipment Charger fully charges the R1700 XE in less than 30 minutes using a single charger or in less than 20 minutes using two units. The machine's batteries can also be charged while remaining on the R1700 XE to maximize available run time.
The R1700 XE electric platform brings a new level of production capability in Caterpillar's electrified product range. Multiple design features are carried over from the R1700 platform to reduce overall operating cost, improve component durability and reliability, and maximize availability and productivity. An aggressive digger, it features Autodig for optimal loading and improved traction control for maximum tire life.
Borrowing the front linkage geometry from the R1700, the R1700 XE offers matching lift and tilt breakout force for electrified machines of 24 190 kg (53,330 lb). Advanced hydraulic performance and load-sensing pumps with controllable flow deliver a 13.2-second raise/dump/lower hydraulic cycle time and 323 kN (72,613 ft-lb) rimpull and drawbar. The electric LHD vehicle offers 15 tonnes (33,069 lb) payload, 18 kph (11.2 mph) fully loaded top speed and 2.5 hours of aggressive run time between charges.
Five bucket sizes, including a bolt-together bucket option, with capacities ranging from 5.7 to 7.5 m3 (7.5 to 9.8 yd3) match material density needs to various loading, hauling and dumping conditions. Offering optimized balanced between productivity and bucket life, the full range of Cat ground engaging tools (GET) includes modular Weldon, bolt-on half arrow, and Durilock mechanically attached shrouds, heal shrouds and wear plates.
The R1700 XE comes from the factory ready for Cat MineStar for Underground technology to further increase operating efficiency and productivity. Scalable levels of remote operation from line of sight to fully autonomous are available to increase production efficiency and operator safety. Standard Product Link Elite delivers machine health monitoring to improve uptime availability.
Improved comfort and safety
Integral to the cab and frame, the rollover protective structure (ROPS) and falling object protective structure (FOPS) are resiliently mounted to the frame to isolate the operator from vibration for a more comfortable ride. Pressurized to mitigate dust infiltration, the cab features a new climate control system with improved airflow, greater defrosting coverage and reduced noise levels. The larger cab provides additional space for the operator, who sits slightly lower inside the cab for greater headroom and improved ride comfort.
The R1700 XE's operator station is ergonomically designed for total machine control in a comfortable, productive and safe environment. Steering and transmission integrated control (STIC) provides maximum machine responsiveness and control by combining directional selection, virtual gears and steering into a single level. Low-effort, electrically operated joystick controls implement functions smoother with faster cycles for less operator fatigue.
Serviceability and durability
Intrinsic to the battery-electric vehicle design, the R1700 XE has fewer parts for reduced maintenance, and it shares strong parts commonality with the R1700, requiring less parts inventory. Modular design of key components, like the HVAC system being modular in design, better component positioning, and a light, modular structure delivers servicing ease.
Leveraging the R1700's heavy rear structure design lends to long-term durability for the new battery-electric loader. Offering respective 250 kW (335 hp) and 226 kW (303 hp) rated peak power output, the highly efficient switch reluctance traction and auxiliary motors both offer long, 15,000-hour service intervals. Electrical connections are sealed to lock out dust and moisture, while wire harnesses are covered for protection. Coloured and number-coded wires facilitate easy diagnosis and repair.
Field tested and validated, the thermally stable Lithium Iron Phosphate battery system powers the electric R1700 XE LHD, delivering fast charging capability and reliable performance. The Caterpillar-engineered cooling system with new chilling cores for battery cooling maximizes performance and cell life. Enabling efficient electronic diagnosis of machine performance and key diagnostic data, the Cat electronic technician (ET) delivers quick and effective maintenance and repairs.
The Cat R1700 XE underground battery-electric LHD, on display at MINExpo 2021, will be commercially available in select markets starting in the first quarter of 2022.
Caterpillar has also introduced the new Cat MEC500 Mobile Equipment Charger, the first of its kind for the underground mining industry. Equipped with a durable skid mount and integrated forklift eyes, the 1600-kg (3,527-lb) charger can be efficiently moved to where the equipment is working via towing, fork truck or overhead lift.
Delivering a charge where it is needed, the MEC500 provides an alternative to expensive static charging station infrastructure, additional batteries, and battery handling and swapping. The mobile equipment charger offers customers charging options and the ability to optimize the mine site's electrical power supply.
The new MEC500 delivers a 500 kW charging and connector capability. It offers a range of 300- to 1,000-volt and up to 700 amp current output. This fast mobile charger can be used as a single unit to deliver a full charge to the battery-electric Cat R1700 XE LHD in less than 30 minutes.
Alternatively, ultrafast battery charging is achieved by connecting two units in parallel to charge the LHD in less than 20 minutes. Its adjustable output voltage and current can trickle charge the battery to maintain optimal performance for the R1700 XE.
Simple and safe
The new MEC500 eliminates the complexity of battery charging. When charging the R1700 XE, the mobile charger immediately recognizes the loader, and all charging functions can be managed from the keypad at the MEC500 or LHD.
Allowing for constant communication between the charger and R1700 XE, the battery-powered vehicle management system dictates the exact amount of charge needed throughout the cycle, optimizing battery longevity. The operator can conveniently monitor the charge cycle from inside the cab or from the MEC500's display.
The mobile charger's integrated display also helps to simplify diagnostics and troubleshooting. The charging port on the R1700 XE continuously senses the temperature, voltage and current to detect potential problems, which are communicated to the operator through the in-cab display and via audible warnings.
The MEC500's 6-function keypad manages charging, and the charger performs a short-circuit and insulation-resistance check on the cable prior to energizing the output. Featuring built-in line insulation monitors on both the AC input and DC output, the monitors automatically coordinate with each other when parallel charging to provide comprehensive and uninterrupted ground fault protection.
Related Articles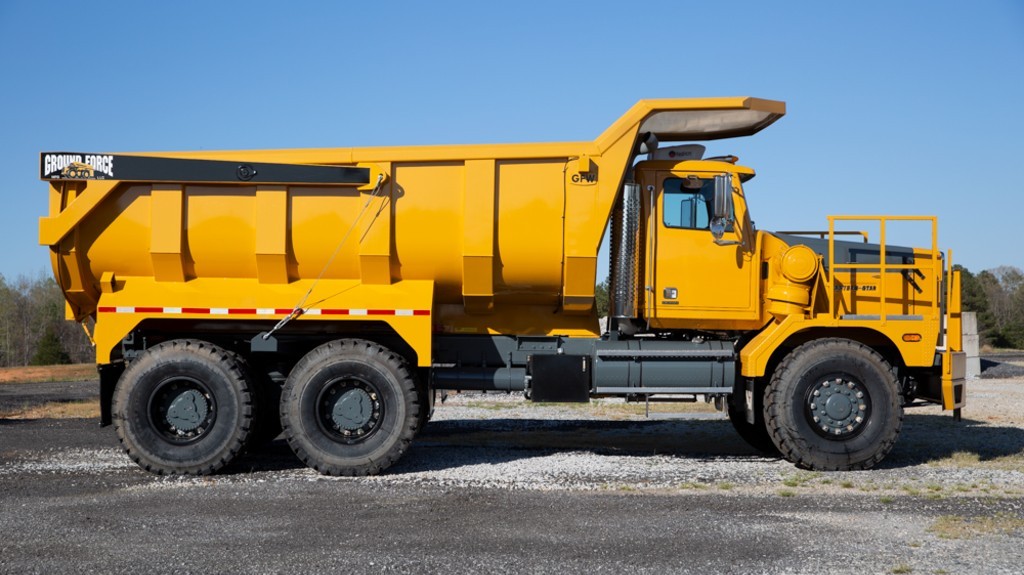 Western Star truck converted into first electric-powered heavy vehicle for open-pit mining