The latest large-frame compact track loaders: an in-depth report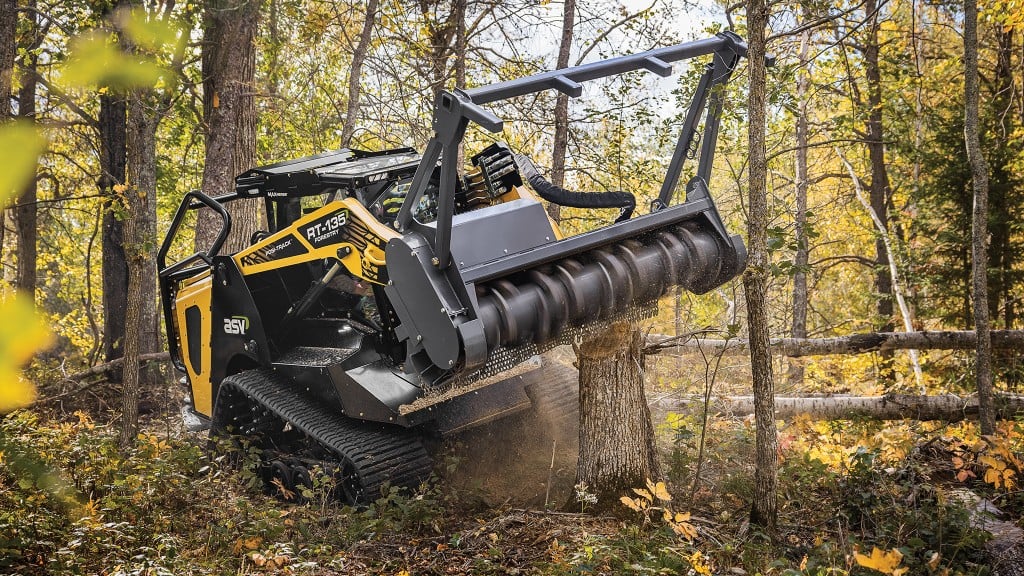 The compact track loader has boomed in popularity over recent years, favoured in a variety of industries and applications for its versatility and capability to carry out a range of tasks and access many job sites. Recently we've seen machines in this product category push the upper limits of what CTLs can do. Here's a look at a few recent models that are designed to maximize power and capability, while retaining the compact footprint of a CTL.
New large-frame CTL models, options, and applications
Grading, site prep, material handling, and forestry work are all tasks that benefit from the boost in capacity and power that these machines deliver to the job site. CASE Construction Equipment, ASV, and John Deere Construction & Forestry have all recently introduced new models or machine options to deliver power and productivity to end users, while still retaining the compact package of a CTL.

The TV620B is CASE Construction Equipment's largest, most powerful compact track loader to date, delivering a 6,200-pound rated operating capacity and 114-hp. It offers a breakout force of 12,084 pounds bucket and 12,907 pounds lift. It's the latest model in CASE's B Series compact loader line and George MacIntyre, product manager for skid steers and compact track loaders, says that the rollout of larger CTLs, like the TV620B, is in response to the needs of contractors and farmers, as well as other industries.

It comes with a new 1.25-cubic-yard heavy-duty bucket designed specifically for this CTL, and is intended for use with other heavy-duty attachments such as mulching heads, cold planers, and CASE's new grading blade – and more heavy-duty attachments designed for this CTL are on the way.

The TV620B is offered with a vertical lift configuration, and Eric Zieser, director – global compact equipment product line at CASE, says that this is where the demand is for this size of compact track loader – for lifting of heavy pallets and other materials, and loading trucks, for example.

According to MacIntyre, "[CASE also sees] this as being a true site development and land clearing machine. While those really intense attachments will have a role in large construction sites and an all-round type of machine that can dig more, lift more, and carry more . . . we do see it as popular with landscapers, especially those running precision grading boxes or blades, large Harley rakes, and other attachments that can benefit from the size of this machine. It picks up big, heavy pallets and bricks."

A guarding package for forestry work will be available for the TV620B shortly after launch.

ASV's new 12,990-pound MAX-Series RT-135 Forestry Posi-Track loader has a 132-hp Cummins engine which the company says delivers 10 percent more horsepower than the previous model. This CTL is outfitted with forestry-rated guarding and safety features and is designed for brush cutting, mulching, land clearing, and other high-flow applications. It has a 4,150-pound rated operating capacity, travels up to 10 mph, and has a lift height of 10.4 feet.

The counterweight also acts as a track-width bumper to help steer trees and debris out from the tracks for what Buck Storlie, ASV product manager, calls the "full contact customer" who works in the woods.

A non-forestry version of the RT-135F, the RT-135, will also be available for heavy-duty applications and is capable of using high-flow attachments for general construction, landscaping, snow clearing, and more.

John Deere's 333G compact track loader debuted a few years ago and has a 3,700-pound rated operating capacity. Recent option updates extend the versatility of this CTL, including a factory-integrated machine control option and an anti-vibration undercarriage option introduced in 2021.

John Deere's 333G equipped with the SmartGrade option is the first CTL to come with factory-integrated machine control. This mastless solution eliminates stakes, strings, surveyors, masts, and cables making the technology efficient to use and hassle-free.

With DozerMode the operator can switch the electrohydraulic control pattern so that the CTL functions like a crawler dozer when operating a machine-equipped six-way dozer blade attachment that can both cut a grade and spread materials. According to John Deere, it streamlines the attachment's needs and set-up time. The blade is fine-tuned to meet the performance of the carrier and, when combined with SmartGrade, the blade reduces the amount of operator input and lowers fatigue, says Deere.
Controls, power, and capability
These big CTLs are designed to deliver power and productivity in high-demand applications, placing robust capability and options at the operators' fingertips.

The CASE TV620B comes standard with adjustable electrohydraulic controls, which allow operators to set total machine responsiveness to low, moderate, or aggressive; or independently set tilt, lift, and drive speed, as well as loader arm and drive control to meet the demands of the work. Operators can select between operating in H or ISO operating patterns, and Creep Speed allows the machine to move at a consistent slow creep while the operator can independently set the attachment speed – ideal for use of cold planers and brooms.

Hydraulics on demand performance is a new CASE feature; it enables the operator to select the percentage of auxiliary hydraulic flow to the attachment. CASE says that this allows the operator to dial in attachment performance to their preference or the recommendation of the attachment manufacturer.

ASV's RT-135F has a 132-hp Cummins engine which, combined with a 50-gpm maximum auxiliary flow and an oversized auxiliary pump capable of 66 gpm, allows it to transfer more engine power to the attachment with no sacrifices to machine performance, says the company. The extra 16 gpm within the pump means operators can run high-flow attachments, such as mulchers, at full speed while moving the loader without the tool slowing down.

A dual throttle option allows operation at a set RPM with the joystick controls and the ability to increase the RPM with the foot throttle without the need to adjust the dial. An upgraded drive control system provides smoother, more responsive controls that can be adjusted to speed modes matching the operator's preference, and they can match the machine to their attachment needs with adjustable high-flow and flow-sharing options.
Rugged undercarriages provide a smooth ride in tough applications
All of these machines are designed to excel in the toughest CTL applications – and need rugged undercarriages to meet the challenge of these job sites.

In 2021, John Deere introduced an isolated anti-vibration undercarriage system option for the 333G compact track loader which enables the CTL to flex up and down; it reduces vibration for the operator in the cab and enables the machine to travel at higher speeds without losing material. It has anti-vibration suspension at the front and rear of the track frame and absorbs shock through the rubber isolators. According to John Deere, a new bogie roller system allows for oscillating movement of the rollers – delivering smooth movement when cresting a hill, improving stability on uneven grounds, and enabling larger debris to pass between the roller and track system.

John Deere says that improving operator experience was the priority when developing the anti-vibration undercarriage system for the 333G CTL. A new angled steel shield was added to protect the hydrostatic hoses from exposure to debris, reducing damage-induced downtime. Rubber isolators were implemented to offer longer track life and allow for easier repairs, and this undercarriage features four easy-to-access grease points.

ASV has upgraded the RT-135F's undercarriage to perform under the additional weight, including reinforced wheel hubs and bearings, and redesigned torsion axles that ASV says are 20 percent stronger than their predecessors, allowing the track to flex over obstacles and reduce impact to the operator and attachment.

This machine has 15 inches of ground clearance, and ASV says that its Posi-Track undercarriage system features a flexible track and an open-rail and internal positive drive-sprocket. A large number of ground contact points in addition to 20-inch-wide tracks gives this CTL a 4.6-psi ground pressure allowing for more flotation and traction on steep, slippery, and wet ground.

CASE's TV620B features a new heavy-duty undercarriage and heavy-duty 74-inches-long, 17.7-inches-wide H pattern rubber tracks delivering ground pressure of 6.1 psi which enables it to work on improved surfaces. The TV620B is initially only available with rubber tracks, but steel tracks will be available in 2022; as with excavators, the track types can be swapped on this machine, although some additional undercarriage components do need to be changed out as well.
Compact track loaders continue to trend big
With the introduction of these larger machines, it begs the question, what is the upper limit for CTLs? CASE and ASV product experts both commented on this at recent launch events and noted that a growing number of contractors are gravitating toward large CTL models. Manufacturers are taking notice – now striving to offer the biggest, strongest, and most powerful CTLs yet.

"As we look at the size of compact equipment, I think that we can say that customers need and desire more production out of their product than they used to have in the compact range. I would like to say that this is the largest one that may come, but we'll see and we'll evaluate what the customers' needs are, what their applications are that require high flow or additional pressure on their attachments," says Brad Stemper, North American compact construction equipment product manager with CASE.

Storlie from ASV adds, "We are seeing growth in the 3,000-plus ROC compact track loader segment. Right now it's the fastest growing segment to the extent that the AEM added a [3,500-pound] class this year . . . these bigger machines are starting to replace small dozers on jobs where it's maybe easier to get a compact track loader in. It might have a little bit less power and be a little slower than a dozer, but the transportability is advantageous. We also see it in high-flow applications – not just forestry, but if you think about asphalt planing and road milling, for some of these applications customers are demanding more and more power, and more and more flow, to be able to do more of that work, replacing big machinery due to the ease of transportation and getting in and out."