Bobcat introduces world's first all-electric compact track loader
Company showcases new machine and technologies at CES 2022, forms strategic partnership for electric machines with Sunbelt Rentals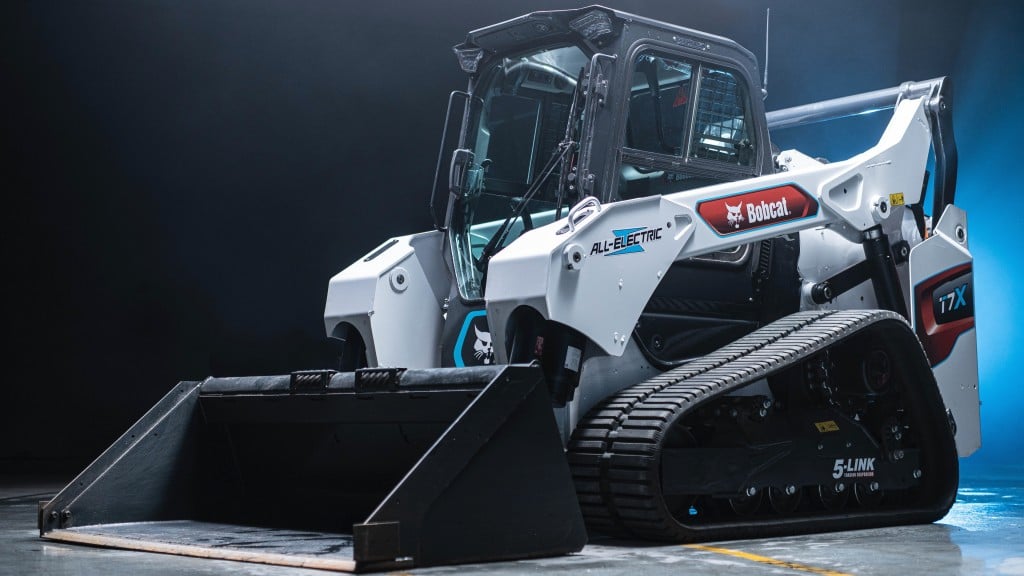 Doosan Bobcat has unveiled the world's first all-electric compact track loader at CES 2022. The machine was first previewed as a concept at CONEXPO 2020. According to Bobcat, the T7X CTL is designed to deliver the full benefits of eliminating hydraulic systems, components, emissions and vibrations – all while providing cleaner, quieter operation.
"Doosan Bobcat is at the forefront of innovation, and we are proud to debut the all-electric technology of the T7X to help customers maximize both sustainability and productivity," said Scott Park, president and CEO of Doosan Bobcat, Inc. "Our focus remains on providing solutions and products that empower people to accomplish more and build a better world."
This machine is fully battery-powered, with electric actuation and propulsion, is quieter with high-performance torque and has been designed to outperform its diesel counterparts, according to the company.
"This machine is a technological feat for Bobcat and for the entire industry," said Joel Honeyman, vice president of global innovation at Doosan Bobcat. "We challenged the status quo to deliver a connected, all-electric machine designed for power and performance that previously was not possible. We are excited to share this advancement with the world and proud of the hard work that has gone into making this a reality."
Sunbelt Rentals to invest in fleet of Bobcat all-electric CTLs and compact excavators
Doosan Bobcat has formed a strategic partnership with Sunbelt Rentals. Through this partnership, Sunbelt Rentals committed to a significant investment in a large fleet of Bobcat T7X all-electric compact track loaders and electric compact excavators in North America, which will be co-branded and made available in 2022 and beyond. Sunbelt Rentals will be the first national equipment rental company to adopt Bobcat's battery-electric technology and make it available to customers.
"By making an investment in this first-of-its-kind, all-electric technology, we support our ESG objectives of empowering our customers and communities with the availability of alternative rental solutions that reduce emissions and noise," said Brendan Horgan, CEO of Sunbelt Rentals. "Sunbelt Rentals is leading the implementation of electrified on-road and off-road products to unlock the ESG structural benefits of rental."
Features of the all-electric Bobcat T7X compact track loader
The fully electric track loader operates with zero emissions, reduced sound levels, limited vibrations and lower daily operating costs. It has electric actuators and motors, so it uses only one quart of eco-friendly coolant compared to 57 gallons of fluid in its diesel/hydraulic equivalent model. The lithium-ion battery and intelligent power management system supports daily operations and automatically backs off power when not needed to preserve energy use.
The all-electric platform enables instantaneous power and peak torque available at every operating speed – the operator doesn't need to wait for a standard hydraulic system to build up power.
The T7X operates with zero emissions and reduced noise and vibration generated by the machine, ideal for noise-sensitive areas and indoors. Bobcat says that it can significantly lower daily operating costs, when considering the reduction in annual maintenance costs and elimination of diesel, engine oil, diesel exhaust fluid, and hydraulic parts.
Powering the T7X compact track loader is a 62KW lithium-ion battery from technology partner Green Machine Equipment, Inc. While applications vary, each charge can support common daily work operations and the use of intelligent work modes for up to four hours of continuous operation time and a full day of operation during intermittent use. The intelligence of the power management system is programmed to sense when loads are increasing, automatically backing off power when not needed to preserve the total energy use and extend the machine's runtime.
The T7X is outfitted with two-way telematics, providing integral data about the performance of the machine, along with operator-focused data to change machine preferences, tune the performance to certain job situations and upgrade product features. This includes variable drive speed at full torque and other features not possible with a diesel hydraulic machine.
Doosan Bobcat collaborated with Moog Inc., a developer of motion control components and systems for industries ranging from aerospace and defense to construction, on the research and development for electronic control capabilities of the T7X.
"Like Doosan Bobcat, we believe that electrification, automation and connectivity go hand-in-hand," said Moog Inc. Chairman and CEO John Scannell. "We are proud to collaborate with Doosan Bobcat and bring our comprehensive set of electrification capabilities, including hardware and intelligent software, to the world's first all-electric loader. The T7X is an exciting step forward for the construction industry."
Bobcat to introduce world's first all-electric attachments
For the T7X compact track loader, Bobcat will introduce the world's first all-electric attachments, starting with an electrically powered auger, an angle broom, and a grapple.
Bobcat T7X compact track loader receives two CES Innovation Awards
The Bobcat T7X received two 2022 CES Innovation Awards in the categories of Vehicle Intelligence & Transportation and Smart Cities. The CES Innovation Awards program recognizes honorees in a multitude of consumer technology product categories and distinguishes the highest rated in each. Products are reviewed and scored by a panel of judges consisting of designers, engineers, and members of the tech media based on design, functionality, consumer appeal, engineering, and their positive impact on the world.