Bobcat's smallest skid steer loader
At just six feet tall and three feet wide, the S70 is Bobcat's smallest skid steer loader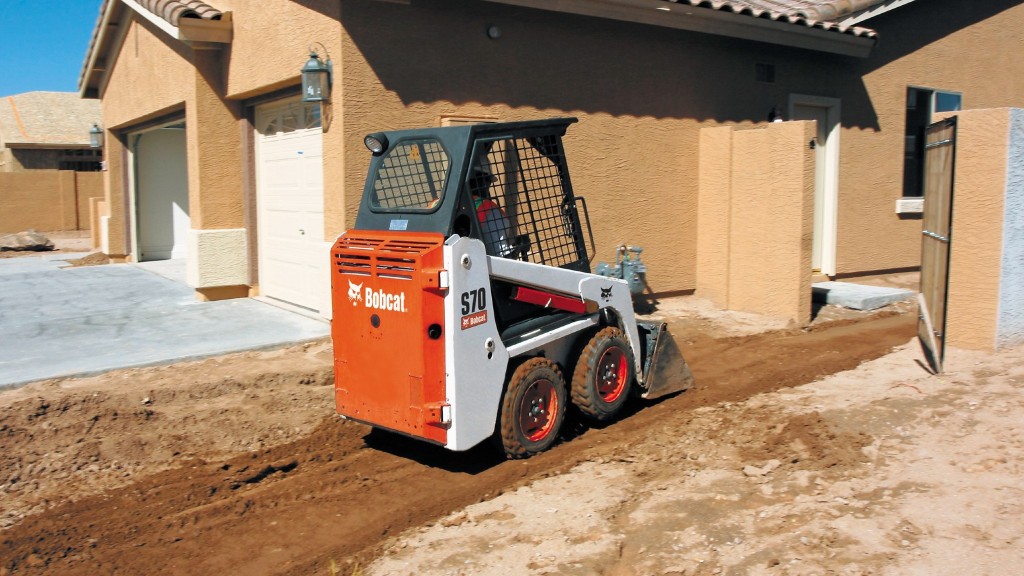 The smallest skid-steer loader in Bobcat's lineup, the S70, has a rated operating capacity of 760 pounds.
At only six feet tall and three feet wide, this SSL can work in tight areas and traverse through narrow entrances to get to the job site. It is ideal for contractors, hobby farming, backyard projects, snow clearing, agriculture, rental and any application where operators will benefit from an extremely compact loader.
How big is the Bobcat S70?
This small skid steer measures just 71.4 inches high, 35.4 inches wide and 75.5 inches long without an attachment, enabling it to fit through doorways and gates and work easily under low-clearance ceilings. Its operating weight is an easy-to-transport 2,892 pounds.
Bobcat S70 engine
The Tier 4-compliant 23.5-hp engine powers a fully hydrostatic, four-wheel-drive system which delivers a travel speed of 6.1 miles per hour. This model features the same robust belt-tensioner technology as larger Bobcat loaders.
Attachment changes are easy on this small machine
The Bob-Tach attachment system on this skid steer enables quick and easy change of a wide variety of Bobcat attachments making this machine a versatile tool carrier for confined job sites. Attachment options for this machine include buckets, grapples, sweeper, snow blower, auger, forks, breakers, trencher and more. Auxiliary standard flow is 9.8 gal/min; there is no high-flow option for this machine.
Bobcat S70 maintenance features
The S70 skid steer has a transversely mounted engine and a tip-up cab for easy access when the machine needs to be serviced. The centre-mounted, maintenance-free chain-case allows the S70 to travel through deep mud and other areas more easily because of its keel-shaped belly pan. The axle housings are fixed and welded to the chaincase, eliminating maintenance related to tightening bolts or other chain adjustments.
Bobcat S70 optional features
Optional features include enclosed cab, heater, hydraulic bucket positioning, suspension seat, top window and sound option.
How does the S70 fit into Bobcat's range of skid steer loaders?
Bobcat's full lineup of skid steers consists of models with a rated operating capacity of 760 pounds up to an ROC of 3,950 pounds.
What is Bobcat's smallest compact track loader?
The T450 is Bobcat's smallest compact track loader. Length without an attachment is 98.4 inches; width is 55 inches and height is 77.8 inches. It has an ROC of 1,400 pounds, operating weight of 6,148 pounds, auxiliary standard flow of 16.7 gal/min and joystick control. This compact track loader is powered by a 61.1 hp engine. It offers minimal ground disturbance – ground pressure with rubber tracks is 4.7 psi.
More on compact earthmoving equipment
Company info
Related products