Compact pavers and screeds from Caterpillar are maneuverable on urban job sites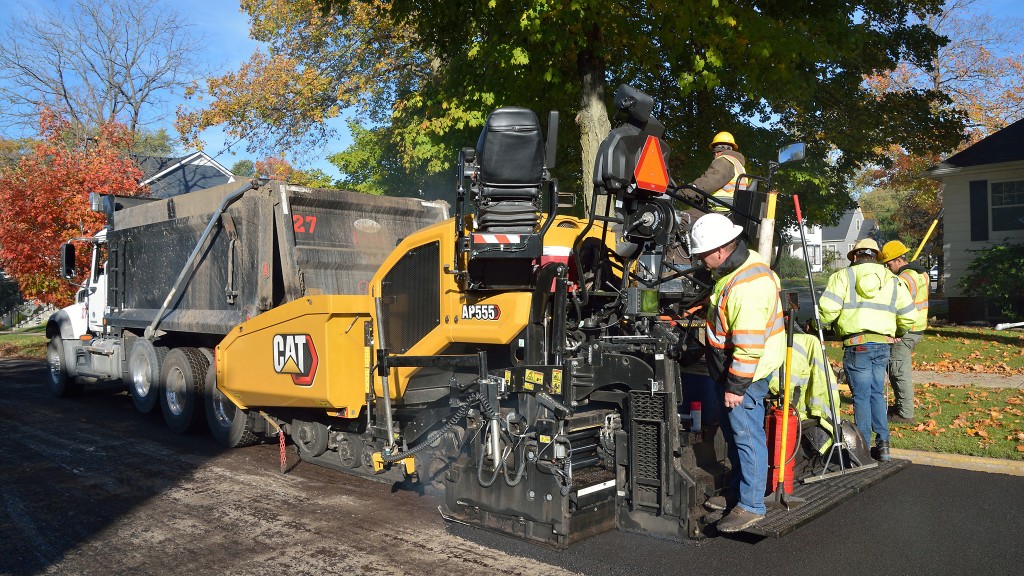 A new compact line of asphalt pavers and screeds from Caterpillar Paving Products are designed for both large and small compactors, with a focus on maneuverability in tight spaces. The line of four eight-foot size class pavers and two screeds have a small footprint for work in places like narrow streets, small parking lots, and other urban type applications.
The standard paving range utilizing the SE47 V screed is 8 to 15 feet, 6 inches (2.4 to 4.7 m) with a maximum width of 20 feet (6.1 m), while the standard paving range of the SE47 FM screed is 8 to 15 feet, 6 inches (2.4 to 4.7 m) with a maximum width of 20 feet, 6 inches (6.2 m). Furthermore, paving depths up to 10 inches (254 mm) support aggregate paving applications.
Smaller size offers easy transportation
At a length of less than 18 feet, 6 inches (5.6 m) and width of 8 feet, 6 inches (2.6 m), these 13- to 15-ton size class machines are capable of easy transportation, and front-loading angles of 17 degrees with high bumper clearance make loading easier.
The AP455 and AP555 pavers feature Cat's Mobil-trac undercarriage design, which offers speed, traction, flotation and durability. A four-bogie system with self-tensioning accumulators and centre guide blocks help prevents slippage and reduces wear, while oscillating bogie wheels help deliver smooth transitions when exiting the cut over transverse joints in mill and fill applications. Contractors who want a simpler wheel undercarriage design can choose from both sand-rib and radial drive tire options. The AP400 can be equipped with a front-wheel assist option, while the AP500 can be equipped with front-wheel assist or the all-wheel drive option for increased performance on soft base materials or when pushing heavy loads.
Smooth material flow is important for reaching quality targets, and these new models combine a low truck entry height with smaller, 14-inch diameter augers that efficiently move material through the auger chamber at both narrow and wide paving widths. Each material feed sensor can be controlled when utilizing cut-off shoes or when paving at narrow widths.
Machines designed for easy operation
Cat pavers and screeds utilize similar functions across the entire product line that enables personnel to easily move between crews or train new members when necessary. These new machines have simplified menu structures that provide single-touch activation for screed heat, washdown, and ventilation systems all from the main menu. As with all Cat pavers, these new models also provide single-touch activation of the feeder system and hopper fold functions.
An exclusive eco-mode feature combines with automatic speed control to reduce fuel consumption. In most cases, the engine can operate at a lower RPM and still deliver the required power to meet performance requirements. Plus, if it's needed, the engine can adjust to higher engine speeds when load conditions call for it.
The AP400 and AP455 pavers are powered by the Cat C3.6 engine, while the AP500 and AP555 use the Cat C4.4 engine. Both meet Tier 4 Final and Stage V emissions requirements. The exhaust stack has been integrated into the hood design, removing it from the line of sight of the operator and improving visibility.
Both of the new screeds are designed to perform in a range of conditions. The SE47 V uses extenders located behind the main screed, enabling material to flow naturally to the end-gates for smooth, stable performance. The SE47 FM has extenders located in front of the main screed and offers a smaller footprint, reducing handwork at the start of the paving pass. Front-mounted extenders make it easy to quickly reduce paving widths when maneuvering around obstacles by easily drawing material back into the auger chamber. Optional extension packages and berm attachments are available.