Mini pavers offer unique features tailored to small jobs
Size isn't everything when it comes to meeting the needs of commercial paving work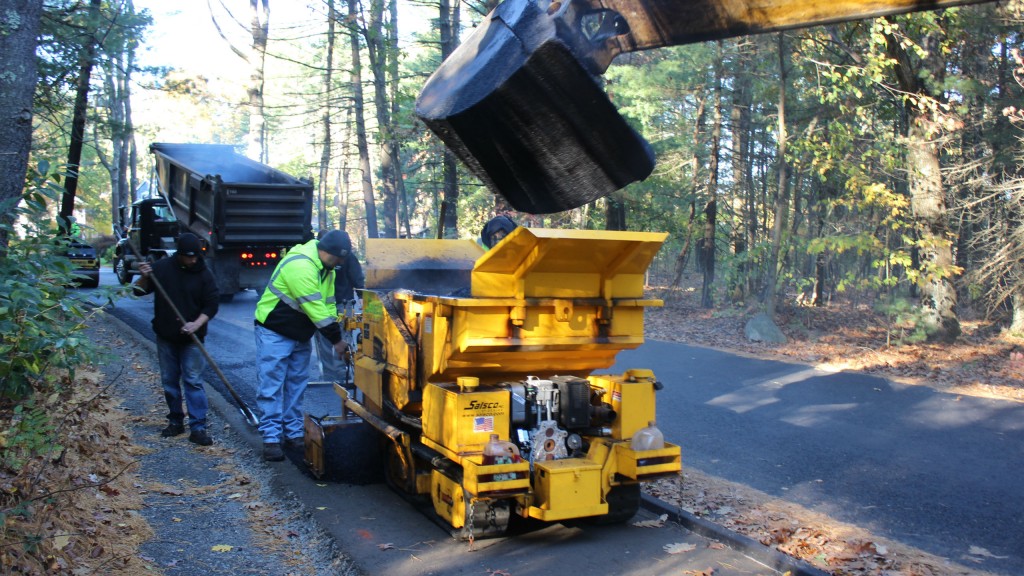 Small asphalt paving machines occupy a comfortable, valuable and identifiable niche in the paving equipment market. The smaller, commercial class of pavers – basically anything 16,000 pounds or less – often get relegated to the side when discussing asphalt paving. The larger, mainline highway-grade pavers appear to be where innovation and technological advances flourish.
But it can often be too easy to think of small commercial pavers as being junior-size highway-grade pavers. They are not.
Aside from both being used to lay down hot-mix asphalt, the two machine classes are completely different in design, capabilities and quality expectations.
"Small pavers are segmented into subcategories based upon the paving application for which the paver is primarily designed," stated Cameron Calder, vice-president, sales for Mauldin Paving Products. Those subcategories are:
• Residential – typically these machines are 50 hp or less. Asphalt is delivered to the screed by gravity using a hydraulically raised material hopper. Screeds are typically 8 yards base width, extendable to 12 or 13 yards with lower weights.
• Residential/Commercial Crossover – typically these machines are 50–75 hp. Asphalt is delivered to the screed by powered feeding conveyors. Screeds are typically 8 yards base width, extendable to 13 or 14 yards with heavier weights.
• Commercial – typically these machines are 90–120 hp. Asphalt is delivered to the screed by powered feeding conveyors. Screeds are typically 8 yards base width, extendable to 15 or 16 yards with the heaviest screed weights.
Clear differences beyond size
Besides sheer size differences, there are some clear characteristics where small pavers differ from larger machines.
"While the concepts of the highway-class and commercial-class pavers are very similar, there are a number of unique features of small pavers that help them adapt to the challenges of small paving applications," said Travis Colwell, marketing and communications coordinator for Carlson Paving Products. "The most obvious is the under auger cut-off doors found on most North American small paver models. This feature allows for regulation of material flow to the screed, while allowing for the material to be cut off when transporting across a jobsite."
According to Sal Rizzo, president of Salsco, Inc., a paving and curbing equipment manufacturer, "Small commercial pavers are simple to operate and much less expensive than the larger units. Clearly, just as mini pavers can't do large jobs cost effectively, large machines can't do small jobs cost effectively."
The market in which a paving contractor operates can also dictate the preferred size of the machine. Densely populated areas can result in contractors specializing in either smaller tonnage residential type of work, or larger tonnage commercial projects.
Less densely populated regions lend to contractors performing a wider spectrum of work, taking on everything from a small single-wide driveway to a large, multi-tenant commercial retail complex.
"Wrong-sizing your machine, in either direction is problematic," Calder said. "Performing small residential work, week after week, with a large commercial paver, will likely lead to reduced profit margins compared to competitors. Conversely, using a small residential paver to perform large commercial work may well get the job done, however, there can be higher maintenance costs and jobsite inefficiencies.
"Exceptions to these guidelines occur when working in a high-altitude environment – high altitude requires higher horsepower. And, elevation changes in the primary geographic market area will also dictate equipment choice (using a gravity feeding paver in mountainous areas. . . well let's just say it can be a long day)."
The question becomes what kind of work is best suited for the small commercial paver?
"Vögele's small pavers, which are designed for both pavement repair work and for the construction of bicycle paths, footpaths and minor roads, as well as parking lots and sports grounds," stated Matt Graves, director of marketing for Wirtgen America. "They fill trenches, pave surfaces inside buildings or underground garages and can be used in landscaping projects. For example, our Vögele Super 700-3i has a width of 4.6 feet in order to fit through small doors or gates, but can pave from 20 inches to 10.5 feet. The way we look at it, a small commercial paver is best suited for locations that need maximum production and quality, but a small footprint."
The nature of the work is different
By the nature of the work, demands on the commercial paver are similar to a mainline paver, yet certain aspects differ between the two applications. For instance, with residential paving, cosmetics and drainage appear to be critical.
"Consider that the homeowner in many cases will walk the entire length of a driveway job, which could be near daily to collect their mail," Calder said. "And yes. . . that makes them a bit picky about how well your paver performed at making that pavement joint disappear. Even if you tried to lay the mat in a single pass to eliminate any joint complaints, there can be issues that your screed wasn't heavy enough for the required width and thickness that could result in not achieving the right compaction. The homeowner may have some water holding tire indentations and is not happy and will be calling you back out to somehow fix it."
Technology is having an impact, as the enhancements found in highway-class pavers have migrated down to mid-sized OEMs that have improved electrical and hydraulic systems and are adopting screed automation, which allow contractors to use sonic or lasers to read and adjust screed depth when laying material.
"While the larger highway-class platforms have incorporated more and more technology, the small paver market has remained largely analog," stated Calder. "On board diagnostics and telematics are just starting to come into the small paver market. While onboard technology is just starting to emerge, add-on technologies such as automation machine controls are playing a larger role. Technology adoption is being driven by both tighter project specifications and by a tough labour market."
Thoughts on buying small pavers
In selecting the right small commercial-class paver, there are a number of decisions to be made.
"For contractors, there are a number of key considerations when purchasing a new machine – three of which include versatility, return on investment and operator focus," Carlson Paving's Colwell said. "A paver is a significant investment for any company, and purchasing a machine that is not only the right size for the company today, but also for tomorrow, can play a large role in the company's future growth. A contractor also expects their new machine to provide profit to the company, achieved by reducing downtime and replacement component costs."
Rizzo added that key questions he recommends a contractor needs to consider when selecting a small paver should include:
• Will the machine close up to fit into a 48-inch trench?
• Does the machine have tracks so it can climb in and out of trench and patchwork area?
• Does the cost of the machine allow for return on investment?
• Is the machine easy to operate? Simplicity is always a better choice.
According to Calder, contractors need to consider machine size, screed performance, and the machine's performance versus crew experience.
With respect to screed performance, Calder stated there are three basic tests that all screeds are measured against: "Does the screed weigh enough to lay a mat that will achieve minimum initial compaction of 80 percent or better, since it is not possible to achieve enough compaction during the rolling phase for a quality final mat. Second, does the mat thickness match throughout? In other words, does the mat laid by the screed extensions match the mat laid by the base screed? And third, what is its durability? Over how many tons, (or hours), can the screed be expected to maintain quality paving standards before requiring a rebuild?"
And as far as machine performance vis-a-vis crew capabilities, Calder cautioned that the experience level of the crew will influence machine choice. Performing high-end, unique, specialty, or precision type paving jobs requires an adaptable skilled crew and a paver operator who can dial-in the screed for that perfect mat.
When taking the long view of where small commercial pavers fit, it is clear they occupy a solid, valuable niche in the asphalt-paving market.
Jeff Winke is a construction writer and editor.
Related Articles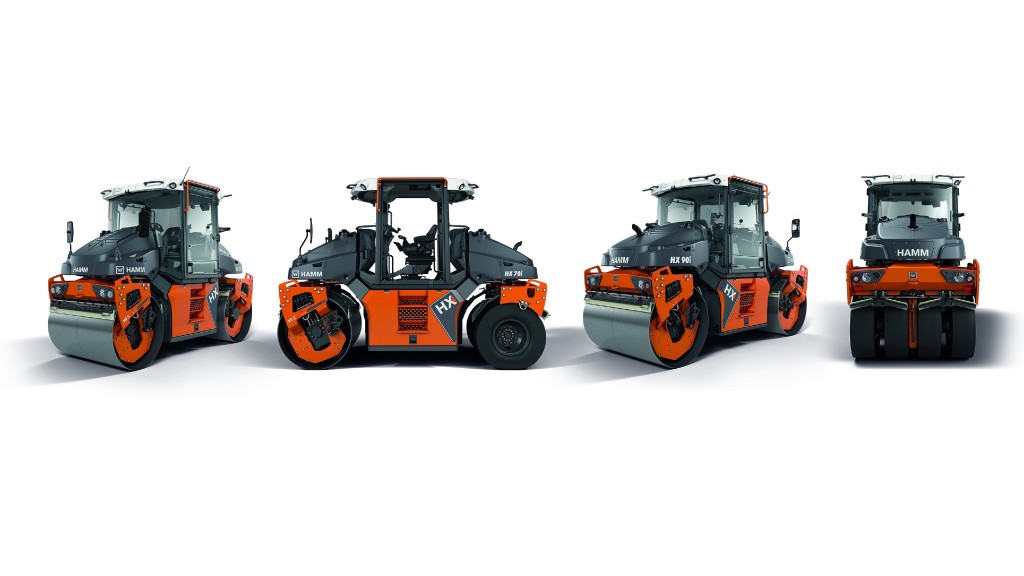 Hamm pivot-steered tandem roller series features Smart Compact digital support