Lighter vocational truck from Western Star embraces the X factor
Western Star 47X offers shorter vehicle length and optimized maneuverability for tight spaces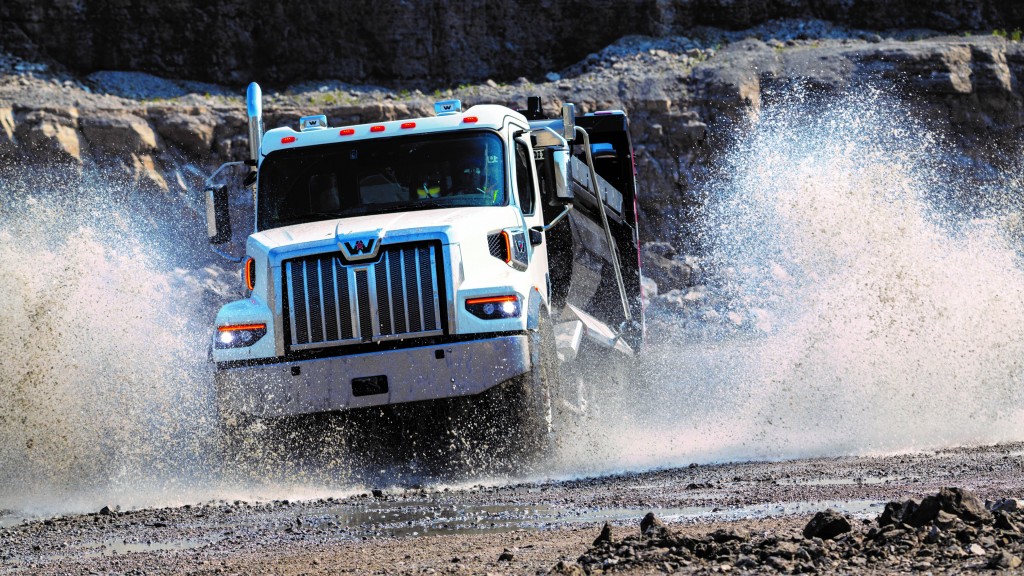 Following in the steps of the fully updated 49X vocational truck in 2020, Western Star is adding a new model targeted at jobs that require a shorter vehicle length and enhanced maneuverability.
The 47X is suited to a range of applications, such as mixers and dump trucks, while offering shorter BBCs and tighter turning for work on urban construction sites where space is at a premium. It's designed to be a complementary truck to the 49X, which is designed for heavy haul, logging and similar roles.
"One of the things we worked on really hard for the 47X is taking weight out. When you think of the X-Series product line, the 49X is bigger, has a larger displacement engine, larger GCW, larger cooling package and more air filtration; the 47X is a lighter, more nimble chassis that we expect to sell more in a lot of construction spaces," explained Samantha Parlier, vice president of vocational market development with Daimler Trucks North America.
The truck was designed to hit 16,100 pounds, and Parlier said the team made that weight through a challenging process: they hand-weighed every part that went into the construction.
"When I say hand-weighed, I mean every washer, every nut, every bolt, and they built that entire truck up to ensure that we have 100 percent accurate weights," she said. That precision comes in handy for markets like concrete mixers, where every bit of added capacity means more money on the bottom line.
Smaller and lighter but still powerful
The 47X offers a 111.6-inch BBC along with an optional 110.8-inch version, and its lower weight compared to the 49X is a feature that will appeal to weight-conscious operations like concrete delivery. Approximately 200 pounds lighter with similar specs, the 47X benefits from weight-reducing features like a steel-reinforced aluminum cab that cuts weight by up to 8 percent. Single-channel frame rails, high-strength aluminum crossmembers and other updates have helped slim down the new truck's overall weight and allow higher payloads.
Design efforts have been focused on ensuring a clean back of cab for truck equipment manufacturers to take advantage of. A number of different configurations are available, and frame rails are designed to be unobstructed for easier integration. Western Star also offers the QuickFit Interface System for easy access to electrical architecture, and Daimler Trucks North America's CHEC tool lets TEMs and dealers check electrical configurations with ease.
In addition, there are set-forward and set-back versions of the truck, giving a variety of options for buyers and body builders to work with. That versatility is key to the vocational market, Parlier noted, because regional regulations can mean a truck built for a specific use in one jurisdiction may not be able to operate in another. A broad set of bases to work from means each user can build the truck that's right for them and their region.
"What we're really trying to do is get in all that different variation, not just for a dump truck, but for all applications. You've got cranes, mixers, heavy haul, logging, oil field - in the X-Series we now have a truck for any application," Parlier said.
Cab redesign gives good look ahead
At the front of the truck, the 47X continues in the vein of its larger cousin with a unique redesigned hood. The composite construction hood fitted with ISO Tech suspension system is designed to resist bending and cracking, while also providing excellent forward visibility of 24.8 feet, slightly better than the 49X.
The cab itself is larger and takes a cue from the 49X with its high trenched roof.
"You can get that cab guard down nice and low; it also allows a larger door opening, so you can get in and out with a hard hat, feeling like you have a lot of space without forcing your cab guard to go up," Parlier noted.
Outside, the 47X uses the same C-bar mirrors as the 49X, for good visibility, and also boasts a variety of lights for added safety. Inside, legroom is expanded and operators will find a wrap-around dash with easy access to the driver command centre and a flex panel allowing TEMs to mount controllers without compromising space with a control box between the seats.
"We are the only OEM that offers a flex style allowing the truck equipment manufacturers to fully build their controls on the dash," Parlier noted. "There's no control box installed by the TEM on this truck - all of the controls are located on the dash."
That placement adds safety as well, as the driver does not have to look down between the seats for body controls while maneuvering on busy job sites.
Engine options add flexibility
The 47X is equipped standard with the Detroit DD13 Gen 5 engine, which offers higher compression ratios and a new swirl piston design to improve combustion and efficiency. The engine also features ThermoCoasting, preventing aftertreatment cooldown during a driving regen and keeping the system at optimum temperatures.
Cummins L9 and X12 engines are also available for weight-sensitive applications. A front-engine power take-off is available on both Cummins engines and the DD13, allowing for use in applications like snow plowing.
The DT12-V automated manual transmission is offered on the 47X, offering three work-ready mode applications: rock-free mode, off-road mode and paver mode, matching key vocational uses. The truck is also available with Eaton-Fuller manual and automated manual transmissions, as well as Allison automatics.
Detroit Assurance is standard on any 47X fitted with the DD13. The active safety system suite offers active brake assist, side guard assist, adaptive cruise control and other features to improve safety for drivers and those around the truck. That offering has proven to be popular among drivers who participated in demo programs with the 47X, Parlier noted.
"Adaptive cruise control down to zero (MPH) is something people originally thought they might not want, and then they experienced it in stop-and-go traffic... to have the truck manage that following distance, slowing down and speeding up in stop-and-go traffic, that focus for the driver is on what's happening around him and less on trying to stop and go," she said.
The 47X is available to order now, with customer delivery starting in early 2022.