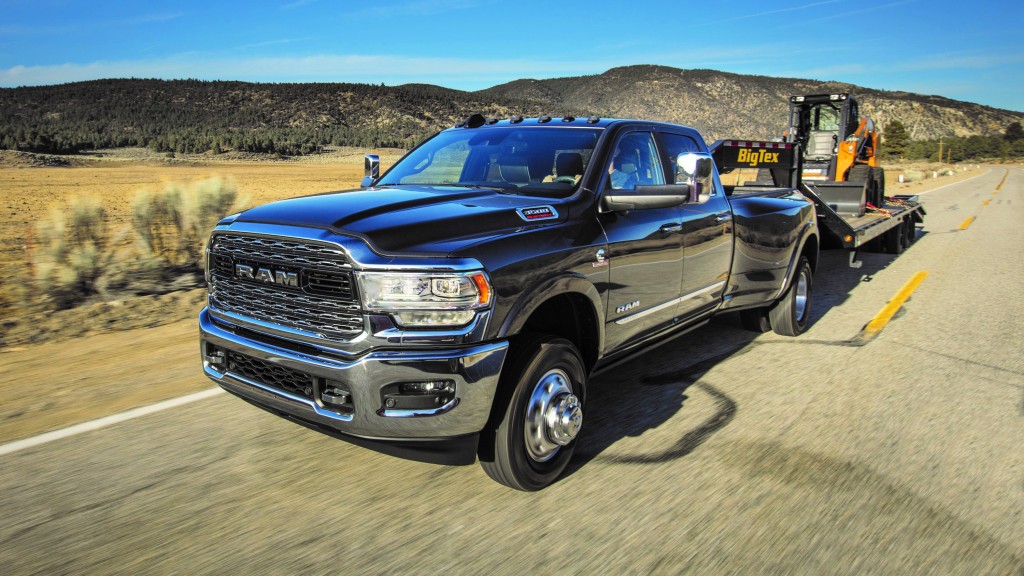 The pickup landscape is changing fast as new technologies provide a wider range of options for buyers to consider. This year has brought some big moves from the major manufacturers, and more are on the horizon.
While electrification continues to be a target, other additional technologies are also making their way into truck models for 2022 and beyond. Here is a look at key developments to keep an eye on in the pickup truck scene.
Ram Heavy Duty trucks add trailering capability and more
Ram's Heavy Duty 2500 and 3500 models have always focused on rugged performance, and that hasn't changed for the 2022 models, with continued emphasis on payload and towing capability as well as updates to technology and a number of other features.
Towing capacity is up to 20,000 pounds on the Ram 2500 and 37,090 pounds for the 3500, matched with a payload of up to 7,680 pounds on the 3500. New updates for 2022 that focus on improved towing include the availability of Trailer 360 View, which provides enhanced visibility of trailer surroundings with a bird's-eye 360-degree view of the trailer, as well as the availability in "tow mode" of a digital rear-view mirror that provides a view behind the trailer through a remote camera.
Buyers can choose from three different engines to find the power they need. The 6.4-l HEMI V-8 produces 410 hp at 5,600 rpm and 429 lb.-ft. of torque at 4,000 rpm; it also features variable valve technology with Fuel Saver Technology cylinder deactivation. A 6.7-l Cummins Standard-Output Turbo Diesel generates 370 hp and 850 lb.-ft. of torque, and the 6.7-l High-Output Turbo Diesel provides 420 hp and 1,075 lb.-ft. of torque.
More technology upgrades for 2022 include the all-new Uconnect 5 system, standard on all Big Horn models and above, which is four times faster and has three times more memory than previous systems, along with Wi-Fi capability, tow-specific navigation and flexibility for new updates.
Meanwhile, the Ram 1500, offering up to 12,750 pounds of towing capability and 2,300 pounds of payload, is also available in a variety of configurations, with a selection of engine options to choose from. Ram's eTorque mild hybrid system is also offered.
Ford adds compact hybrid truck along with fully electric Lightning
While the heavy-duty offerings for Ford have yet to be fully realized for the 2022 model year, the company did deliver what can easily be considered the biggest news of the year: the fully electric version of its iconic F-150.
Announced in May, the full-sized 2022 F-150 Lightning is expected to have hauling capacity of 2,000 pounds with 5,000 pounds of towing capacity from the base model - extendable to 10,000 pounds of towing on the extended range version. Durable in its design and offering a range of up to 230 miles, or 300 in the extended range model, the F-150 Lightning also offers a variety of other features including, in some models, the Pro Power Onboard AC power source that can run tools, appliances and more from the battery.
The price of the Lightning is also not much more than gas-powered F-150s, making it attractive to fleet buyers and others alike.
However, Ford didn't stop there in its move toward higher fuel economy: in fact, it introduced a whole new compact pickup for 2022 that comes as a hybrid right from the start.
The four-door Maverick has room for five adults and features a full-hybrid powertrain. Powered by a 2.5-litre Atkinson-cycle four-cylinder engine, the hybrid produces 191 hp when combined with the electric motor, and 155 lb.-ft. of torque to a continuously variable transmission at the front wheels. Targeted fuel consumption for the truck is 5.9L/100 km in the city, with 800 kilometres of range on a single tank of gas. Standard payload is 1,500 pounds and it can also tow up to 2,000 pounds. For a little more oomph, the Maverick can be equipped with a 2.0-litre Ecoboost gas engine, giving 250 hp and 277 lb.-ft. of torque and, equipped with a tow package, up to 4,000 pounds of towing.
While the Lightning won't be available until next year, the Maverick is currently available for order at a list price of under $26,000 Canadian.
GMC adds luxurious top end to Sierra line
The Denali Ultimate, which GMC says is the most advanced and luxurious pickup in its class, headlines the 2022 Sierra pickup line. With upgrades in technology throughout all of the trims available and a newly updated interior, Sierra pickups offer capability for a variety of uses.
Outside, the Sierra features a variety of professional-grade features that add capability. A six-function MultiPro tailgate is standard on all trims except Pro, and the CarbonPro carbon fibre composite bed is standard on the Denali Ultimate or available for the AT4 and Denali trims. The AT4 is an off-road performer, while the Denali Ultimate is intended for luxury truck buyers; powered by GMC's 420-hp 6.2-litre V8 paired with a 10-speed automatic transmission, the truck also comes standard with four-wheel-drive. Inside, the Denali Ultimate features leather trim, power-adjustable and massaging front seats, technology improvements, and more.
A range of power options are available through the line, starting with an enhanced 2.7-litre turbo high-output engine producing an estimated torque of 420 lb.-ft., up 20 percent from the current engine. Other options include an improved 3.0-litre Duramax turbo-diesel, a 5.3-litre V8 and 6.2-litre V8.
Technology updates include Super Cruise, Lane Change On Demand and Automatic Lane Change, among others.
Hybrid option gives Toyota Tundra surprising power boost
Toyota's full-size Tundra has been redesigned for 2022, bringing a number of new additions to the table including a pair of updated powertrain options that give buyers the opportunity to select a hybrid engine for their pickup.
The Tundra will this year be powered by a twin-turbo V6, either in standard or hybrid form - the hybrid, though, will bring more power to the table. The i-FORCE MAX powertrain will give buyers 437 hp at 5,200 rpm, and 583 lb.-ft. of torque at 2,400 rpm. It uses the same platform as the base engine, but features a motor generator with a clutch within the bell housing between the engine and 10-speed automatic transmission. Built in-line, the motor generator provides added power that is transferred efficiently by the transmission.
The i-FORCE MAX powertrain generates additional power and torque for towing while providing a quiet ride with improved efficiency in low-speed EV mode for city driving. Highway and off-road driving also benefit from the new system. For those customers who opt for the standard engine, the truck continues to provide plenty of power: 389 hp and 479 lb.-ft. of torque.
Two different four-door layouts are available, along with various bed lengths. Inside, a newly redesigned interior offers a variety of comfort options and technology features for Tundra drivers to make use of.
First-ever off-road model added to Chevy Silverado lineup
Chevrolet has big plans for the Silverado - the company is expected to debut its own fully electric version of the popular pickup at the Consumer Electronics Show January 5, 2022. In the meantime, the focus has been to update the Silverado lineup and add new features while expanding the models and trim levels available to meet customer demand. To that end, the Silverado will be available in a ZR2 off-road model with plenty of changes both inside and out.
A new ZR2 off-road model brings with it a premium interior, high-end technology and off-road prowess. A standard 6.2L V8 pushes 420 hp and 460 lb.-ft. of torque when paired with a 10-speed transmission. Other models can choose between several engine choices, starting with a 2.7L turbo engine and a 3.0L Duramax Turbo-Diesel that can, with a tow package, provide a max tow rating of 13,300 pounds in two-wheel-drive. A 5.3L V8 and 6.2L V8 are also available with a number of other features.
The exterior design of the new Silverado has been updated across the line, and the cab has also been redesigned, featuring a horizontal instrument panel to help the cabin feel more spacious, a more functional centre console, and available electronic shift control on some models. Technology updates include Rear Camera Mirror and Head-Up Display, and the Super Cruise feature that allows for hands-free driver assistance on specific divided and other compatible roads.
Frontier redesign boosts power for Nissan mid-size truck
While Nissan has bowed out of the full-size pickup market in Canada, its mid-size Frontier remains available for buyers looking for a truck that offers something for fleet buyers and weekend warriors alike.
A full redesign for 2022 has brought elements inspired by the Nissan Hardbody truck that was well known among off-road racers in the 1980s and 1990s, and backs up the look with a durable chassis and frame paired with a powertrain that provides solid power and torque for a range of needs. Standard in the Frontier is a 310-hp 3.8-litre direct injection V6 engine that produces 281 lb.-ft. of torque. The engine is paired with a nine-speed automatic transmission that maximizes efficiency and provides strong acceleration. All Canadian Frontier models feature a shift-on-the-fly four-wheel-drive system operated by an electronically controlled part-time transfer case.
The Frontier is rated up to 6,490 pounds of towing capacity, when properly equipped. For 2022 the truck features Trailer Sway Control as standard; this feature detects sway and automatically applies the brakes to counteract it.
Inside, the Frontier provides plenty of storage and a range of modern technologies and safety features, including charge points, Wi-Fi hotspots, power outlets, and more. Camera systems are available to provide Around View monitoring, and safety features include Nissan's Safety Shield 360 which features automatic emergency braking, pedestrian detection, blind spot warnings, and a variety of other tools.